Dr Sandeep Dave's dream was to build a hospital, which has a dedicated posture, is meticulously designed, futuristically styled with an eco-friendly and patient-friendly bearing, unparalleled in skill and specialisation, exemplary in nursing care, and affordable to all classes of society of this region. With this vision he founded the Ramakrishna CARE Hospital in Raipur.
A Master of Matchless Skill
Dr Sandeep Dave is today known as the pioneer, flag bearer and stem cell of laparoscopic surgery in Chhattisgarh. He was neither born with a silver spoon in his mouth nor he has greatness thrust upon him, has achieved greatness, nobility and excellence through strife struggle and action. This Karma Yogi, works 16 to 18 hours a day, is at times seen performing even 10 to 12 surgeries and emergencies till midnight. He has performed over 35,000 laparoscopic surgical procedures, (most of them being complicated and high risk) with lower mortality rate than national average, in the initial years. There has been no mortality in the last four years. For him, there is no organ in the abdomen which is today unapproachable for him through minimal access. He performs all advanced laparoscopic surgical procedures with equal dexterity available in the metros.
"Before you can remove their tears your own must flow. I do not ask the wounded person how he feels, I myself become the wounded person"
Concern For The Poor
Dr Drave has always abided by the principle of not refusing care to those who cannot afford even the basic cost of hospitalisation Dr Dave has prepared a crucible for amalgamation of new ideas and research for human care, concern and benevolence. A master and mentor, Dr Dave's humility and philosophy epitomises that the ultimate healer is the Almighty, and physicians and surgeons are the mere backlash and reverberation of a patient's hope, strength and faith.
A Man of Compassion And Sympathy
The advent of laparoscopic surgery in India in 1991, following the world's first laparoscopic surgery in 1987, fascinated Dr Sandeep Dave towards this new technique which bestowed the patients with smaller wounds, early ambulation, reduced mortality, quicker recovery, reduced hospitalisation and superior cosmetic results. After being accoladed by Bharat Ratna awardee and the founder of the Order of the Missionaries of Charity, Mother Teresa, in August 1996 for his benevolence, philanthropy and concern for the poor, Dr Dave made all these benefits available to the weaker sections of the society either at affordable costs or in charity. For him, the world looks brighter if viewed from behind a smiling face. He believes that the light that shines only in palaces burns up the joy of the people in the shadows.
A Bridge Between Despair And Hope
Dr Dave always remains away from flamboyance. No fanfare at the outset, no drum roll at the conclusion, he has proved himself to be dedicated to the purpose and principle rather than to doctrine and definition. Patients want their healer to be human rather than robotic they want, a sensitive professional, who can laugh and cry, have fun, feel pain, as well as bleed. "Before you can remove their tears your own must flow. I do not ask the wounded person how he feels, I myself become the wounded person," says Dr Dave.
Social Entrepreneurship
Dr Dave, who now steers the ship of Ramkrishna Care Hospital at Raipur, and is committed to offer highly subsidised care to local people while providing highest quality of clinical services. He had commenced in 1992 his journey by planting a sapling in BudhaPara, Raipur, in the form of Ramkrishna Surgical Nursing Home, with a single speciality and only 25 beds. The seed, sown in 1992 and later transplanted, manured and watered in a more fertile soil in 2004, has now grown into a huge and robust banyan tree with over 20 specialties and super specialties-a 400 bedded hospital with a futuristic design, inherent human element with a dedicated posture, patient friendly bearing with built- in dynamism and compassion. It is an oasis of surgical diversity and brilliance and fire of clinical expertise. No one had an inkling that Dr Dave's modest creation in Budhapara would soon grow into a larger than life phenomenon, a zest for living, a vision of hope, a quintessential manifestation, where the individuality and image of a doctor gets superimposed or embossed over the identity of the hospital to which he belongs. All this truly proves the proverbial saying, only those who believe in themselves dare to dream and only those who dare to dream can achieve.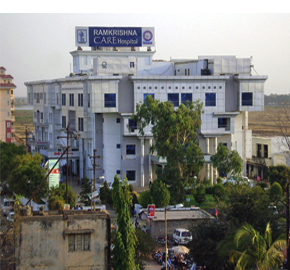 A Team Player 
Dr Dave attributes his success to his team. The team of doctors at Ramakrishna Care hospital has always been as dedicated as Dr Dave. Dr Jawwad Naqvi, Dr Siddharth Tamaskar, Dr Vikram Sharma have been successfully doing surgeries along with Dr Dave.
A special mention to anaesthetist Dr Ajay Saxena who is providing best care to the patients at the hospital. Behind every successful man, there is a woman and Dr Dave's wife Samidha Dave has always stood like a pillar for her husband.
Innovative Flair
Chhattisgarh being mainly a rice producing state, a large segment of natives here are used to have a sort of preparation of fermented rice known as "BAASI" for their breakfast. Being acidic in nature such foods cause peptic ulcers and duodenal perforations, very common in this region. Dr Dave started closing such perforations through laparoscopic surgery and innovated some new and alternative techniques also to reduce the cost of surgery. Chhattisgarh is probably the first state in India where even the people from inaccessible tribal areas are not only acquainted with this new technique but are also being benefited by it.
A Doctor Without Borders
Naxalism is an ultraviolent problem and Chhattisgarh is one of the worst affected states of the country. The helpless tribals and paramilitary combatants are the biggest casualty of naxal violence here. Non-sectarian, and a doctor without borders, Dr Dave provides humanitarian and emergency medical care to all victims of naxal violence who are referred to Ramkrishna CARE Hospitals, Raipur. Dr Dave's 25 year old team is dedicated and committed to purpose and principle rather than to doctrine and definition. They believe in exemplifying the mission of service, devotion, generosity and charity for the needy segment of the society and provide the best and cost effective medical care, reassurance and support blended with professional ethics to every patient, through integrated clinical practice, education and research, and putting the patient first above their own interest.
(This article is based on Dr Sandeep Dave's personal inputs provided to Elets News Network (ENN)
Follow and connect with us on Facebook, Twitter, LinkedIn, Elets video