A lot of IT initiatives have been undertaken and tried in Chhattisgarh, especially for the urban development of the state. One of the IT initiatives is LED Street Lighting System being implemented in all urban local bodies, says Rohit Yadav, Special Secretary (Independent Charge), Urban Administration & Development Department, Government of Chhattisgarh, in conversation with Arpit Gupta of Elets News Network (ENN).

What initiatives have been undertaken by the Department of Urban development, Chhattisgarh, for the holistic infrastructure development of the State?
We are a great beneficiary of the Government of India schemes like Atal Mission for Rejuvenation And Urban Transformation (AMRUT) mission and Smart Cities. We are developing water supply system and sewerage system in nine urban towns. The total amount alloted for these two projects is around Rs 2,154 crores. Both projects will be completed by 2020.
Two cities of Chhattisgarh have been empanelled under the Smaller Cities Mission. One is Raipur which has already been selected. Second is Bilaspur, competing for a place in Smart Cities Mission. In addition to these two cities, three cities of Chhattisgarh i.e. Bhilai, Rajnandgaon and Korba will be developed as Super Smart Cities by the state government. It will be a very innovative project. This project has not been taken in any other state so far.
Chhattisgarh is taking lead in various central government initiatives like Make in India, Startup India, what are the plans for their expansion?
We are taking Pradhan Mantri Awas Yojana (PMAY) in a big way. We have already sanctioned construction of 35,000 dwellings in one year. In the last 15 years, the State received 19,000 dwellings by the central government. So, you can see that we are striving at a great pace.
"Around 360 buses plying in 70 towns of Chhattisgarh, are being run with the help of intelligent transport system where an app provides all information about the buses."
Another part of PMAY is Beneficiary Led Construction. We will be taking that in all the medium and small towns ie. Palikas and Panchayats to achieve our target of three lakh houses. This number has emerged as the need of the hour during the survey.
What IT initiatives have been taken to smoothen the operations of the department to connect with the last mile?
A lot of IT initiatives have been taken and tried in Raipur. We will gradually roll them out in other Smart Cities as well. One IT initiative is LED Street Lighting System. It is being implemented in all the urban local bodies. All lights will be replaced by LED. Through dashboard, we will be able to see which light is on or which light is off. We can manage these lights from a tick of a button. We can also monitor that the lights requiring repair and maintenance and how much energy we are saving as a result of this replacement. This is being rolled out in all the 168 urban local bodies. Other is Urban Public Transport System.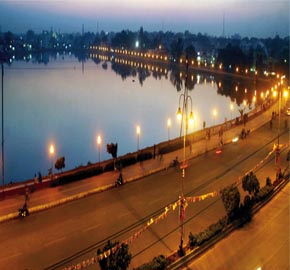 Around 360 buses plying in 70 towns of Chhattisgarh, are being run with the help of intelligent transport system where an app provides all information about the buses. There is a central control room where all these buses are being tracked. The app tells the arrival and departure time of the buses. All relevant information about the buses is being also displayed on the queue shelters. The passengers can also track the buses they want to commute via an app on their mobile.
What are your future plans for Chhattisgarh, especially Naxal affected areas? 
We have been told that many people are shifting from Naxal affected areas in search of employment. So the towns will be in a great need of infrastructure to accommodate these people. We will be focusing specially on housing. If required, we can approach the central government for some innovative developmental projects.
What have been the achievements of the Urban Development Department, Chhattisgarh, since the bifurcation of the original state of Madhya Pradesh?
Before the bifurcation, our central allocations very less. Our revenue resources were very less. So, if we compare our performances in one year vis a vis of the past 15 years, that has increased many folds. Water supply projects worth Rs 1,790 crores have been initiated in 10 months.If we compare it with the past 15 years, projects of only Rs 280 crores were commenced. We constructed 2.60 lakhs toilets under the Swachh Bharat Mission in just 18 months, whereas only 19,000 toilets were constructed in the last 15 years.
Follow and connect with us on Facebook, Twitter, LinkedIn, Elets video