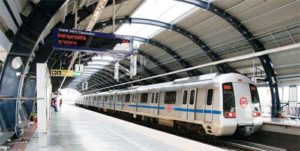 With rapid expansion of metro rail projects in the country, Ministry of Urban Development has decided to boost Make in India campaign by making it mandatory for metro companies to procure 75 per cent of metro cars from within the country.
As per the rules, metro companies are required to purchase critical equipment and sub-systems from Indian makers only.
These initiatives will incentivise  setting up manufacturing facilities in the country by increasing the volumes of procurement of rolling stock and all kinds of equipment by removing variations in the present technical norms for rolling stock and signaling equipment. This will in turn result in reduction of cost through economies of scale, an official statement said.
The Ministry has also instructed the metro companies to develop in-house expertise on long term basis. Metro companies with large size fleet to undertake in-house maintenance.
A total number of 1,912 metro coaches are currently operational in the country with another 1,420 under procurement. Over the next three years more than 1,600 metro cars would be required.  Each metro coach is estimated to cost about Rs 10 crore.
The Ministry has concluded the long pending standaridisation of norms for rolling stock and signaling equipment  applicable to over 90% of the present imports.
Further, to promote indigenous manufacturing, the Ministry has stipulated procurement of 9 types of signaling equipment from within the country. Metro companies have also been directed to develop maximum possible local competence so that know how and technical support is available within the country. Indian companies have to be associated with production of a wide range of signaling and train control project equipment.
Indigenisation of several metro functions has also been prescribed. These relate to communication systems, managing operational disturbances, time table preparation, fault reporting, control traction power, maintenance, infrastructure supervision, rolling stock management etc.
Further to these initiatives, Ministry of Urban Development will soon evolve common eligible criteria for suppliers of rolling stock and other equipment doing away with  the present variations across different  metro companies.
Presently, metros are operating in 7 cities of Delhi, Kolkata, Mumbai, Jaipur, Gurgaon, Bengaluru and Chennai with a total route length of 326 kms. Metro projects with a total route length of 546 kms are under construction in 11 cities and projects with a total route length of 903 kms in 13 cities are under consideration.