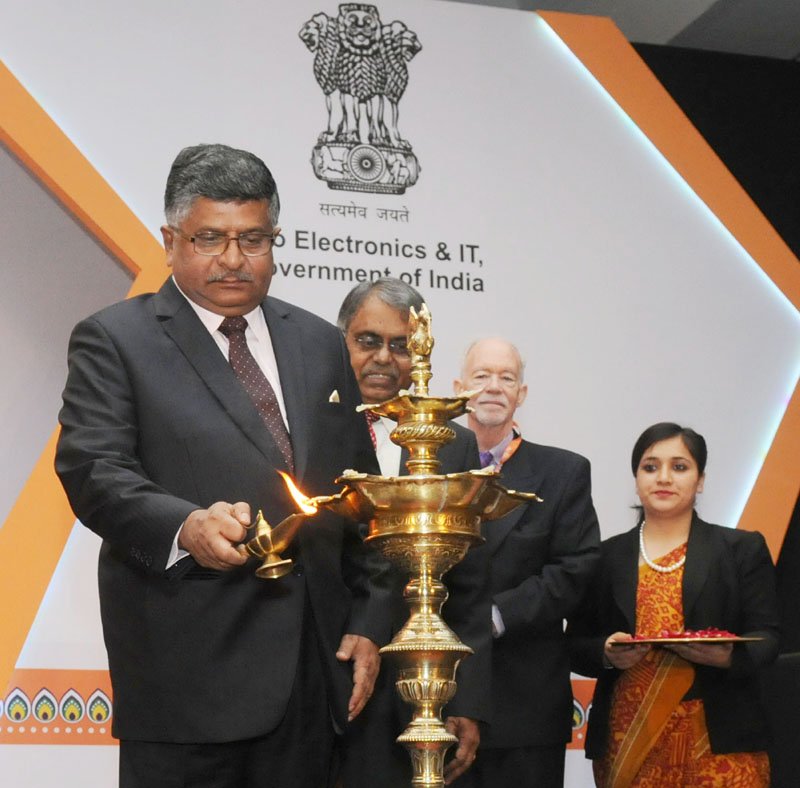 Calling upon the global community to work on protection of data privacy, Union Minister Ravi Shankar Prasad has said emphasis should be laid on innovations using data analytics.
Speaking on the occasion of 10th edition of ICEGOV, International Conference on Theory and Practice of Electronic Governance, the central minister said: "In India, 1.08 billion mobile phones, 60 million smartphones are a data, 1.12 billion Aadhaar is a data but on the other side, it is an equally important issue that data is mine."
"I am the individual. Why my data should be made public? Our law is tough that even as a minister of IT, I cannot reveal my own fingerprint and iris except for the authorised objective underlined in the (Aadhaar) Act. Otherwise, I will suffer consequences," the Minister of Electronics and IT, and Law & Justice said.
Calling upon delegates "to witness the extraordinary march of India in transforming into a Digital India", Prasad said the Narendra Modi government's vision is "to empower citizens and the Digital India programme is a personification of this vision".
He also launched Open Forge – Government of India's platform for open collaborative software development of e-Governance applications based on open data and open standards.
Prasad also unveiled the Digital India Global Roadmap, an action plan connecting the focus areas of Digital India with sustainable development goals of UNDP.
Speaking on the occasion, P. P. Chaudhary, the minister of state for Electronics and Information Technology and Law and Justice described ICEGOV 2017 as "a platform to discuss new areas of digital inclusion and ways and means to use the technology for sustainable growth of the nation".
Stating ICEGOV 2017 being all about "connecting great minds", Maria Manuel Leitão Marques, Minister of Presidency and of Administrative Modernisation, Portugal, said, "Our goal is to create a better world; we are here to come together, share our experiences and work towards that goal."
During the three-day event, organised by the Electronics and IT Ministry in collaboration with United Nations University and UNESCO, Christopher Coley, Research Analyst, AMMACHI Labs, told Elets News Network the occasion felt like an opportunity to see the amazing work taking place to empower India through digital literacy and e-governance.
"I've been working in this space with Amrita University since 2011, and it empowers me to know we are not alone in our efforts and there are so many successful projects happening in the country. This topic is extremely urgent and relevant in the world right now."
"It is exciting to be a part of the cutting edge."
The ICEGOV 2017 had a theme of 'Building knowledge Societies: From Digital Government to Digital Empowerment' was inaugurated by Minister of Electronics and IT, Law & Justice.
Present on the occasion among others were P. K. Sinha, Union Cabinet Secretary, and Aruna Sundararajan, Secretary, Ministry of Electronics & Information Technology.
Meanwhile, the ICEGOV 2017 received an overwhelming response, with a record-breaking 560 papers from close to 60 countries.
About 1,000 delegates and guests from all over the world including close to 200 foreign delegates participated in the conference.