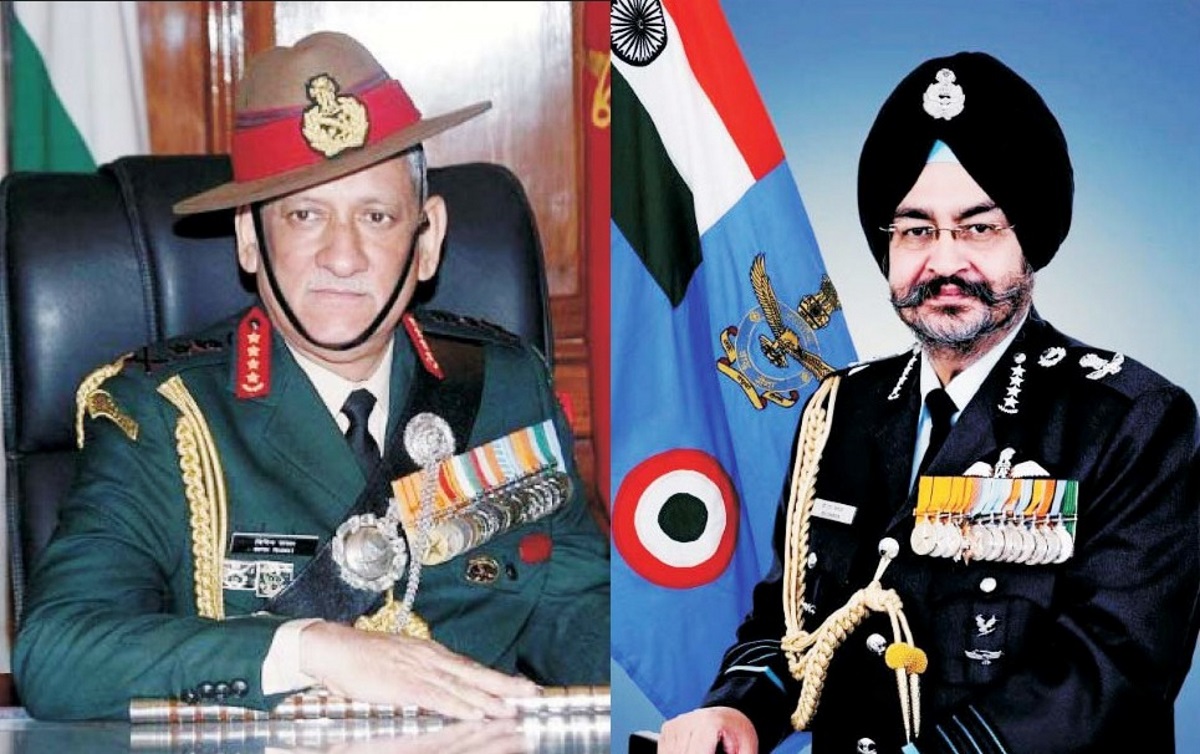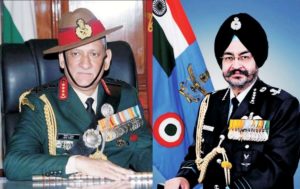 Lieutenant General Bipin Rawat on Saturday took over as the 27th Chief of Army Staff (COAF), succeeding General Dalbir Singh Suhag, the outgoing officer, who retired after an illustrious career spanning over four decades.
In similar development, Air Marshal Birender Singh Dhanoa also took charge as the 25th Air Force Chief, replacing Anup Raha, according to official communique. Lt Gen Bipin Rawat Prior to this, Lt Gen Bipin Rawat was the Vice Chief of Army Staff (VCOAS) of the Indian Army from September 1, 2016. He was commissioned in the Fifth Battalion of the Eleven Gorkha Rifles in December, 1978, from Indian Military Academy, Dehradun, where he was awarded the 'Sword of Honour'.
The General Officer has vast experience in high altitude warfare and counter insurgency operations. He commanded an Infantry battalion, along the Line of Actual Control in the Eastern Sector, a Rashtriya Rifles Sector and an Infantry Division in the Kashmir Valley, a Corps in the Eastern theatre and the Southern Command. He has tenanted instructional appointments at Indian Military Academy, Dehradun and at Army War College, Mhow. Lt Gen Bipin Rawat has held important staff appointments at Directorate General of Military Operations and Military Secretary's Branch at Army HQ.
He has also been Major General General Staff (MGGS) at HQ Eastern Command. The General Officer commanded a Multinational Brigade, in a Chapter VII mission in the Democratic Republic of Congo (MONUC). Whilst serving with the United Nations, he was twice awarded the Force Commander's Commendation. An alumni of Defence Services Staff College, Wellington, the Higher Command and National Defence College Courses, the General Officer, during the span of over 38 years service in uniform, has been awarded for gallantry and distinguished service with the UYSM, AVSM, YSM, SM, VSM, COAS Commendation on two occasions and the Army Commander's Commendation.
The General Officer also attended the Command and General Staff College (CGSC) course at Fort Leavenworth, Kansas, USA. Academically inclined, he has authored numerous articles on 'National Security' and 'Leadership', which have been published in various journals and publications.
He was awarded M. Phil in Defence Studies from Madras University. He has a Diploma in Management and another Diploma in Computer Studies. Lt Gen Bipin Rawat has also completed his research on military media strategic studies and was awarded Doctorate of Philosophy (Ph.D) from Chaudhary Charan Singh University, Meerut in 2011. Air Marshal Birender Singh Dhanoa In his address to the IAF, Air Chief Marshal Dhanoa said "I feel honoured and privileged to have been entrusted with the responsibility to lead one of the finest Air Forces in the world.
I will certainly be inspired by the exceptional achievements and the leadership of so many of my illustrious predecessors. According to New Air Chief Marchal, IAF is on a trajectory of modernisation and is transforming into a strategic aerospace power with full-spectrum capability. Accretion through new acquisitions, replacement of obsolete equipment with state-of-the-art inductions and upgrade of the vintage weapon platforms would bolster our capabilities.
Forthcoming inductions of the Rafale aircraft, Attack Heptrs, Heavy Lift Heptrs, Force Enhancers, SAGW and Air Defence Radars hold great promise for the future.
Also, it has been a matter of great national pride, to usher in the first 'Tejas' squadron of the IAF. Simultaneously, our Airfield Infrastructure Modernisation programme and upgradations in Communications Network have strengthened the support structure for effective operations. While undertaking its modernisation, the IAF has taken an active and sustained role in the "Make in India" plan, to take forward indigenous production of combat aircraft, helicopters, weapon sensors and systems, besides other aviation equipment.
A vibrant and flourishing domestic capability would be an essential ingredient for the Nation to continue its glorious evolution." In his address, he also expressed his pride at the way India's image worldwide has been showcased through the IAF's strategic reach. He commended IAF's role as first responders in HADR situations and aid to civil authority in rendering stability to volatile situations on many occasions, besides bringing succour to people in distress. He stressed the requirement of training and equipping IAF to deter the subconvetional threats.
He reiterated need for focused approach to enhance aerospace safety and IAF's commitment for better standard of living for its airwarriors. He thanked the outgoing CAS for steering IAF on a growth trajectory and urged all airwarriors to follow the fine traditions of IAF.
Commissioned into the Flying Branch of IAF as a fighter pilot in Jun 1978, Air Chief Marshal Birender Singh Dhanoa is a Qualified Cat 'A' Flying Instructor and has more than 3000 hours of fighter flying under his belt with an immaculate flight safety record all along his distinguished career as a field commander. He is an alumnus of Rashtriya Indian Military College, the National Defence Academy and the Defence Services Staff College, Wellington.
The Air Chief has many laurels to his credit. As Commanding Officer of a frontline ground attack fighter squadron, equipped with MiG-21 aircraft, he led the IAF punch during the 'limited war' against Pakistan in 1999 to evict the enemy from their 'dug in' defences in the icy heights of Kargil region. For his outstanding bravery and leadership during the conflict, he was awarded Yudh Seva Medal (YSM).
The Air Chief Marshal has held a number of significant staff appointments at operational Commands, Joint Training Establishments and Air Headquarters. He has been Director Targeting Cell and Director Fighter Operations, Assistant Chief of Air Staff (Intelligence) at Air HQ and Senior Air Staff Officer of Eastern and Western Air Commands.
The Air Chief has commanded the South Western Air Command. For his experience and professional excellence, he was handpicked to establish an 'IAF Training Team' abroad. The Air Chief Marshal is also instrumental in developing the aerial targeting philosophy against the potential adversaries and transformed the concept of Air operations of the Indian Air Force to contemporary war fighting practices of Air Power.
He is an avid reader and writer of issues pertaining to air power and joint operations. Before taking over as the Chief of the Air Staff, he has been the Vice Chief of the Air Staff since June 1, 2015. In recognition of his meritorious services, he was awarded Yudh Seva Medal (YSM) and Vayusena Medal (VM) in 1999 and Ati Vishisht Seva Medal (AVSM) in 2015 by the President of India. He was also appointed as Honorary ADC on 01 Aug 15 and awarded Param Vishisht Seva Medal (PVSM) in 2016 by the President of India.