The State Department of Food, Civil Supplies and Consumer Affairs wants to use Biometric-based Barcoded Coupon System linked to the Aadhaar database as way out for age-old problem – pilferage of foodgrains, writes T Radhakrishna of Elets News Network (ENN)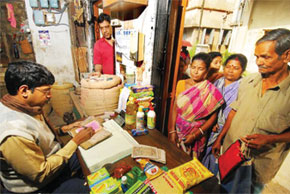 Atotal makeover of the Public Distribution System (PDS) in Karnataka is underway. The Department of Food, Civil Supplies and Consumer Affairs is all set to use Biometric-based Barcoded Coupon System, linked to the Aadhaar database as a way out for age-old problems – pilferage of foodgrains and corruption in PDS, and also to renovate Fair Price Shops into Convenience Stores with a variety of consumer-friendly products and services.
The Department is of the view that by introducing the above system, transparency will be maintained and also pilferage will be plugged effectively. This experiment of the Department, aimed at rooting out corruption and misappropriation in the PDS, will take wings on a pilot basis in Bengaluru very soon.
"Allowing FPSs to sell more consumer products under the same roof will help reduce the possibility of shopkeepers exploiting loopholes in the PDS. This is because they will be able to earn more through new products and services, instead of solely banking on selling foodgrains," said UT Khader, Minister for Food and Civil Supplies, Government of Karnataka, who is confident of a change.
Complaints such as bogus cards and diversion of foodgrains into the black market have been a major concern faced by PDS, which is an Indian food security system. Established by the Government of India under the Ministry of Consumer Affairs, Food and Public Distribution and managed jointly with State Governments, it distributes subsidised food and non-food items to India's BPL families.
PDS Scenario in Karnataka
At present, there are 20,000 FPSs in Karnataka. The ratio is around 800 ration cards per shop in urban and 500 per shop in rural areas respectively. These shops sell rice, wheat, sugar and oil supplied by the Department.
Customer-friendly Services
Plans are on to introduce consumer-friendly services at FPSs. The Minister says the ration shops must not restrict themselves just to the selling of ration. Instead, they must begin to offer common services like booking of travel tickets (bus, train, air) and micro-financing like pigmy collection, which will benefit them financially.
New Coupon System
The new coupon system is likely to begin from this very year. As per this system, a card-holder can go to a BangaloreOne centre, authenticate himself through the biometric system, obtain a barcoded eight-digit coupon to use in any ration shop. On receiving the coupon, the shop owner will get a real-time update and distribute the foodgrains. Mobile-savvy card-holders can obtain a coupon through the interactive voice response system by dialling 1614. The card-holder has to present the OTP received on his mobile phone to the shop owner, who will get the OTP authenticated and issue foodgrains.
"The coupons will be made available in BangaloreOne centres and panchayat offices of rural areas. While purchasing the coupons, one person from the family will have to authenticate bio-metrically and only then will they be given the coupons. One can go to any PDS shop and obtain ration after producing these coupons," the minister explained.
Before starting with the coupon system, the Department tested the method with the dispensation of kerosene. "When we started the experiment in April 2016, the core area of Bengaluru (prior to BBMP) had a total of 1,64,000 cards registered for kerosene. But with the implementation of coupon system, the number of cards came down to a mere 12,000 cards in July 2016, suggesting a whopping 1.5 lakh people despite LPG connection took kerosene and allowed it into the black market. There was tremendous pressure and intense lobbying from oil mafia and kerosene dealers to withdraw the system. But we did not budge. We are now trying a similar thing with foodgrains," he added.
Follow and connect with us on Facebook, Twitter, LinkedIn, Elets video