Ahmedabad Municipal Corporation has effectively implemented 'e-City'. Through this of most of the important services are being delivered to the residents through 50 City Civic Centers (e-City Centers) located throughout the city. Writes Hemangini Rajput of Elets News Network (ENN)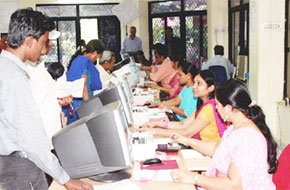 Gujarat is trying to redefine the working of the Urban Local Bodies (ULBs) through eGovernance. Elements of quality and timeliness are quintessential features of Urban Governance, wherein IT-enabled services and e-Governance play a stellar role, and have significantly enhanced the citizen-friendliness of the Urban Local Bodies (ULBs).
During his tenure as Gujarat's Chief Minister Narendra Modi said, " In this day and age, urbanization is here to stay.However, we will never achieve anything if we see urbanisation merely as a problem. We should embrace the challenges of urbanisation, not berate them and that is when we can achieve change at the ground level"
Since then Gujarat has witnessed a phenomenal increase and rapid growth in urbanization. Census 2011 figures show that the urban population of the state is 2.57 crore, which is 42.6% of the total population. The decennial growth of urbanization in the state is a staggering 35.8%. Fully responsive to the requirements of the growing population in urban areas, and committed to sustainable development and inclusive growth, the State Government initiated a reform-driven flagship scheme, namely the Swarnim Jayanti Mukhya Mantri Shaheri Vikas Yojana.
Gujarat has been one of the front-runners in the implementation of e-Infrastructure policies and projects. Independent agencies have rated Gujarat amongst the most e-prepared states in the country. The Vision of Government of Gujarat is Responsiveness, Transparency and Accountability through e-Governance.
  Mission
Provide easy access to information
Ensure speedy redressal of complaints and grievances
Provide quality services to citizens
Eliminate discretionary human interface
Expedite the decision making processes
Adoption of e-City Approach by Ahmedabad Municipal Corporation
Ahmedabad Municipal Corporation (AMC) is one of the highly successful Municipal Corporations which have improved the delivery of municipal services such as registration of births and deaths, approval of building plans, delivery of primary health and education, city cleanliness, water supply, sewerage, street-lights, parks and gardens, by duly facilitating the citizens through the operation of e-City Centres.
AMC has effectively implemented 'e-City', i.e. e-Governance, to deliver most of the important services affecting the daily lives of the residents through 50 City Civic Centers (e-City Centers) located  throughout the city.
Each e-City Centre houses sufficient number of nodes managed by well-trained Operators and System Managers, who promptly attend to the needs of citizens. Every node is equipped to handle all core activities, such as approval of building plan, grant of different licenses, redressal of complaints regarding civic amenities, payment of taxes, etc.
Way Forward
Given the replicability of e-City initiative, the system architecture and the software available with the AMC can easily be adopted and adapted. A number of ULBs have followed suit and operationalised City Civic Centers in their cities. As on date, there are over 200 City Civic Centers in various towns and cities and a systematic effort is being made to roll them out in all the ULBs in requisite numbers.
Furthermore, efforts are afoot to integrate the existing Management Information System (MIS) and Geographic Information System (GIS), after making them sturdier, into a Database Project and Financial Management System (DBPFMS) for an effective Decision Support System (DSS).
Follow and connect with us on Facebook, Twitter, LinkedIn, Elets video