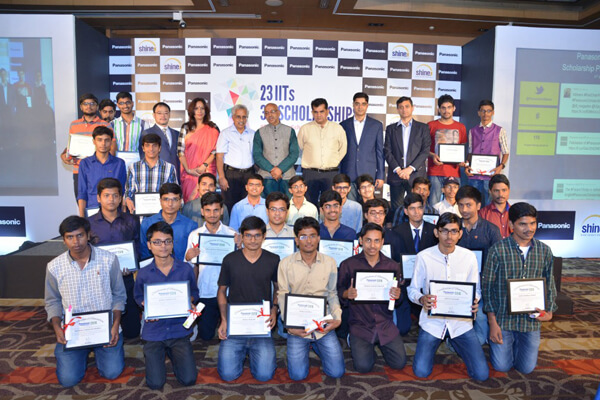 By : Arpit Gupta
Paving the way for the future leaders, Panasonic India today announced the second batch of its Ratti Chhatr Scholarship Programme which aims at providing financial aid to talented undergraduate students across difficult branches of the venerated Indian Institute of Technology (IIT). Chief Guest Amitabh Kant, CEO, NITI Aayog, Government of India and Guest of Honour Prof M Balakrishnan, Deputy Director (Strategy & Planning) IIT Delhi felicitated the awardees and their families at the felicitation ceremony held in New Delhi.
Amitabh Kant, CEO, NITI Aayog, Government of India said, "Getting into IIT is the toughest thing in the world." He added, "It is admirable to see Panasonic India continuing its initiative of providing means of education to bright young talents across the country and helping them to achieve their ambitious goals. There is a big world out there, starving for new ideas and new leaderships, and we cannot afford to be left behind.
Corporate assistance & support for sports should be a mass movement of India, said CEO of NITI Aayog adding that initiatives like the 'Ratti Chhatr Scholarship Program' addresses the demands of the hyper-competitive world. "IITs are the right platform to nurture the start-up community and thus, enable the dreams of young minds of this country. Such initiatives will pave the path towards nation building and thus, aid in creating a better life and hence, a better society," he further said.
Panasonic's mission as a socially responsible corporate aims at providing equal opportunity and access to students from humble background across the country, has been in effect in India since 2009.  Since the program's launch in India, nine scholars have been selected and enrolled for the master's program in Japan. Starting 2015, Panasonic offers scholarship to talented undergraduates across India. The Scholarship Program identifies and recognizes a group of talented young individuals with the potential to excel in their respective fields. Panasonic provides financial assistance and support to the youth from low income families as financial constraints should not be a bar for these students from shining. Last year, majority of the students selected from the first batch received admission in top IIT institutes – Delhi, Mumbai and Kharagpur.
Manish Sharma, President & CEO, Panasonic India & South Asia, Executive Officer, Panasonic Corporation, "We at Panasonic have always been committed to making lives better.  Ratti Chattr Scholarship is a progressive endeavor in this direction to create experts by providing young Indian talent from economically weaker sections with financial assistance. By providing the youth of this country with the essential tool – education, we hope to not only make a difference but also strive to inspire the next great Indian success story. We want to make India self-sufficient. Our scholarship program is an initiative which we hope inspires people across the country to take up the mantle and educate the future of our nation. Education is no longer a goal, it is an imperative."
Radhika Kalia, Head, Corporate Affairs & CSR, Panasonic India said, "Our mission is to not only provide the best of services and products that make life easier for our consumers, but to go out of our way, by using our resources, towards making a better world which will then lead to a better life. The 'Ratti Chattr Scholarship' programme is inextricably enmeshed with the core values to continuously contribute to the evolution of society and thus, the happiness of people around. Through the scholarship program, Panasonic will reach out to nearly 120 unexplored talents in the next four years' time. 30 new talents will be selected every year to join across different IITs to fulfill their dreams."
Speaking at the ceremony, Minister of State for Youth Affairs and Sports Vijay Goel said, "I am very happy that Panasonic has taken up such an important initiative."
Loksabha MP of Uttar Pradesh Dr Murli Manohar Joshi congratulated the winners and said, "India innovates, India doesn't copy therefore India leads."