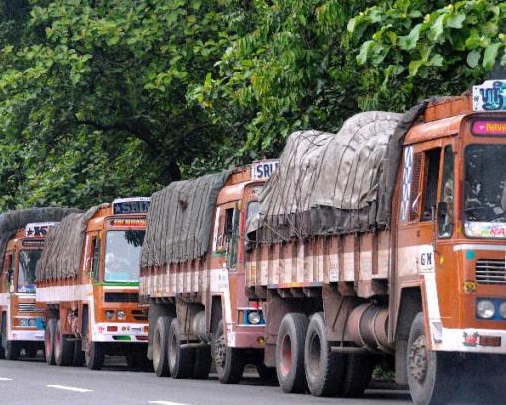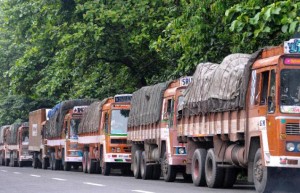 It's a usual sight to see fright vehicles being halted at various check-points and toll plazas, with their engines running. It's a routine affair. But according to a recent study, this 'routine affair' consumes additional fuel worth around Rs 1.45 lakh-crore or $21.3 billion!
The report — "Operational Efficiency of Freight Transportation by Road in India", a joint initiative of the logistics firm TCI and IIM-Calcutta, was released by Minister of Road Transport & Highways and Shipping Nitin Gadkari on Tuesday.
The third edition of this report mentions that while average journey time and vehicle speeds have improved, there are more stops, delays and more expenses. It also indicates that corruption on roads may not have reduced much in the past couple of years, as most of these stops are not toll plazas, but the check-posts and state borders for paying sales and entry tax to the Transport Department officials and police personnel.
As per the estimates, the cost of delay was $6.6 billion per year and the cost of additional fuel consumption due to delay was $14.7 billion.
The study emphasises on the need to encourage multi–modal transportation of goods in a big way, as this is more efficient, economic and environment friendly. In this context the study recommends promoting transportation of freight by railways and waterways.
Addressing the gathering, Gadkari said he, too, wants lesser number of trucks on roads. "For us, the priority mode for transportation of goods is water, then rail and roads come last. Using waterway is economic and eco-friendly as well," he said.
He informed that his ministry is working to promote transportation of freight through waterways also because this brings down logistics cost drastically. He informed that in China about 47 per cent of the freight is carried through waterways, in Japan and Korea it is about 43-44 per cent and in European countries more than 40 per cent. "But in India, only about 6 per cent of the freight is carried through waterways."
Gadkari said that his ministry is committed to raising this percentage on a priority basis as this will make Indian products more competitive. He informed that for this, many waterways projects are already under various stages of implementation.
The minister said that he would soon constitute a group within the ministry to study the report and implement its recommendations. He underlined that his ministry has taken many steps to facilitate safe, seamless and efficient transportation of people and goods by road.
To cut down delays due to stoppage, Electronic Toll Collection is being brought in soon. 380 toll plazas have been equipped for this. Building roadside amenities, green highways, widening of National Highways, conversion of State Highways to National Highways and ensuring speedy construction are other steps that are being taken to make road transport efficient, he said.