Kalyan-Dombivli is a historic city and every effort will be made to preserve the heritage of the place, and the government would also make sure that the city is modernised as per the given standards. This is how Eknath Shinde, the Minister for PWD (MSRDC, Public Undertaking) Maharashtra, explains the role to be played by his ministry in an exclusive interview with Kartik Sharma of Elets News Network (ENN)
What is your vision for Kalyan-Dombivli smart city?
I expect all-round development of Kalyan-Dombivli. All types of facilities should be made available to the residents. I believe that when better facilities are available at one's command, only then you become smart. On behalf of the Kalyan-Dombivli Municipal Corporation (KDMC), we will put in our best efforts to provide all sorts of facilities to the residents, so that it can become a smart city in true sense.
You hold a key portfolio in the Government of Maharashtra. How do you intend to serve the people of Kalyan-Dombivli?
A proposal has been submitted by the Municipal Commissioner to the MSRTC regarding the availability of roads in every nook and corner of the Kalyan-Dombivli city. We have to work on the traffic congestion. We are doing one of the largest elevated road projects between Bhiwandi and Kalyan which is 21 km. Once that is done, we will be able to control traffic to a great extent.
We are also making a flyover in Durgadi and a bypass road in Govindwadi, which will reduce traffic woes. All the projects related to roads and flyovers have been undertaken to relieve the people from the problem of traffic congestion.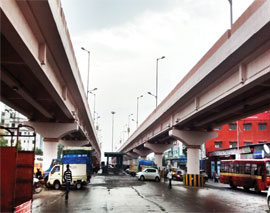 What would be your suggestion to your party cadres and fellow leaders to contribute to the Kalyan-Dombivli smart city initiatives?
Smart city means inhabitants have clean roads, pavements, clean drinking water and proper sewerage, and our people are working to that end. As I said, we'll try our best for the all-round development of the city. We will fully try to implement the Integrated Road Development Plan (IRDP) for KalyanDombivli. And once it is done, the city will be a great place to live in.
"Smart city means inhabitants have clean roads, pavements, clean drinking water and proper sewerage, and our people are working to that end…. We'll try our best for the allround development of the city"

How far do you think technology will be useful in making KalyanDombivili a smart city?
This is the age of competition, so we will make the fullest use of information technology to ensure that the people of Kalyan-Dombivli do not find themselves lacking in this race. In this regard through the Mumbai Metropolitan Region Development Authority (MMRDA), we are going to build growth centres, which will be a project costing around `1,000 crore. My government and me as a minister in the Welfare Department will put in our best efforts.
Industries are eyeing tier-II and tier-III cities. Where does KalyanDombivli stand?
We have our vision clear that more and more industries should come to Maharashtra, and the Maharashtra Industrial Development Corporation (MIDC) is doing its job. But, civilians' life should not be affected by the hazards of industrialisation; there for, these chemical companies should be at a distance from human settlement.
Smart Cities Mission Becomes a Reality
Shri Eknath Shinde, Hon'ble Minister PWD (Public Undertakings), Maharashtra
How would you win the trust and confidence of the Industry?
Our Industry Minister Subhash Desai and Chief Minister are doing their best to woo the industry community. We want more and more industries to come here, so that our citizens can get jobs and earn their bread and butter.
Follow and connect with us on Facebook, Twitter, LinkedIn, Elets video