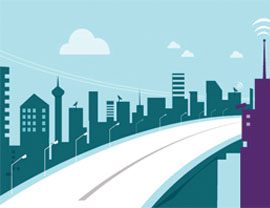 Ever since the inclusion of the of Kalyan-Dombivli in the list of 98 cities to be made smart, both local authorities and the State Government of Maharashtra have been making all-out efforts to see through the Smart Cities Challenge. Having missed out in the Round-2– Phase 1 of the Challenge, they are leaving no stone unturned to ensure that the city figures in the Phase 2 list. Kartik Sharma and Arpit Gupta of Elets News Network (ENN) reports from ground zero

The local authorities aim at developing Kalyan-Dombivli into a city that offers a convenient living habitat for its citizens, with excellent transit facilities within its boundaries, and provides easy access to other parts of the Mumbai Metropolitan Region (MMR). The city further aims at targeted use of large tracts of undeveloped lands, and converts them into new growth centres in the MMR. Under the smart city plan, the city plans to improve access and mobility in the city, leverage on the presence of a long beautiful waterfront, adopt smart and clean technologies towards improved infrastructure provision and create a network of green and recreational areas which can together radically improve the quality of air and that of citizens' life in this compact city.
The local authority identified the smart city interventions after extensive stakeholder consultations. The citizens voted from a broad list of city level attributes and laid down their aspirations. The vision statement and goals were framed based on attributes receiving the maximum votes. Citizens were reached through mass SMS, social media, ward level meetings, focused group discussions, door to door surveys and station area booths across two phases of consultation. Representation of all sections of the society was ensured through proactive campaigning (32 per cent of Households from economically weaker sections contributed), thus ensuring a development vision shared by all. Consultations with stakeholder groups such as educational institutions and students, doctors' association, slum dwellers through a door-to-door survey, women's self-help groups, hawkers, architects, engineers, handicapped citizens, transport unions, elected representatives, other government agencies such as Railways, RTO, Commissioner of Police and other eminent citizens also contributed to the visioning exercise.
Transport
While traffic congestion is one of the top concerns in most of the cities, nearly 65 per cent of trips in Kalyan-Dombivli take place by public transport (including 10 lakh daily rail commutes) or on foot, thus making it a city with high public transport usage. However, vehicular densities have increased disproportionate to the population growth. To arrest this increase, in last three years, Kalyan-Dombivli Municipal Transport has added 185 buses, doubled the service coverage, integrated the schedule with other bus services, etc. These measures have led to a 9 per cent increase in ridership and 1/3rd reduction in peak waiting time (KDMTU, 2015).
Under the smart city plans, the city aims at improving access to railway stations such as Kalyan, rationalising the KDMTU bus routes, improve integration with other transport services and improve pedestrian access to the transport nodes.
Water
Augmentation of source and raw water treatment capacity to 405 MLD has made the city self-sufficient to serve an additional five lakh citizens. Augmentation of network coverage by 150 km has enabled it to supply 96.4 per cent of households (Census 2011) with 180 LPCD tap water daily on intermittent basis. The city recovers 81 per cent of operational costs, has 26,956 functional metered connections and is undertaking other measures to reduce the non-revenue water to 20 per cent of the total supply.
Under the smart city proposal the city intends to undertake water demand management, metering all connections, SCADA and other interventions to improve the demand management practices in the city.
The city was ranked 174th in National Sanitation Ratings (2009-10) and required significant improvement in collection and disposal of municipal solid waste (MSW). It has since augmented collection and transportation infrastructure by 17 vehicles, 44 large waste collectors, 300 garbage bins and 5,000 smaller dustbins to cover 82 per cent households with door-to-door collection. The city launched a citizen reporting mobile app for MSW issues and is in the process of developing three treatment and scientific landfill sites besides undertaking closure of existing disposal sites.
Solid waste management being the critical issue in the city, the city plans to undertake rehabilitation of adharwadi dumpsite and convert it into an open park and green area. It has initiated project activities towards a scientific landfill site and waste treatment facility. With smart waste collection infrastructure it aims at ensuring 100 per cent collection and safe transfer of waste to the treatment and disposal facility.
Safety & Security
The city has prepared a disaster management plan, procured 55m hydraulic reach fire tender, three fire-response vehicles, rapid response boats and other disaster response infrastructure in the city. As the crime rate in the city has shown a marginal (0.2 per cent) increase, the city administration holds regular coordination meetings with the Commissioner of Police and RTO for identifying areas of potential trouble to install street lights, change urban design elements, monitor potential crime hot spots, facilitate policing in upcoming areas by development of police stations, etc.
THE CITY SMART
Kalyan-Dombivli is strategically located in the eastern MMR growth corridor. One of its key strengths emerges out of this strategic location and the resultant focus of MMRDA on development of the 27 newly-added village areas as a major growth centre.
Excellent rail connectivity to employment centres in MMR through eight Central Railway stations, with 335 trains catering to about 10 lakh daily commuters. This has resulted in a compact, mixed-use and transitoriented development concentric to railway stations. The city has the third-highest density (17,000 persons/ sq km) in MMR after Mumbai and Ulhasnagar. The built pattern has resulted in 65 per cent of the trips being undertaken through public transit or on foot.
The city has developed 405 MLD water source and treatment capacity. It renders the city self-sufficient by supplying 20 lakh citizens with current levels of water supply. It has covered 95.4 per cent households with tap water supply through network augmentation and has seen the least number of consumer complaints among basic services in the last seven years. The city recovers 80 per cent of the operational costs from user charges.
95.2 per cent of households in the city have individual toilets and the rest are serviced through public toilets. Up to 60 per cent of these households are connected to sewerage network; the rest are serviced through decentralized septic tank-based treatment mechanisms.
The city, known as a hub for affordable housing, offers relatively lower housing prices in MMR. This has resulted in fewer slums – about 12 per cent of the population resides in slums and 0.2 per cent in make-shift shelters (Census 2011) – compared with Navi Mumbai, Thane and Mumbai, where the percentage of slum dwellers is 28 per cent, 53 per cent and 41 per cent, respectively. With 91.37 per cent literacy rate (Census 2011), KalyanDombivli is the second-most literate million-plus city and 10th overall in India. It also has a culturally vibrant and traditional historic core area.
The city has adequate coverage of primary and secondary health infrastructure. The city pioneered an eGovernance model, under which 93 citizen services are being provided online and at six citizen facilitation centers in different parts. This model has been replicated across 243 cities in Maharashtra.
The municipal administration has high implementation capabilities, with Rs 1,120 crore of infrastructure projects undertaken in the last five years. The city has been able to contribute 50 per cent of the capital investments from its surplus revenue account. The city has a robust property taxation base and accounting system, which enables it to effectively convert growth into tax revenue.
It achieved 100 per cent of the city-level reforms identified under the Jawaharlal Nehru National Renewal Mission (JnNURM).
Housing
An affordable housing hub in the MMR, the city has ensured supply of adequate serviced land to enable supply of affordable housing for EWS, LIG and MIG populations. It has constructed 4,591 units under the Basic Services to the Urban Poor (BSUP) plan and the slum population is limited to 12 per cent of the total population.
The city has undertaken integration of building plan approval and property tax assessment database, and its general body has approved adoption of capital value based taxation system and adoption of AutoDCR facility for reducing the permission time from existing 60 to 30 days.
Town planning scheme
Kalyan-Dombivli is one of the few cities in Maharashtra that has serviced open land at its disposal. This availability of land is a very strategic resource that the city intends to develop in a planned and targeted manner through adoption of town planning schemes. Owing to the support of the primary stakeholders, it plans to starting from the Kalyan West area under Smart city plan and then leveraging the experience to other parts of the city. This planned development is intended to rebalance the growth of the city into a more planned and environmentally sustainable direction.
Citizen engagement
The Kalyan-Dombivli Municipal Corporation (KDMC), through its eGovernance framework, has ensured transparent communication with its citizens. Establishment of ward-level offices, six consumer facilitation centers across the city, a web portal and a 24X7 helpline have ensured that KDMC is approachable to all and at all times. Every Thursday, the Commissioner and Ward Officers remain accessible to the citizens directly for feedback and comments.
eGov at Work
The city developed a national award winning, pioneering eGovernance module in 2002. It has ensured online and offline accessibility of all major municipal services to citizens. The city has since gradually increased the number of services offered to 93 and now includes almost all citizencentric facilities that a city provides. The services include complaints, taxation, payments, registrations, approvals/ no-objection certificates, etc. The module also provides facility for tracking of application by the citizens. This module has been replicated at 243 other municipalities, with hand-holding support provided by the KDMC team.
As part of the smart city interventions, cross-sector business process re-engineering has been proposed to be undertaken to enable digitisation of manual processes, leading to data availability and integration in decision making. The City has undertaken GIS mapping of all infrastructure till 2011 and the new infrastructure being developed. Important information such as development plan, city development plan, consultations, e-procurement, complaints status portal, municipal budgets, mandatory disclosures under the Right to Information Act, etc., are made easily available to citizens on its website.
Eight out of 12 services under the Right to Services Act are made available to citizens online through the web-portal. The website is updated on a regular basis with all survey/ study results, newsletters and other relevant documents.
Follow and connect with us on Facebook, Twitter, LinkedIn, Elets video