Nikhil Kumar, Director, Technical Marketing (SAARC Region), Trimble, during a one-on-one conversation with Vishwas Dass of Elets News Network (ENN), underlines the importance of geospatial technology in the current global scenario. Kumar also talks about Trimble's strategies in terms of Prime Minister Narendra Modi's ambitious projects, like Smart Cities, Digital India and Make in India
Give us an overview on products Trimble has been offering to its customers?
Trimble is a leading provider of advanced location-based solutions. Today, we serve five primary segments – Building Construction, Geospatial & Cadastral, Precision Agriculture, Transportation and Logistics. We deploy a gamut of technologies, such as positioning and sensing, 3D design, modeling, measurement & analytics, machine and process automation in these markets to maximise productivity and enhance profitability.
Can you elaborate on how your location-based solutions are a help in improving productivity and efficiency in these market segments?
Let us consider Building Construction industry for instance, where Trimble technologies finds significance in the entire design-build-operate lifecycle. It begins right at the concept level where Trimble offers intuitive and flexible tools, allowing architects to evolve design ideas and document modeling in both 2D and 3D formats.
Building Information Model (BIM) is gradually becoming a norm in the building construction industry. Our Structure solutions comprise BIM software that helps engineers and professionals create and manage highly accurate and detailed constructible 3D structural models. Then comes our MEP suite of hardware and software solutions, which addresses the entire workflow and helps mechanical, electrical, plumbing and HVAC contractors with enhanced accuracy, productivity and profitability.
Next is build environment where the general contractors are under immense pressure to deliver quality and quantity in time. Trimble Geospatial & Cadastral portfolio of building intelligence software, hardware and services help optimise workflows and streamline processes by offering capabilities such as laser scanning and creation of As-Built models, 3D Model Assessment, Constructability and Scheduling Optimisation and estimation.
Our programme management solutions help construction owners control programme delivery by providing a combined and integrated insight into capital planning, programme management, business process and analytics.
Likewise, in the horizontal construction space, which is basically roads, railways, ports and marine, our heavy civil construction portfolio addresses the entire plan, design, build and operate lifecycle. Right from feasibility and planning stage, to survey, design estimate, earthworks, construction and maintenance, our range of machine control, paving control, constructions software and site positioning solutions help in faster completion, reduced resource rework and environmental impact, besides enhanced safety.
Our Geospatial offerings is kind of horizontal suite of solutions that focuses on survey, geo- spatial professionals and the deliverables that they provide to different industries and market segments. It provides advanced solutions across the entire spatial data collection, processing, modeling and analysis workflow for consumption of such information in infrastructure, Water, Utility, Oil & Gas, etc.
The Agriculture solution caters to the needs at various stages, like planning, growing and harvesting cycle. Our water and yield management systems allow farmers to optimise the use of their land. Our Precision Ag systems precisely guide tractors, combines, sprayers and the likes to accurately distribute seeds, chemicals and water, thus leading to better crops, enhanced productivity and higher returns.
Trimble Transportation and Logistics solutions provide for long-haul trucking, field service management, construction logistics, driver safety and various diagnostics and analytics to improve productivity, asset utilisation, compliance and empowerment of filed workers.
NIKHIL KUMAR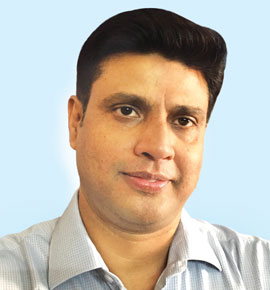 Modernisation of land records is one of the key aspects of Digital India programme. The Government of the day is also giving a lot of importance to modernising land records,

because land plays a very important role in any infrastructure development project. Trimble has a unique cadastre solution for land administration and registration
What is your view about the Government's Digital India and Smart Cities Mission? How crucial are these projects for you, particularly Smart Cities?
Digital India is a huge project of the Government, for which it has made significant allocations. Modernisation of land records is one of the key aspects of Digital India programme. The Government of the day is also giving lot of importance to modernising land records, because land plays a very important role in any infrastructure development project. Trimble has a unique cadastre solution for land administration and registration.
Similarly, we have cutting-edge technologies for Smart Cities. Our technologies will help in planning, retrofitting existing infrastructure, building new infrastructure, managing and maintaining assets and optimising resources for utilities, such as water and waste water, electricity, gas, and providing transportation and eGovernance solutions.
How many state governments have successfully used your solutions?
Trimble is a technology provider and we always strive to ensure use of these state-of-the-art technologies in large-scale project implementation to drive efficiency, quality and transparency. The central government and many state government departments are using our technology either directly or through various system integrators and ser- vice providers. So far, we had been engaging more with the central government agencies, but now that the states have more financial freedom and display greater political will, we have started engaging with several state governments as well.
Follow and connect with us on Facebook, Twitter, LinkedIn, Elets video