Common Service Centers (CSCs), a Digital India initiative, are creating a silent revolution in ICT, particularly in rural entrepreneurship, says CEO, CSC, Dr Dinesh Tyagi, in an exclusive chat with Gautam Debroy of Elets News Network (ENN)
The Common Service Centers (CSCs) are doing a big job in government service delivery. What is its success rate since its inception?
Common Service Centers (CSCs) are now an integral part of the Government of India's "Digital India" initiative. With the objective of enabling access points for delivery of services to the citizen close to place of their residence, government has now decided for setting up of mini minimum one CSC in every Panchayat. Thus, there are likely to be around 2.5 to 3 lakhs CSCs by the end of March 2016. This is going to be one of the largest networks of ICT-enabled access point in the world engaged in delivery of a large number of the G2C and B2C services to the citizen. Most of the government and private sector agencies are now utilising CSCs across the country to extend their reach and deliver services. With geographical equity, CSCs will be of great importance to organisation engaged or envisaging service delivery frame work across the country and extending coverage to citizen in every nook and corner. CSC scheme is built on concept of symbiotic relationship amongst various stakeholders and is unique in creating a silent revolution in ICT based rural entrepreneurship.
How do you find the involvement of people living in rural areas across the country?
One of the challenges for the Village Level Entrepreneur (VLE) is to involve and excite community in delivery of the various ser- vices through CSCs. Building confidence of rural people in any venture or service delivery platform takes longer and need different incentive for confidence building. The essence of CSC scheme is that it is man- aged, operated and run by a local person so that his acceptability is higher within the community he serves. The uniqueness and behavior variation are dealt by the VLE while designing or adopting methods to involve community and enhance the footfalls which is essential for a sustainable venture. VLE association with government schemes/programmes also enable the community to build confidence on him/ her. Schemes as Digital Saksharta Abhiyan (DISA) where the VLE supports one person in the family to become digitally literate at no cost help in enhancing the level of digital literacy also encourages the community to visit CSC for other services. Similarly, JAN DHAN YOJNA of the government which envisages opening of a bank account for every individual has enabled enhancement in VLE interface with the community.
About one crore (10 million) transactions taking place every month through CSCs across the country shows that community actively participate in CSC framework of service delivery.
Nearly 2.5 to 3 lakh CSCs will be there by the end of March 2016. This is going to be one of the largest networks of ICT-enabled access point in the world, engaged in delivery of a large number of G2C and B2C services to the citizens
While implementing your initiatives do you have any challenges? What action plan do you adopt to overcome those challenges?
The major challenge in CSC rollout is the availability of reliable broadband connectivity. With the rollout of NOFN it is expected that this issue will get addressed. As per our agreement with Bharat Broad- band there will be a CSC at every location where the NOFN terminate and the first user of the network is likely to be the CSC.
CSC e-Governance Services India Ltd (CeGSIL) is leveraging an innovative solution by INTEGRATING with NOFN end-points at Gram Panchayats (GP) and EXTENDING it over a Wi-Fi Network covering all the inhabited areas of the village so as to create a very powerful service delivery platform.
The main components of the solution are:
Create a Wi-Fi coverage zone in the village so as to cover all inhabited areas of the village using low-cost Wi-Fi equipment. The target end-user devices would be Smartphones and Tablets
Address the most challenging issue for any rural technology – reliable power. Considered alternate modes of Power- ing (Solar) for the Wi-Fi and associated equipment given to the real-life situation of erratic to nil power situations in the Indian Villages
Test other value-added services using Wi-Fi as the medium for Communication
With CSC intervention, the NOFN termination in a village could not only be extended for the general villagers but also extended over WiFi to connect last mile government agencies as customers, who really need connectivity as:
Post Office
Police Station
Primary Health Centre
Panchayat Office and
Primary (Secondary) School
Anganwadi
Ration shop
We are now transiting from CSC concept as mere service delivery point to a "Digital Village" where the focus will be to empower the community including delivery of a reliable connectivity coupled with service delivery framework.
Availability of Power is another challenge for functioning of the CSCs. Some of the CSCs use solar power and invertors for addressing the same. For NE States and Hilly States, Government of India is providing the desired financial support to the State Government for providing solar power to CSCs.
How is the achievement in financial and social service delivery in rural areas?
CSCs have actively participated in the Jan- Dhan Yojna and opened about 50 lakhs new accounts. About 30,000 CSCs across the country are working as business correspondents and delivering various banking services to citizen in rural India. Last year transaction worth Rs. 2000 crore has been undertaken through CSCs relating to bank- ing. Beside this CSCs also collect insurance premium of all insurance companies across the country. So far about Rs. 180 crore has been collected as insurance premium and CSCs have also delivered insurance products and services to citizen including life and non-life. Pension products of PFRDA are also delivered to citizen through CSCs.
We have recently launched Aadhar Enabled Payment Service (AEPS) with National Payment Corporation of India Limited (NPCI) which shall enable all the CSCs across the coun- try to become interoperable banking service delivery outlet – any bank account holder can perform deposit, withdrawal and other related services through CSCs. This would result in 2.5 lakhs outlet providing financial services and probably the largest financial access point net- work in the world. In Indian context, it would indeed be revolutionary as after independence till date we could only set up about 40,000 rural bank branches catering to 600000 villages .
Are you getting involvement from private players?
CSCs platform by definition is a neutral platform and can be utilised by any service provider to deliver services to citizen. Private insurance companies, banks, education services provider are utilising the CSC network to deliver various services. Apollo Hospital is using the CSC for teleconsultation and diagnostic services. Recently, the e-commerce service provider as snapdea, infibeam etc and logistics provider as Connect India have started utilising CSCs to extend their reach to rural areas. We are also launching music courses of Shankar Mahadevan Academy through CSCs to citizens in Rural India.
CSCs have actively participated in the Jan-Dhan Yojna and opened about 50 lakhs new accounts. About 30,000 CSCs across the country are working as business correspondents and delivering various banking services to citizen in rural India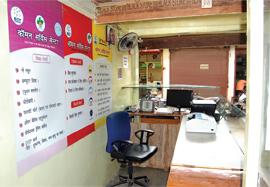 Tell us something about the Online Monitoring Tool (OMT) of CSC.
OMT is used while registering CSCs. This facilitate in tracking the performance of CSCs and also its availability to the citizen as a delivery point. It has a limited purpose for identification of CSC and monitoring its performance on continuous basis. The OMT also helped state government agencies in reviewing the performance of the private agencies in the rollout of the CSCs and thus calculate the due revenue support and penalties. CSC 2.0 does not envisage any revenue support and empower the district eGovernance societies to rollout, monitor and support the CSCs which therefore limit the role and function of the OMT.
What response are you getting in northeastern states of India?
Northeastern states are actively participating in the CSC scheme. The village council in place of panchayat in many of the NE states does effect the viability of CSCs due to very low population in these hamlets. However with the increase in the bouquet of services, CSCs can be an effective access point to make the services available in those difficult areas.
Launch of Digital India has energised and adequately enthused the VLE who now is charged up to build a ICT – enabled sustainable rural enterprise – unique to this country. Most of them have created tremendous opportunities for employment in rural India – engaging five or more persons per CSC. With the support of government, CSCs can be major player in the "Digital India" initiative and contribute significantly and effectively in bridging the digital divide and creating an enlightened and empowered society actively participating in nation building.
Follow and connect with us on Facebook, Twitter, LinkedIn, Elets video