In an era of real-time analytics, the country is in dire need of having the ability to gather, analyse and report on rapidly changing sets of data and our vision is to do the same at lightning speed with accurate results, says Sai Venkatesh Attaluri, Founder and MD, Foudroyant Analytics, in an interaction with Elets News Network (ENN)
What are the various solutions offered by Foudroyant Analytics that can enhance the current IT infrastructure?
Foudroyant Analytics want to build a robust recommendation engine, independent by its entity, that can provide solutions to every spectrum of the ecosystem like eGovernance, mGovernance, Healthcare, Telecom, Banking and Insurance, Pharmaceutical, Manufacturing, using Big Data Analytics. Foudroyant Recommendation Engine (FRE) helps to derive recommendations through business intelligence from past data as well as real-time data to automatically take actions using machine learning algorithms to enhance the better governance, incremental revenues, control churn and value addition at periodical intervals in a simple and less complex manner, suitable for administrative and management teams to take better and quick decisions.
FRE helps in boosting clients revenue by con- ducting studies on a dynamic and continuously changing environment for targeting potential subscribers, preventing churn, opportunities for cross promotion, upselling and increasing penetration. As part of the roadmap, we are also focusing to extend our services on behavioural patterns based on geographic, demographic, area of interest, cultural barriers, frequency of consumption/usage and revenue contribution to derive and recommend highly relevant solutions that suit the needs of every spectrum of the ecosystem.
What are the various services that you offer for businesses like banking & insurance, healthcare and communication and media services etc?
Big data will fundamentally change the way businesses compete and operate particularly in Banking and Insurance, Healthcare, Communications and Media. Companies that invest in and successfully derive value from their data will have a distinct advantage over their competitors. Currently, Big Data Analytics is matured enough in the area of social media like Face- book, Twitter, Google, LinkedIn etc. However, the real potential of Big Data Analytics is not yet explored in other areas like fraud detection and prevention, using spatial analytics, continuous data flow mediums like sensor, online transactions, network signals, GIS based services using satellite and also genomics. The main focus of our research is in building innovative solutions in these untapped areas, to take advantage of big data analytical processes to discover opportunities in the raw data, where existing traditional systems cannot be of any help in finding solutions. For us, what matters is only data while domain knowledge can be acquired from the respective domain experts itself.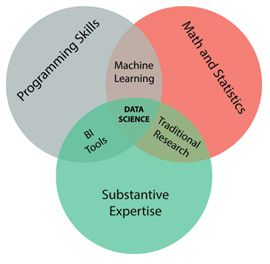 What are the challenges you face today as digital data is exploding? What is the role of Big Data Analytics and its key advantages?
Big Data Analytics is a journey that involves a combination of potential skills, advanced technologies, applications, and processes used by firms to gain business insights and to do business planning. Knowledge has become the key economic resource and the dominant, if not the only, source of competitive advantage. The key challenges are finding the quality of candidates with good skill sets in the Big Data space particularly in the area of data science. It is not the quantum of candidates that come out of the institutions but what matters is the quality of the candidates with sound fundamental knowledge on the basics. Going forward anyone without statistical knowledge will not fit into the Big Data Analytics ecosystem.
What is the importance of data visualisation in this new era of data science?
The importance of data visualisation consists of highly interactive graphics; report building, in-memory processing capabilities while having the ability to easily distribute reports and insights via mobile devices and web portals. When combined with analytics, data visualisation empowers with focus and the ability to reduce the time required by knowing where opportunities, issues, and risks reside in voluminous data and enabling business users to quickly and easily explore data.
We are developing analytical solutions to existing vendors who are working on traditional systems without disturbing their infrastructure. We are also developing Intelligence Engines for existing traditional products
What is Foudroyant Analytics' 'Go to Market' strategy in India?
We have classified our strategies into three phases: short, mid and long term. Currently, we are developing analytical solutions to existing vendors who are working on traditional systems without disturbing their infrastructure. We are also developing Intelligence Engines for existing traditional products as a plug and play using some of the Hadoop Framework components.
As part of our long-term strategy, we have already associated with various universities such as University of Hyderabad, IMT, Hyderabad, Rayalaseema University and many more. On a regular basis, we are conducting workshops in these universities to strengthen the big data community for future human resource requirements. The universities, we are associated with, have already come forward to introduce short and long term courses on Data Science. Foudroyant Analytics is sup- porting in designing the courseware for them in consultation with Big Data Gurus across the world. Plans are already in progress to open our branches in Tier II cities.
Follow and connect with us on Facebook, Twitter, LinkedIn, Elets video