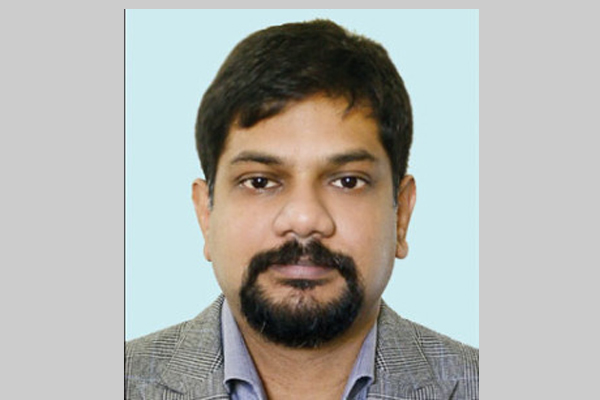 As India launches itself in the Smart Cities mode, we examine three major paradigms, namely, Big Data, Internet of Things and GIS, and see how they can be used to provide effective solutions, writes N Nawin Sona, Director-General, Vasantrao Naik State Agricultural Extension Management Training Institute (VANAMATI), Government of Maharashtra
Big Data is largely understood by the 3Vs- Volume, Variety and Velocity of data, which the traditional RDBMS systems cannot handle in terms of time, energy and scale. Now, other Vs such as Veracity (validity of data), Viscosity (rate of flow and resistance), Variability (change in rate of flow) and Volatility (temporal life cycle of data) are gaining traction. With Big Data, information from Structured, Semi-structured and Unstructured data can be combined, and Big Data Analytics can give a richer understanding of what is going on in a system, across many systems, and about the system.

Big Data & Smart Cities
System Analytics: Understanding of the complex urban systems by deeper, wide data collection, storage and analysis can be done. Interaction of work/life spaces, commuting, movement of goods, service delivery points, utilities and infrastructure are difficult to capture and analyse. Inter-sector, trans-silo understanding is needed for existing cities.
Systems Modelling: Where virtual models are made of say, traffic networks, water supply, public transportation, utilities, they are used as a planning tool, problem analysis and as a trouble shooting tool.
Scenario-Based Systems Simulation: Complex system interactions can be visualised, like floods, emergencies. Impact of Mumbai Local stoppage on traffic, auto/taxi strike impact on traffic congestion, including emergency response can be modelled. (Cities such as London, Leeds and Bristol are exploring this).
Real Time & Near-Real Time Analytics: Streaming analytics can help react rapidly to system changes. For example, using Twitter maps, public transport and traffic data to predict and manage congestion and delay. This involves tapping into data from the web, instrumentation or sensors to continuously model the system, as it happens.
Exploratory Analytics, Predictive Analytics and Prescriptive Analytics: With exploratory analytics, hundreds of dimensions of data and their inter-relation can be analysed, creating correlations and causality. For example, crime spot analytics combined with utilities could lead to insights like crime and street light coverage, crime and low traffic routes, crime near colleges, schools, abandoned buildings etc. Predictive analytics of same data, would involve, extracting an algorithm, or pattern recognitions. And thirdly, Prescriptive Analytics is when, an action is suggested by the system which is iterative and cybernetic, by way of feedback and validation.
System benefits: Data-based system design, infrastructure design, reduction of losses, maintenance modeling leading to timely repairs, detection of faults and restoration, efficiency of system response, actionable data to field staff are some of the advantages. In the long run, a data-driven urban policy making would emerge, based on data and statistics. And, for day-to-day management, Big Data would give actionable insights.
IoT's impact on the Smart City will be enormous. IoT involves sensors (RFID, wi-fi), each with its own IPv6 address, sensing and conveying data live, like temperature, vibrations, humidity, location, movement, presence, pressure, light, sound etc. Imagine street lights sending replacement signals, pressure sensors sending alerts of pipe leakage, series of sensors allowing instantaneous fault finding in wires and cables, etc.
In the future, each of these sensors would interact with others, tweaking responses and creating better, seamless urban living. Systems would understand individual preferences and send alerts to citizens, like bus breakdowns would suggest different routes.
Open Data/Open Government/ Participative Algorithms: India is still behind in its Open Data initiatives, which smart cities would benefit from. This entails not only creating data, but data sets, which are machine readable, and open, accessible for analysis by anyone, free of cost. By freeing data from government, we open to newer and different insights from academia, practitioners, users etc.
GIS: Less Explored Realm
GIS system can be the heart of an effective city government. Building a GIS system with Big Data inputs and IoT inputs would lead to an extremely relevant and robust, action-oriented organisation. GIS could act as a Data Integration Platform.
Urban Planning Module: Complete integration of land records, including Survey No. parcels, zone plans, development plan, individual buildings, open spaces, utilities (like water, road, electricity), as well as property tax data, can be achieved.
Crime Mapping Module: This was developed on top of the urban layer, involving reverse geo-tagging 5,000 FIRs, creating analytics like buffer tools (crimes near schools, religious places), time line analysis (date and time of crime) and modus operandi algorithms (for Predictive analytics). It also has probably India's first, Mobile App for e-Panchnama, with geo tagging of crime spots, and a web application, for photos and video of the crime scene.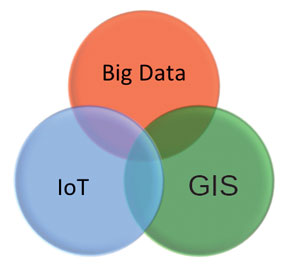 GIS with Big Data & IoT
GIS could also be the base for Energy, Water and other Utilities network. With IoT, each spot could be remotely sensed, controlled and monitored leading to greater efficiencies. The socialeconomic space can also be modelled in the GIS system, loading Big Data onto it. Technically, with multicore Graphics Processor Unit based (GPU), in-Memory computing, is bringing GIS and Big Data together. Semi and Unstructured data, like social media, sensor data can also be merged, in Hadoop ecosystems through Hive.
Big Data: Benefits to Citizens
More avenues of public participation

Interactive user interface

Efficiency in service delivery

Interoperability (trans-utility pre-paid cards, single point of contact for citizen, onetouch one-time services)

Resultant efficiency, transparency, links to banking
Challenges
Some limitations include lack of data standards, data governance policies, sparse and inconstant data, lack of skills, lack of technical knowledge in newer technologies, limited use of data in policy design and evaluation, and finance/business models.
Outsourcing data services is not new; but in-house skills for asking the right question and consuming relevant data is needed. Incentivising cost savings could be a business model where PPPs could come into water, energy, waste management, etc. Coordination between city police and civic authorities would lay a common technical structure.
Towards Sentient City
Every city is an amalgamation of its people, its history, its ambitions and its limitations. The Smart City initiative is not to rewrite the city but to augment it, making the systems smart, offering intelligent choices, reduce waste, encourage growth, personal and as an economy. Big Data, GIS and IOT are very powerful tools, the merger of these technologies would change the way cities are run.