LinguaNext launched Linguify.Cloud solution in mid-2014 to enable a web application and website to work in multiple Indian languages simultaneously without a change in the source code. In an interaction with Elets News Network (ENN), Narendra Nayak, EVP-Sales (India, SE Asia and Middle East), shares more about the initiative
Tell us something about Linguify.Cloud and its unique features?
As a company, LinguaNext has a number of products under the Linguify.cloud brand that allows a software application to be used in any global language. It translates screens, prints and reports into the language without requiring access (or change) to the application source code or database of the original application. It is specially developed to enable all web applications, websites or portals to be used in any of the 22 Indian languages or a global language.
Linguify.Cloud completely changes the conventional method and with this approach, there is no need to change the code and manage the translations or multiple versions of a website or its content. It also has the capability to convert not just static screen content on the web page but also the dynamic content that may be accessed from a backend application or a database.
The solution allows an existing application to be made multilingual in a very effective and cost-efficient manner. It is also a risk-free approach to language localisation, as we do not make any changes to original software.
How does this solution Work?
The solution converts web pages from the original language in the web application to the target language. Linguify.Cloud is based on Apache Web Server and is deployed inside the enterprises' data centre. It has been specifically designed to provide robust high performance web-page translation across various web platform and operating systems.
How does this product help in removing language barriers?
With the help of our product, the same English website or web portal gives user a choice of language selection. This product is in true sense allowing democratisation of software for the masses that could not otherwise access applications or websites for dearth of specific language skills which are applicable only to professionals. The value is even more when it comes to citizen services, any consumerfacing portals and government employees, because they can access the information in their local language.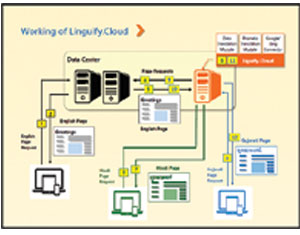 Who are the major clients who had opted for your service?
India's leading consumer gas companies have chosen our product to make their portals multilingual. These consumer-centric portals are used for various activities like booking a gas cylinder to registering for PAHAL. Now these portals have an option that allows the consumer to select his preferred language for transacting on the portal. The portals are now available in 12 Indian languages simultaneously and making the Digital India mission fulfilled in its own way. A leading consumer portal in the automotive space uses the Linguify. Cloud solution to provide the user a choice of language (currently in Hindi).
What have been major achievements of the company?
Our products and solutions are used by leading public sector banks, leading public sector undertakings, manufacturing and e-Commerce organisations and for e-Governance. Our products have also been deployed globally in leading multinational enterprises in many global languages.
LinguaNext's solution Linguify.Banks is deployed in almost 19 nationalised banks, including SBI, which gives an opportunity to use the core banking solution in Hindi and other regional languages under the Official Languages Act. It is also gives facility to print passbooks and other customer-facing communication in any local language.
LinguaNexts' language platform Linguify.S is now a SAP-endorsed business solution for all countries worldwide. Which means Linguify.S allows any SAP application to work in any global language. Linguify.S makes no changes or modifications to the underlying SAP® software or application databases. Instead, language conversion is handled externally at the display level. EBS partnership is an invitation-only category of engagement with SAP. There are very few selected EBS partners worldwide.
Siemens PLM Software has joined hands with LinguaNext. With this partnership, Siemens product lifecycle management (PLM) solutions are now ready to use in all Indian languages.
What are your views on Digital India campaign, PMJDY and 'Make in India'?
Digital India has three core components. These include creation of digital infrastructure, delivering services digitally and digital literacy. To achieve digital literacy and offering e-services to the masses, the Digital India content must be in multiple languages to ensure wide adoption. India is a multilingual country and the information should be available to its citizen in a language.
As an example, most ATMs currently generate a receipt in English even if a transaction is done in Hindi, or access to internet banking services is restricted to English today. As part of the financial inclusion initiative, RBI has released guidelines for banks to provide printing of ATM receipts as well as internet banking in Hindi as well. This move will align with the Pradhan Mantri Jan-Dhan Yojana campaign. LinguaNext has products which can be deployed for both the above without making any change to the original software or database.
Follow and connect with us on Facebook, Twitter, LinkedIn, Elets video