With its impressive metro rail and road network, and a sound ICT infrastructure in place, the national capital is a perfect case of a metropolis waiting to be converted into a smart city, Yogender Chandolia tells Gautam Debroy of ENN
What is your idea of the applicability of smart city concept in India?
People are moving to cities from the far-flung areas of the country in search of better prospects. So, crowding is a common phenomenon in the cities and various urban infrastructures are under extreme pressure. So, we need an urban planning that can be suitably tweaked to have more out of the fewer available resources. We need smart cities across the country. We don't have many metro cities like Delhi, Mumbai, Kolkata, Bangalore and Hyderabad with good facilities for urban living. Until and unless we develop smart cities, we won't be able to accommodate the burgeoning urban population. Running on information and communications technology, smart cities will offer the best facilities to its dwellers.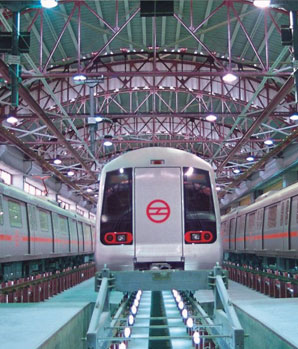 Is creation of smart cities a feasible idea in a country like India which is still fighting with poverty and booming population?
Even after so many decades of Independence, we have not been able to attain progress in the real sense of the term. We are still haunted by the menace of poverty and population explosion has been plaguing India since the pre-Independence times. It is a sad commentary on the apathetic attitude of the past governments. But we can't hide behind the poverty veil and ignore the ground realities of the day. The present-day fact remains that there is a continuous influx of people from the far-flung rural areas to the cities in search of better job opportunities and other amenities of life. And, this trend is going to continue even in the days ahead. They need to be accommodated and provided with all the facilities one needs for a quality life. But that is not possible without creation of new cities, possibly smarter ones.
Prime Minister Narendra Modi has been insisting on strengthening urban infrastructures, and developing new cities and satellite towns. Moreover, the government has even made generous allocations for in its very first Budget for the purpose. So, the way forward is developing our existing cities and adding new ones for the neo urban dwellers. We should not forget that this new ambitious lot coming from the rural areas will not just work towards self development, but also make substantial contributions to the economy, as cities are the new economic hub of the country.
Can Delhi be developed into a smart city?
O yes, definitely! If we talk about Delhi, metro rail as an efficient mode of mass transport has today become a symbol of smart transport. It is expanding with every passing day. Road network in the capital is also an extremely good one. Then, we have one of the best information and communication technology network. However, due to wrong policies of the past governments, we have not been able to ensure a holistic development of Delhi. If we had had a futuristic vision, the Bus Rapid Transport System (BRTS) would have not been a failure here. All we needed was linking it with other transit hubs like metro and railway stations.
Also, due to haphazard and unplanned regularisation of slums, a number of areas are still awaiting even the basic amenities like water, power, hygiene and medical facilities. All this presents before us a perfect case of a metropolis waiting to be converted into a smart city. In fact, I would like to describe it as an opportunity to raise all sorts of infrastructures rather than crying over the spilt milk.
"The example of Noida and Gurgaon suggests if balanced development takes place across the states, people won't rush to cities like Mumbai and Delhi in search of opportunities"
PM Modi has also talked about developing city suburbs. How do you look upon the suburbs of Delhi?
Unlike many other suburbs, the NCR region of Noida and Gurgaon are developing really well. These locations are today comparable with New Delhi and other developed cities, and fast turning into IT hubs as well as centres for job opportunities. The example of Noida and Gurgaon is also a pointer to the fact that if balanced development takes place across the states, people would not rush to cities like Mumbai and Delhi in search of opportunities.
Do you think that greater thrust on PPP model can help in development of smart cities?
The Public Private Partnership (PPP) model is a welcome concept on today's context. In the Kamala Nagar area of Delhi, we have established a parking facility through the PPP model. The private partners used some of the latest technologies to build that parking slot, which is not always the case in a government executed project.
Also, large scale creation of infrastructure calls for massive investments, which is many a time difficult for the government alone to meet. The private sector can bridge that investment gap. The PPP model also brings in the element of greater responsibility and accountability. Perhaps, it was this very thinking that encouraged Finance Minister Arun Jaitley to propose setting up of an institution called '3P India' in his maiden Budget with a corpus of ` 500 crore. This will help in mainstreaming public-private partnerships (PPPs) in the smart cities segment, among others.
Elets Technomedia, in association with the eGov magazine is organising a national summit on smart city. Any message from you?
This is a commendable job. Now that the Narendra Modi-led central government has already endorsed the agenda of creating smart cities, offering a platform to all the stakeholders to discuss and find ways to give shape to the vision is a highly laudable effort. I believe in the 3rd Smart City 2014 summit, people from the cross section of society will come together to share their ideas on the urban future of India. In fact, such summits are the need of the hour. My best wishes to the organisers.
Follow and connect with us on Facebook, Twitter, LinkedIn, Elets video