In 2013, record 8.5 million passports were issued, and we expect to touch the magical figure of one crore in 2014-15, reveals Muktesh Pardeshi, the Joint Secretary and Chief Passport Officer of India, talking to Nayana Singh of Elets News Network (ENN).
'Passport Seva Diwas' is coming up on 24th June. Can you highlight the key achievements of your department?
Well, the Govt of India has decided to commemorate 24th June as 'Passport Seva Diwas' because the Passport Act, 1967 was enacted on this day. Before this act, issuance of passport  was an administrative decision, but this act laid the foundation for the legal issuance of passport. Passports are issued in line with this act, so citizens can take legal recourse if they are deprived of this facility. This was a landmark act, so we decided to commemorate it every year to make people aware about the Seva.

What have been the achievements with regard to the   issuance of passports?  
In the last one year, there have been many such achievements. In 2013, 8.5 million passports were issued. This is  record. We saw some 15 percent growth in passport applications this yea  alone. This trend is likely to continue this year. We are expecting to touch the magical figure of one crore passports by the end of 2014-15. That's a big target and we are prepared to take that challenge. In the world, there are only two countries which are ahead of us – China and the US have about 40 percent of their population possessing passports. Since the year 2000, India has witnessed about three-fold increase in the number of passports issued. And, as I said, in the year 2013 we have witnessed 15 percent growth.
Since now we are dealing with huge numbers, we have to ensure that the service provided is top class and citizens do not face any inconvenience, and in this e-Governance has helped us. You know that through Passport Seva Project (PSP), we are using IT to enable us to give citizens services in far more efficient manner. We already have 77 PSKs running. We also have some 'Laghu Seva Kendras' (small service centres) operational. In the last two years, we have taken some citizen-centric measures in the country, like launch of mobile app for Passport Seva, through which citizens can check the status of their application. They can find out the location of the PSK, find out about passport fees, etc.
Besides, we are also integrating Common Service Centres (CSC) with the passport services. Sometime ago, the Ministry of External Affairs ,CSC and DeitY jointly decided to channelize about 1 lakh CSCs for passport services. So,in the rural hinterland, where there is a digital divide, people can go to the CSC and file application at a nominal charge of Rs 100 rupees. In the coming months, we are going to take maximum advantage of the CSC for the purpose.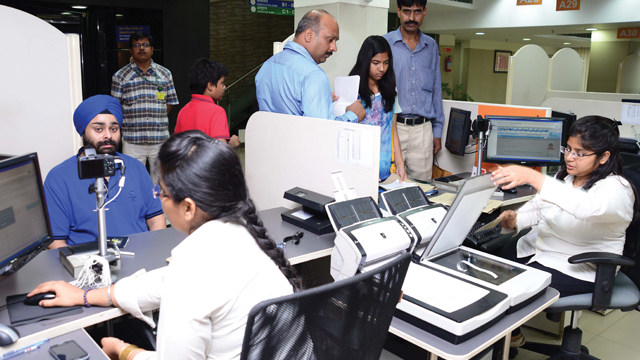 These are good moves. What more features are you planning to add to the Passport Seva initiative?
This year we are working on CSC and on how to integrate them in a better manner. We are also examining whether the post offices can also be integrated for the purpose. We are working in a big way on how to improve the police verification system. The PSP envisages that there will be online integration with the  police department. There are some 725 police districts and now about 400 of them have been integrated with the Passport Seva. So, online forms travel to the police department and their verification is also received online. That cuts down delays and brings efficiency and transparency. Our target is to cover all the 725 police districts; every month we are adding more police districts online.
We have also conceived an idea called Passport Seva Camp. For doorstep services, we organize these camps for people in very interiors, particularly in the North East. We had such camps in Manipur, Tripura and Sikkim. Besides, wherever we feel this is required, we go, maybe every three months, and collect applications.
"Since the year 2000, India has witnessed about three-fold increase in the number of passports issued. Globally, there are only two countries ahead of us – China and the US, which have about 40 percent of their population possessing passports"
What is people's response to the services?
The people are very responsive. Though the number may be small but the feedback is positive, as the people from Manipur had to travel to Guwahati for these services until now. We have a proposal to set up a Laghu Kendra in Manipur. We publicized through newspapers about the camp.
What exactly are the Laghu Seva Kendras?  
These are regular Passport Seva Kendras. Since the Cabinet mandate was only for 77 PSKs, we realized that some areas went unattended; so we started the Laghu Kendras and PSK projects. The Laghu Kendras are government owned and do the same things but on a smaller scale.
What is your vision of an efficient passport service, given the aspirations and needs of the people?
Well, the vision is to expand the network and improve the system, so that people are served better in terms of passport issuance. Secondly, we would like to create multiple channels for online submission of applications; they can do it from home or avail the services of CSC or hey can visit post offices for online submission of the applications. And, when they actually visit a PSK, we give them the world class facilities. Once the application is there, they do not have to run around. The citizens can track the status on their mobiles, smart phones, Internet or through call centres. The whole idea is to make the process easy and convenient, and dependence on the government for getting any information should not be there at all.
We are improving the passport book itself. In the year 2014-15, we may have some concrete stuff in this regard to show off.

Follow and connect with us on Facebook, Twitter, LinkedIn, Elets video