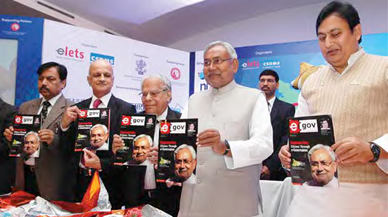 Government of Bihar in partnership with Elets Technomedia Pvt Ltd. organises first eBihar Summit on 19-20 February, 2014 at Hotel Maurya in Patna with the objective of showcasing Bihar as an emerging IT destination. The event was huge success and well attended by various stakeholders. Team egov presents a brief report.
Inaugural session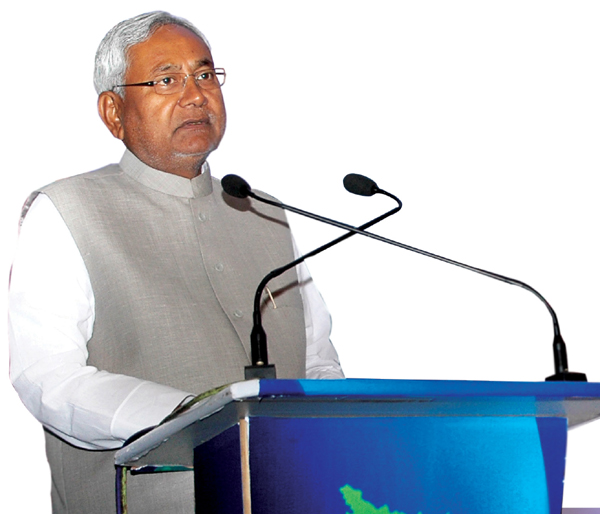 Nitish Kumar, Chief Minister, Bihar:
Before becoming Chief Minister, we used to say about worse condition of the state, but when I assumed office, I realized it was much worse. In CM Secretariat, old typewriter machines were used in 2006. After two years, Bihar was conferred an award on e-governance by Government of India. At first, full computerization of Registration department was done.
After this, computerization of Treasury department was done to keep a check on irregularities like Animal Husbandry scam. Recently, a businessman's son was kidnapped in the city. And our police rescued him in a very short time after monitoring cars going out of the city with the help of City Surveillance and Dial 100 project, whose trials were being run.
Bihar is the first state to come up with Right to Public Services Act. Karnataka is pioneer in IT, but when we brought RPS Act, people from Karnataka came to understand it and also made it in their state. It brings transparency as it shows file movements. How much time government is taking in making decision? We can monitor everything.

We have implemented Food Security Act this month. Door delivery system for PDS has also been started. The PDS vehicles' movement from Food Corporation of India (FCI) to State Food Corporation (SFC) godown and then to PDS shop will be monitored. There were many discrepancies in PDS, which will be checked now. In many states, grains meant for PDS are sold openly in markets. Some raise this concern while some catch the culprits, but this problem never gets solved. But with the help of GPS technology, we are tracking these vehicles to check all discrepancies. We also put load cell to check the theft of food grains. With technology, many discrepancies can be stopped, facilities can be provided on time and transparency can be brought in government decisions.

NK Sinha, Commissioner ,Commercial Taxes; Principal Secretary IT, Government of Bihar:
We have been told many a time by people that Bihar is a late starter. We may be, but if we have begun, it is for others to watch where we end up. The technological advancements have come to ameliorate our disadvantage of being a late starter if at all. World is moving fast on the path of technology. With the arrival of new technologies and proper vision and planning, we can convert our disadvantage into a highly competitive advantage.
" We have also given land for IT Park and given in principle approvals and cabinet approvals to many important policies. We have also started Angel Fund to help young entrepreneurs. Patna is suitable for IT companies and will benefit all. "
"We have been told many a time by people that Bihar is a late starter. We may be, but if we have begun, it is for others to watch where we end up"
In India, three to four years ago, we set out to connect universities with one gigabit per second connectivity, which was thought to be perhaps an overkill. In the states, we were with eight megabit per second connectivity, which we are still today. Do you see Bihar connecting its districts with 10,000 mbps connectivity and all its blocks with 1000 mbps connectivity at a lesser cost than what we spent for 8 mbps connectivity. Would you believe it? Hold on, you might find Bihar to be the first with this kind of connectivity in the country. Would you also believe that so-called laggard state of Bihar is no longer laggard and in a short time perhaps, we could boast of the largest and longest city wifi network in the country and world. People would say no, but then we wish to show them what is the place of Bihar in the community of people who are doing hard work for technological advancements. Bihar has started its journey, acceleration is phenomenal, the ecosystem is developing very fast and the kind of leadership and encouragement that we are getting from the government and especially, the Chief Minister of Bihar is unimaginable. Please come to Bihar, invest and reap the benefits.

Dr Barry Sandrew, CEO, Legend 3D of San Diego, US:
An ambitious programme to build an IT multimedia hub in Patna can place the state of Bihar on world stage as a first class high technology source of excellence, innovation and entrepreneurship. Patna is far from cities like Bangalore and Chennai and doesn't have the glamour of Mumbai and Hyderabad as well. It also doesn't have the huge real estate, IT and power costs of those regions. What it has is the young and educated population, entrepreneurial with can do attitude and innovative spirit and motivation to make anything reality they set out to accomplish. I have seen it myself and this is the reason why Patna has become my prime outsourcing destination for past 14 years. For well over a decade, UNO Digital, the studio that I work with, has been and continues to be the highest quality outsourcing facility for making 3D movies in India. World class documentaries, big budget commercials, blockbuster feature films like Pirates of the Carribean, Hugo, Shrek series, Green Hornet, Green Lantern, Smurfs 1 and 2, etc have been processed here. Many movies have also been converted into 3D on time and on budget.

B V Naidu, Founder, STPI and Sagitaur Chairman and CEO:
While watching the high tech inaugurations, I was wondering why people think Bihar is not an IT savvy state. In last two terms, the Chief Minister has changed the perspective of Bihar. Seeing the recent developments and money spent on different e-governance applications, one can surely say that Bihar is IT savvy and now, looking for investments in IT sector. If in less than six months, Bihar can start to catch up with what is happening elsewhere in the country, I think Bihar can do much more wonders. When I came to Bangalore in 1991, there were only 13 companies probably doing 5 million dollar exports. From there onwards, industry has grown. In 2010, it reached 17 billion dollars. As we speak, we are 28 billion dollars industry. If Karnataka can do it, so does Bihar seeing the active participation of government and IT industry. It's good to hear that Bihar has created the `25-crore Angel Fund, which no other state in the country has. Even though we talked about this in Karnataka, we still don't have it. The NIELIT's plan to hold training of all government officers is also unique. You have done a lot of work and have many wonderful policies, now you need to do branding and tell people about the good work done in the state.

R Chandrasekhar, President, NASSCOM:
I complement Dr Barry Sandrew to have realized the potential of Bihar long before people knew about it. Sometimes you miss what is right under your nose. Today there is a huge demand of IT skills. Populations are ageing in many developed countries. For these countries, India with a young population is seen as a very rich source for such manpower. Twenty years ago, this manpower used to go abroad and work, but today the industry chases the manpower and goes to where people are. This is the reason why it came to India from other parts of the world and today some parts of industry is also going to other countries like Philippines, Vietnam, etc from Bangalore and Mumbai. It is happening because other parts of the country, which are eminently qualified, have not quite got their act together. The most interesting feature of the industry today is that a large number of innovative start up companies are coming up. The beauty of today's generation is that many of the brightest youngsters are not looking for good jobs or good universities, but are becoming job creators rather than job seekers. If it can be encouraged through incentives, then you will find remarkable change in the state.
The next step in e-governance is to not just provide services, but also to be able to link up between the different departments like Land Records and Registration department or Passport Office and Police department. E-governance is forcing different departments to work together. The first step to ensure this kind of collaboration is a greater degree of convergence. Data Centre, Wide Area Network, Citizen Service Centres (Vasudha Kendras) are important steps towards integrating that face of the government.
One of the big problems in e-governance is that we are inducting the new technologies, but old processes in the government are not getting changed. If a group of exceptionally bright and competent officers is put to make the changes and ensure implementations of the projects, then it would change the whole paradigm of service delivery.
Today, people want to participate in governance and not just vote once in five years. Through technology, there is a great opportunity to create a platform for citizens to be a part of government. This will help the government to link with the citizens and encourage them to be a part of governance on a regular basis.
Shahid Ali Khan, Minister for Information Technology and Minority Welfare, Government of Bihar:
In 2007, Department of Information Technology was set up by Shri Nitish Kumar. Some days back, we formed a core committee, which travelled to many states to understand the things happening in IT. After coming back, we all discussed and formulated different policies. Now, Bihar is making significant progress in the field of IT. It is happening under the guidance of Chief Minister Shri Nitish Kumar.
Atul Sinha, Managing Director, Bihar State Electronics Development Corporation Limited (BELTRON):
Many of Hollywood 3D movies like Superman, Transformer, 300, Little Mermaid, etc are being created in Patna nowadays. Our engineers are working on cutting edge IT technologies like digital image processing in Patna. This is the power of Bihar. I appreciate Dr Barry Sandrew, CEO, Legend 3D of San Diego, US present here to recognise the talent pool of Bihar.
Bihar State Data Centre is situated in Beltron Bhawan, Shastri Nagar. It has 1600 sqft server room, which can accommodate more than 40 server racks, where more than 600 servers can be placed. It will be sufficient for server hosting for all departments of government of Bihar for over ten years. It is capable in every sense and has three generators of 425 KVA for power back up. It has security of international standards. It has come up at a cost of `20-25 crore. It will satisfy all the needs of all departments of government of Bihar for around ten years.
At City Surveillance and Dial 100's control room, one can see Patna Police's 140 PCR vans, which are installed with GPS devices, on digital map of Patna. If any citizen dials 100, the officers at control room can send the nearest PCR van on the map for helping the caller instantly. Live feeds of more than 100 surveillance cameras can also be seen here. They cannot only zoom, rotate 360 degrees, but can also work at night. It also has automated number plate recording system, which helps in recording number plates of vehicles coming in and going out of the city. It is vital for keeping a tab on crime. This project is one of its kinds and has made Patna a lot safer.
Bihar State Services Delivery Gateway portal will be used by citizens to avail all the facilities. It has SMS, payment and mail gateway. If one registers at this portal once, he or she will not have to fill the common information like name, father's name again and again. Eight services related to labour department and human resource development department can be availed right now. World's longest free city wifi project has been started at Maurya Hotel and nearby places on an experimental basis.
Till now, nobody has ever thought that illiterate people can be made e-literate. Today, we have shown the way by educating illiterate ladies the way to use low-cost tablet for doing various important things of day-to-day life with the help of videos.
Bihar- The Emerging Destination for IT Companies
N K Sinha, Commissioner, Commercial Taxes; Principal Secretary,IT, Government of Bihar:
Bihar has talent of a very high quality Go anywhere, you will find people from Bihar who would be contributing for the upliftment of the country or company they are working for. There is no dearth of talent, which can be assured. Get raw talent and convert it into actualizable talent, which means training, education and literacy. Seeing IT Infrastructure and connectivity, it goes without saying that in a very short time, Bihar will be the best connected state in the world. We will be the first in the world to claim that every household woman in Bihar is digitally literate. Since we are the beginners in utilizing the e-learning space, there is a huge potential that would open up.
Barry Sandrew, Founder & CCO, 3D Legend (US):
For 14 years, my company, 3D Legend's business with Uno Digital, Patna has been happening on a handshake and not contract. It doesn't happen between a US company and an Indian company. 3D industry is growing, so we are not only going to convert more films from 2D to 3D, but we are also going to enter animation. That is going to take a lot of people. You can shoot a movie in 3D with two cameras or shoot with one camera and convert a 2D movie to 3D in computers with the help of core technology. We have only two other competitors in the world.

Dr Ashwini Kumar Sharma, Managing Director, National Institute of Electronics & Information Technology (NIELIT):
IT Industry is mainly dependent on manpower. In Bihar, there is no shortage of manpower. The good governance over the past eight years has changed the image of Bihar. It is a positive sign for attracting investments. There should be a funding agency or venture capital for encouraging and assisting youngsters, who drive IT industry. It's good that the government has already approved the Angel Fund. A supporting policy and ownership by the government are also very important for getting investments.
Bihar is the only state where the Information Technology Principal Secretary AK Sinha himself went with a proposal before the high power committee that we want a capacity building organization to be set up by DeitY. Otherwise we would have had to go to CM and secretaries and waste a lot of time.

Vinod Nair, Vice President, VC & Contact Centre Sale, AGC Networks Ltd:
A state's prosperity can be measured by straight gross happiness index (How happy the citizens are?), experience of citizens in getting basic services, accessibility of the state government, getting affordable healthcare for all the citizens and disaster management. With a help of Smart Class Studio, a single faculty can teach five different classrooms filled with children in five different cities. It's a two-way traffic, where voice, video and data are transferred. We have also created a virtual OPD. With the help of Data Centre, the government doctors at various locations after getting logged in the system can advice patients sitting in different locations.

Atul Sinha, Managing Director, Bihar State Electronics Development Corporation Limited (BELTRON):
Special incentives and grants are being provided under ICT Policy by the government to attract investments. Less time and few procedures are required to start a business. The focus is on improving business & social infrastructure by catering to varying needs of the industry such as IT Parks, High Speed Telecommunication Networks, connectivity to IT Parks with wide roads, residential areas with modern amenities, modern hospital and other amenities for recreation such as amusement parks, malls etc.
Pre-Production and post-production benefits will be given to IT, ITES and EHM Sectors. The benefits are Registration and Stamp Duty Concession, subsidy on capital investment, incentive for plant and machinery for power and exemption from various laws and many others.
In IT Park, presently approx. 50,000 sq. ft space is available in Biscomaan Tower. As a short term plan, a world class IT Park with 1 Lakh sq ft area is proposed to be constructed in next 1-2 years near Daak Banglow Chauraha.
Human Resource for IT Industry
Srinivas Tadigadapa, Director, Intel South Asia:
This is a very pressing issue, which needs much attention as IT can certainly help in the development of the state. Capacity building in the IT industry has to be approached in two stages. First one is in IT enabled services, which has more than `100 billion revenue and is growing. And the second stage is the domestic IT industry.
In the IT enabled services sector, there is huge oppurtunity for employment. 30% of the engineers of the country who pass out of colleges are not employable. We need to pay attention in the colleges and make the students employable in IT sector.
While in domestic IT industry, we need to make efforts for providing skills to the youngsters. The skills of both the section of industry are different like IT enabled industry has cloud, etc. whereas domestic IT industry wants to provide basic IT services to the people. We need to plan for skills for both these sections of industry differently.
Vijay Kumar, Retd Chief General Manager, BSNL and Professor, Indian Institute of Technology, Patna
There is no dearth of talent in Bihar. But most of the younsters nowadays want to go for jobs outside the state because there are more jobs and better infrastructure like residential projects, clubs, etc. Apart from softwares, youngsters in IT industry should also be trained in soft skills.

Shantanu Prakash, Chairman & Managing Director, Educomp Solutions Ltd:
The fuel of the IT industry is people. This is our unique industry where in the evening, the most important asset of the company walk out of the door. We have to ensure that next day the assets walk into the door otherwise the value of the company is nothing. When we look at the larger perspective of human resource development for IT industry, we have to start thinking about two aspects. First one is what is the availabaility of human capital and the other is we have the human capital that can be immaediately put to work. After a lot of studies, it has been proved that IT industries today are spending large amount of money in the training of human capital, which was supposed to be already emplyable out of the door. The main challenge which India faces is how to make the human capital, employment ready. A lot of topics that are discussed in engineering colleges are outdated. The universities should make the courses which are linked to what is needed in the market. The biggest beneficiary of this will be the IT industry.
Creating high tech infrastructure for IT industry, Transprtation, Power, Telecom, etc.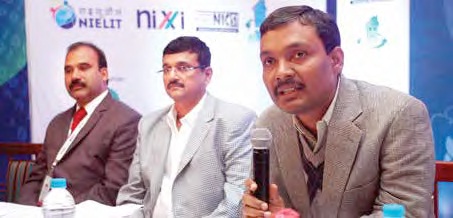 Chanchal Kumar, Secretary, Building Construction Department, Government of Bihar:
College of Agriculture, Kishanganj, Bihar is being developed at a cost of `672 crore with a builtup area of 199399 sqm. It will complete in two to three months. Extension of Vidhan Sabha and Secretariate building is being carried out at a cost of `362.49 Crore. Its builtup area is 54800 sqm. 80% of the work has already been completed. We hope to end the work in eight to nine months.
Housing project for MLA and MLC will come up at a cost of `450 crore with a builtup area of 128872 sqm. We will soon roll out its tender. Police Bhawan, Bailey Road, Patna will be developed at a cost of `281.34 crore with a builtup area of 54716 sqm. In 2005-06, when budget was `5,000 crore, we were able to spend only `3000 crore. Now, we are able to spend 90% of the budget. Now, we have the capacity of taking up big projects as well.

Lokesh Lohiya, Regional Manager – Business Development, Cisco Systems:
All the public areas like temples, railway stations, hospitals, hotels, etc and law enforcement agencies like police need to be connected. Technology helps to connect all the parts of the city to make it secure. City Surveillance Project has become a national drive and is being carried out everywhere in the country. Now, cameras have ecome smart and cannot only take a picture, but monitor a view and detect an incident on its own as well. It can also send the information back to the control room about the information of the incident that has happened. It can detect a fire, loitering, traffic accident, etc. Today, numerous cameras are placed in the city, but at a time, we can see only a few. So, with the help of technology, we can see the ones which report about an incident.
Kiran Shah, Managing Director, Velankani Group:
Inviting IT industry to any state is a blessing and a curse. Blessing because it creates new well paid jobs. For every IT job, three non-IT jobs get added, but it can also mess up your city as well. Whether it is Bangalore, Chennai, Pune, Hyderabad, Noida or Gurgaon, the IT industry has messed up pretty much every city because the cities were not ready for the infrastructure, which was required to support IT industry. Bangalore currently creates 100,000 jobs and 1.2 crore sq ft of office building every year and its just going on increasing. Because now the momentum is set, this industry will not stop. This is what a state needs to be mentally prepared for if they want to attract IT industry. Once you start the journey, it is very difficult to stop it. In Bangalore, for one acre of office building, they add about 1400 employees per acre. That sort of planning is required. Road infrastructure should also be planned accordingly as many cars and buses would move on the roads. If you plan accordingly, you will not have problems of Bangalore.

Manoj Kumar Singh, Bihar Trade Tower:
We have started a project, Bihar Trade Tower, which will be constructed in Patliputra Industrial Area with a built up area of 5 lakh sqft. We have space for more than 500 cars in covered parking. We have an e-Mall, where all shops and offices will be located. A food court, movie theatre, gaming zone, gym, pool room, spa, swimming pool at terrace, common entry for all offices will also be made. Only the authorised persons will be able to go to the offices and the visitors will have to wait at the lobby for assistance from the respected office.
B V Naidu, Chairman, Sagitaur Ventures India Pvt Ltd:
Bihar as a state is getting all the right ingredients required for the second phase of the growth of IT. It is getting right infrastructure in right direction. I want to request the state government that when you plan this infrastructure, make it attractive for real estate developers to come and join government in a PPP mode. This infrastructure should be developed by private players as they know how to attract the IT industry and investors. When this IT City is being planned, don't plan just as an exclusive office buildings from the infrastructure point of view rather create an integrated multi use infrastructure, which has talent development centres, residential buildings, commercial buildings, etc. Involve private sector more and more to attract more investments in IT sector.

Pratayaya Amrit, Secretary, Road Construction Department, Government of Bihar:
In Bihar in 2004, people could not distinguish between pothole and road, but in 2010-11, we are talking about PPP and have more than `3000 crore projects going on under PPP. When I was the District Magistrate during elections, we used to get observers from outside the state. We used to tell them the time taken for travelling from one place to other rather than the distance as it used to take a large amount of time to travel a short distance. Travelling from Patna to Nalanda or Sitamarhi was unthinkable as a bridge was pending for 13 years. Now, in 2014, the roads of Bihar are not only talked about nationally, but even internationally. We started this journey in 2006 and I still feel we have just begun. In last six to seven years, we have constructed more than 19,000 km of roads. From any district in Bhar, you can reach Patna in less than six hours. Bihar perhaps is the only state in the country which spent `969 crore from its own kitty for maintenance of national highways.
"In Bihar in 2004, people could not distinguish between pothole and road, but in 2014, the roads of Bihar are not only talked about nationally, but even internationally"
Day 2
Emerging Technologies – Big Data Analytics, Networking, Cloud Computing & Security
N K Sinha, Commissioner, Commercial Taxes; Principal Secretary IT, Government of Bihar:
Big Data Analytics is an emerging field. Many big players are already into it. We want to learn from them and create wonderful solutions. It will ensure e-governance benefits are available to the every citizen for the state. For Big Data Analytics, the Cabinet has already sanctioned a massive project. `20 crore has already been approved as a first installment.
We have huge databases and we need to design our data structures and processes. In e-governance, processes are very important.
Around five years ago, when state wide area might have been conceptualized, eight mbps would have been considered a great bandwidth. Today, eight mbps is no good for even our home. So, network has to be upgraded from time to time. It should also be safe.
Amrit Lal Meena, Principal Secretary, Rural Development and Panchayati Raj, Government of Bihar:
Bihar has about 1.8 crore rural households and 20 lakh urban households. Current projects which our department has undertaken are E-Shakti, NREGASoft, CPSMS, AWAAS SOFT, Mobile Inspection System, ICT initiative by JEEViKA and Panchayat Enterprise Suites. In E-Shakti, biometric, multi-app smart card as portable & secure ID is given to villagers. A call centre for trackable grievance redressal has also been established. E-Shakti was the initiative of the state government in 2009. It was envisaged that each and every citizen would be provided an E-Shakti card. It was initiated in Patna district. Initially, five blocks were taken up. About 14 lakh cards have been distributed.
NREGASoft will interconnect all the gram panchayats, blocks, districts, states and the union ministry. It captures the information right from the registration of the worker. nrega.nic.in portal provides single point access to all stakeholders of MGNREGA. It empowers an illiterate worker to easily access and verify accounts.
Shailesh Shrivastava, Technical Director, NIC, Bihar:
E-Governance oriented technologies and services are growing with a considerable speed around the world with need to take the electronic service delivery to masses. Cloud computing is a model for enabling on-demand network access to a shared pool of configurable computing resources (e.g., networks, servers, storage, applications, and services) that can be rapidly provisioned and released with minimal management effort or service provider interaction. Cloud computing provides a firm base to provide e-services to various stakeholders including taxation, social sector scheme, student services, etc. Many government agencies such as home, income tax, judiciary, etc. are entrusted with confidential information and private data. Cloud computing may seem risky because you cannot secure its perimeter— where are a cloud's boundaries?
One of these attacks is the distributed denial of service (DDOS) attacks. If a user could hijack a server then the hacker could stop the web services from functioning and demand a ransom to put the services back online. This is crucial for e-gov applications in which time bound services need to be delivered and availability of the service also has to be guaranteed.

Virendra Singh, Director, Information Technology, Government of Maharashtra:
Maharashtra has been one of the leading states in IT initiatives. We have majorly concentrated on building core infrastructure. We have also given a big thrust on capacity building. Our e-governance initiatives are G2G, G2E, G2B and G2C. While implementing an e-governance project, we should carry out a detailed DPR or GPR. We have to simplify the processes and eliminate some things. One such thing is affidavits. Affidavits were a source of income for the British and also used as they didn't trust Indians. It's high time, we start trusting our citizens. Taking the leap on this, Government of Maharashtra since last year has done away with all kinds of affidavits required for certificates. We have created robust infrastructure of IT. We have a state-of-the-art data centre, which is cloud enabled. We have about 35,000 citizen service centres (CSCs). We have partnered with TCS to come up with Maha Online, which houses more than 250 programmers.

Manas Sarkar, Head Pre-Sales (India & SAARC), Trend Micro:
About 1/3 of the world's population (2.4 billion users) is on the internet. We have more information at our fingertips than we could have imagined. Google now indexes over one trillion URLs each day. There are 665 million websites – amazing when you consider this number was only 50 million in 2003. Not only are we using the internet to access information more quickly and easily, but we are also using it to connect with others, to learn from others and share with others.
One new threat is created from a cyber criminal every second. It has become its own underground economy. Virtually all cybercriminals use toolkits. They can download prebuilt executables that allow them to exploit vulnerabilities.
Not surprisingly, we have found that 90% of organizations have active malware, and shockingly more than half are not aware of intrusions. And it is important to organizations as it costs them money – millions of dollars per breach.
Anubhav Tyagi, Sr Solution Specialist, Safenet India Pvt Ltd:
Benefits of cloud are almost zero upfront infrastructure investment, just-in-time infrastructure, more efficient resource utilization, usage-based costing and reduced time to market. There are several issues in cloud security as well. There are technology concerns like data location, data segregation, identity/federation, distributed storage, privileged user access and control concerns like compliance issues, legal, audits, visibility, change control and SLA. Security tops list of cloud challenges. Who is accessing my data? Can I enforce an effective access control policy? Can I present a trusted audit trail of all access events to my data? These are some of the questions which are always on the minds of cloud users. When you're moving to the cloud, you need to see that how do you maintain ownership and control of your data in a multitenant environment? This is very important.
Ravi Khattar, Cisco:
Shadow IT has come up in every organisation. There is a lot of money being spent in the name of IT, but it is actually spent outside the perimeter of IT for IT purposes. Ten years ago, when we defined an IT budget. Over 80-90% of the budget was under the control of IT department. With the adaptation of technologies like cloud and so on, budgets are with business groups and these groups are spending it without the knowledge of IT. CISCO CDO office estimates that over 5X or 10X of your IT Budget is critically purchased with the IT services being involved in those purchases.
In cloud, what we ensure that you have more choice of service providers. Intracloud application helps one to shift from one cloud service provider or virtualisation platform to another one.
Sundar Rajan, SAS:
Data is coming in from many different sources like eSHakti, NREGA, Pension, Land Records, Driving Licence, etc about the citizens. Everything pertains to individuals. Most of the social programmes that are being implemented by the government after being announced on portal,should benefit the individual and the individual should be identifiable. The government should have one single data that looks at citizens with all angles to be able to indentify that he is in receipt of the benefits of the social service we are trying to provide. The citizen should be able to receive the information or benefits that are due to him without having to go through various things. It is a challenge in a state like Bihar, which has a population of more than 10 crores. If name of a person is different on different government I-cards like driving licence, Passport, Bank name, etc, it is difficult for the government to know that they are the names of one single man. That is where we come in.
Better Governance through e-Services delivery

Dr S Siddharth, Secretary, Urban development and Housing, Government of Bihar:
About 25 modules are being implemented through Nagar Seva initiative. These are web portal with CMS, Citizen Facilitation Center (CFC), Birth & Death Registration, Property Tax, Water Supply & Sewerage, Building Plan Approval & Regulations, Works Management System, Registration / Licensing, Solid Waste Management, Accounting, Personnel Management System, Health and Sanitation, Rent, Lease & Sairat, Land and Estate Management, Advertisings & Hoardings, General Administration, RTI, Audit, IT support, Legal, Store Management, Q & A of Legislative Assembly, Workflow & Document Management System, Slum Management Information System, Knowledge Management System and Development Sector Schemes. The approvals for different works in these areas will be given online. Some features of Nagar Seva are that it supports multiple delivery channels, accepts legacy system data and has 3-tier architecture. It is unicode & UID compliant. It uses cloud and is highly parameterized. It has best practices to bring in transparency and time-bound delivery.
Dr Dharmendra Singh Gangwar, Principal Secretary, General Administration Department, Government of Bihar:
In Bihar Right To Public Services Act, 2011, delivery of notified public services is done within stipulated time limit. Fixation of accountability within the system is also done by naming public servants – Designated Public Servants (DPS) who would be held responsible for delivery of services. There is transparency in implementation of the provisions. There is a provision of a Right to Appeal at two levels in cases where services are unjustifiably delayed or denied with provisions to impose penalty on the responsible public servants. Good governance in Right to Public Services Act (RTPS) results in transparency, accountability and responsiveness. RTPS model of Bihar is different from similar schemes in other states as it delivers services to citizens free of cost. Software applications in it have been developed in-house.
Sanjay Nayak, CEO, Tejas:
Amount of pro-activeness of the government officers and political leadership in Bihar is much more than any other state. There is no point in following and catching up with other states. There are only three things needed to make an entrepreneur successful and it can be done without building too much physical infrastructure. First is creating logical infrastructure, which will help in connecting long people from Bihar into the opportunities, which are getting created here. Second is tremendous amount of skill building. The third and most important is funding. There are a lot of people, who have good ideas, but because of sub-optimal funding especially at the early stages, they don't become successful. Some kind of an entrepreneurship fund at an early stage would be very useful to promote entrepreneurship at a major level. The last support the government can give is market access to the entrepreneurs.

Anand Kumar, Regional Passport Officer, Patna:
Passport office, Patna's journey started from 1979. 800 passports were issued per month in 80s. Computerization of the department started in last decade. Our vision is to deliver passport services to citizens in a timely, transparent, accessible and comfortable manner through streamed processes and committed, trained and motivated workforce.
Government of India through Ministry of External Affairs is working with TCS on PPP mode. Under this model, most of the core activities are being controlled by Ministry of External Affairs like data management, data control, etc. And all non-core activities are being controlled by TCS.
This project is named Passport Seva project and under it, Passport Seva Kendra has been started in city of Patna. We are making many continuous improvements like user friendly website, electronic queue management, online appointment and payments, mPassport seva mobile app and Premium optional SMS service.
Bihar's Initiatives for Incubation of Small/ Medium Scale IT companies

P K Sinha, Director – Astric Computers (India) Private Limited:
Seeing the recent developments in IT, this time is very crucial for us. Till now, we have been only reactive as it is in our upbringing, but now, we will have to be proactice in today's situation. We also face many troubles in initiatives as it is not well defined. Enterprise development is about taking risk, analysing future, exploring something in middle and then, proposing for next steps. In last two – three years while closely working with few universities, we found that we have to move in an all round approach. Bihar is the major source of human resource capital of country. We are the youngest human resource, which is our biggest asset. It's time to start enterprises otherwise, we will get only third party work.
S P Sinha Chairman, CII Bihar; Member of ICT Core Commitee, Bihar:
There are four major projects, which the government in considering regarding Incubation Centre. Two of them relate to creation of incubation centres at IIT Patna and BIT. Different efforts on part of universities and another one is coming at BIA premises with the help of private sector. IIT Patna has got the approval of Central government and waiting for MoU with state government to set up the centre. It will be located at BITA in a separate building with a full-fledged lab. BIT will also be built on similar lines. The centre, which private sector, is trying to set up with the assistance of Intel Network, is little different in approach. What they are trying to do is once the idea or product is developed to a particular level, ie you have a commercial prototype, a business will be created around it, one will get close expert mentoring. Idea is to start with some centres in Bihar Industries Association.
Dr Pritam, IIT Patna:
The B-Tech students now don't want more of theoretical stuff and want to develop something, which is working. I want to nurture their innovation. I was stuck as we have limitations of spending. The upcoming Incubation Centre will definitely help these minds to realise their dreams. Generally, incubation involves innovation and entrepreneurship. For innovation, the key word is to catch them young as when they grow, risk taking ability dies out. When they are young, they can dream to lead their project. If this incubation centre is set up in IIT Patna, students right from the first year, will get a chance to test their idea. And when we feel that it has sufficient technical stuff, then we will make eco-system, where there idea will be valued by mentors from the industry. Then, there will be a check. Once it passes the check, we will make a business plan for them. With the help of government, they can go for start-ups.