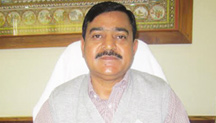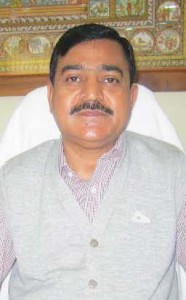 Jugal Kishore Mohapatra,  Chief Secretary, Government of Odisha
"e-Governance is being seen as a tool for promoting efficiency and transparency in government departments", says Jugal Kishore Mohapatra, Chief Secretary, Government of Odisha in conversation with Nayana Singh and Kartik Sharma
Ruchir Sharma in his famous book, 'Breakout Nations' has identified four states that are on the verge of economic breakout. Odisha is one of those four states. What is your view about the status of economic growth happening in the state?
Today it is widely acknowledged that Odisha has immense potential in natural resources as well as man-made endeavours. Till the end of the last century, Odisha had a very difficult situation in terms of finances and all its social indicators were pretty low. But from 2004-05 there has been a marked improvement in Odisha's economic and social profile. Today Odisha has a strong fiscal situation. There has not been any revenue deficit during the last 5-6 years. Fiscal deficit has always been below 3 percent in the last 5-6 years. So the state today enjoys a fiscal space for growth of more than 8 percent. Though I think the potential rate of growth of Odisha should be higher than that. Odisha offers tremendous scope for growth in almost every area of economic activity or social indicator. We need to speed up the pace of development. We can expect tremendous amount of development in the state in next 5-6 years.
Please give us your view of the e-Governance services that have been implemented in Odisha.
e-Governance is today being seen as a tool for promoting efficiency and transparency in government departments. There are many areas where e-Governance has taken roots in Odisha. State's treasury management system, is one of the state of the art kind of facility that we have created and perhaps Odisha is leading on that front. It has also got national e-Governance award. This is a very efficient mechanism; it has real time budget management where all the payments and receipts are done online among many other facilities. e-Governance is being used creatively and effectively in tax payment. The commercial taxes organisation has adopted a robust computerisation in almost every process. Now people don't have to visit the office to get their minor work done. From registration to payment to filing of returns are now done online. All the forms are available online. The process of automation is very strong. Computerisation has effectively helped in land records management as the registration process is now completely computerised. The process of keeping records of property transactions has been simplified. Now we are working towards putting the entire land records data online. People will be able to look at their land records through a seamless online process. At the same time, we are focusing on city college admission, Public Distribution System and automation of the secretariat. We are trying to make everything online in our state; even the Chief Minister accepts files through the electronic mode now. On the whole, I would say that a remarkable amount of progress has been made during the last few years and in the times to come, e-Governance will become even more pronounced.
Information Technology (IT) is now widely seen as a significant job generator for the youth. How is the IT sector developing in Odisha?
During the last 10 years, Odisha has witnessed maximum amount of interest from reputed business houses. The state is endowed with rich key minerals like coal, iron ore and investment in metal and power generation sector is strong. These are highly capital intensive projects. But now we are also trying to diversify our industrial base to other areas which can lead to further value addition and employment generation. We are preparing to take big strides in the areas of food processing, textiles and Information Technology. These are the areas where capital investment commitment would not be very high as compared to core sectors but the value addition and employment generation will be very high. The new ICT policy has been already cleared. We are keen to turn the state's capital city into an IT hub for software and hardware manufacturers.
Direct Benefit Transfer (DBT) is a key initiative of Government of India for disbursement of financial benefits and to promote financial inclusion. How is this scheme working in Odisha?
Unfortunately DBT has not made as much progress as we expected. This is partially because Unique Identification Authority of India (UIDAI) is not doing the enrolment work in the state. There are problems in NPR enrolment and delivery of Aadhaar numbers. We are now taking up this issue with UIDAI and NPR and trying to help them resolve the myriad issues. We are very keen to move ahead with DBT but unless NPR provides Aadhaar numbers to the citizens, there is very little that we can do. I would also like to point out that the state has its own schemes where benefits are being provided electronically to the citizens. For instance, there is the scheme called Mamta, under which a pregnant mother is registered at the time of her pregnancy and she gets Rs 5,000 electronically. I think more than one million mothers have already benefited under this scheme. This is also a form of DBT.
Tell us about the progress that is being made in the area of Financial Inclusion in the state?
I would say that Odisha has done better than most of the backward states when it comes to Financial Inclusion. Even with its Business Correspondent (BC) model, Financial Inclusion will need some brick and mortar presence at some level. We have more than 6,000 gram panchayats. Out of these, more than 3,000 do not have any bank presence. This creates a problem in providing financial services. We have told all the banks that if they want to set up a small branch in any panchayat, we will provide up to 600 sq ft of space free of cost for five years. I have directed the Secretary of Department of Financial Services to tell banks to aggressively open branches, because even BC model will require some physical presence, otherwise you cannot deliver financial services.
How do you think the new IT policy will benefit the state?
The new ICT policy is focused on helping startups like Micro, Small and Medium Enterprises (MSME) in the ICT sector, apart from helping the other established players to grow and bring more business to Odisha. We are now trying to pitch for developments in the semi-conductor hardware sector. For that, we are trying to get the assistance of the technical agencies. In my opinion if India has to complete globally in this field, this is the one area, where we have to offer a lot of assistance. In the eastern region, perhaps Odisha is the best place to promote this initiative and we are willing to make that kind of investment and provide that kind of support to promote this business. We are trying to get investors from Taiwan to come and look at Odisha as a production facility.
Odisha already has companies like Infosys and Wipro which have set up their offices in the state. Which other companies are you trying to bring in the state?
I have already advised the IT secretary to identify ten other lead players who can set up their development centres in the state. I am aware that the new players will not set up their business here in a day but at least we need to pitch for having a slice of their business during the next five years. However, I personally believe that it is better to do business silently. Holding business summits or making lot of noise through PR mechanisms does not lead to best results. When you bring the right kind of IT Policy then investments will automatically come in.
" During last ten years, Odisha has witnessed maximum amount of interest from reputed business houses."
What steps are you taking to ensure that there is optimum utilisation of the natural resources?
The natural resources utilization usually follows the market trends. Industries which utilise natural resources, they follow a business cycle. When the business cycle is high, rate of utilisation is also high, and when it is down, the rate of utilization also plummets. We have to plan accordingly. But the important thing is that we have to develop an environmentally sustainable rate of utilisation. If you over exploit, you will leave nothing for the future. So we must extract as much we need for today and leave as much as for the future generation. Sustainability is the key to optimal rate of utilisation of the natural resources.
Odisha has a substantial tribal population. What initiatives are being taken to bring about improvement in the quality of life of the tribal population?
The government is focussed on improving the lives of our tribal population. We are building 1,000 residential schools with residential facilities for the SC/ST students every year. The reason for low literacy rate among the girls in tribal community is that the high cost of sending a girl child to school. Hence, if the accommodation and living expenses are taken care of then the tribal people are willing to send their children to school. Therefore, this measure by the government is aimed at giving a massive boost to literacy amongst the tribal community. On the livelihood front, we are trying to promote commercial agriculture for the tribal community. We are working for the development of system that will allow our tribal population to get better value for their labour.