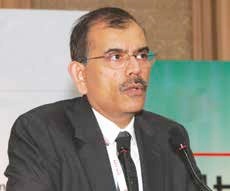 Manoj Kumar
Senior Vice President & Chief Financial Officer, Ricoh India
"Today major customers in India are not looking for standalone printer to be put in one corner; instead they are looking for complete solution," says Manoj Kumar
How has the overall printing and documentation industry in India evolved during the last couple of years ?
I would like to say that the print demand is actually increasing contrary to the popular belief that the customers are not relying heavily on print. The print volumes are increasing and customers are now becoming very demanding, so they are looking for complete print solution. They are not looking for standalone printer to be put in one corner; instead they are looking for complete solution. They wish to have very high resolution of printers for managing the work of a modern office. This is an area where Ricoh has a definite edge; we offer a variety of products to take care of the print solutions of the customers need. We are present in space of laser printer and production printer at the extreme range, the laser printer at the entry level, production printer at the highest level and we also have multifunctional products.

What are the business areas which you are focusing at present?
We are present across a wide spectrum of the industry. We have customers everywhere, in SMEs, in larger corporations, in government and we are also catering to individual customers. We are giving lots of focus on the Banking Financial Services and Insurance (BFSI) segment, and we are also looking at the education, healthcare, manufacturing and other sectors in the government.
No matter how much we say that customer is going paperless but there is still very heavy demand for printing
Tell us about the work that you are doing in the government sector?
The government has been already strong customer for RICOH since inception; in fact there was a time when we are doing 50 percent of total business in government. Our government business has grown and it continues to grow even though the list may have come down but that doesn't mean that government business has come down. It is just that the growth in the non government segment has been little higher and so far as government is concerned, we are very strong name over there and we are fulfilling all the needs of the government departments – whether it is products, whether it is IT services, whether it is document management.
Today many organisations are moving towards paperless office model, so they banking on the soft copies rather than the hard copies. How has this impacted the business?
We have the solutions for both sets of customers – those who prefer the paperless system and those who prefer the paper system. For those who want paper less organization we have document management solutions, and scanning solutions. In fact, one of our flagship products in Ricoh is the document management solution. No matter how much we say that customer is going paperless but there is still very heavy demand for printing and the printing volume have been growing steadily in the Indian market over the years.
Follow and connect with us on Facebook, Twitter, LinkedIn, Elets video