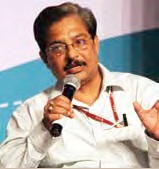 Dr Ashwini Kumar Sharma
Managing Director,
National Institute of Electronics and Information Technology (NIELIT)
NIELIT Lucknow Centre was inaugurated on October 23, 1996. The institution has been working as a customer-centered IT organisation, its major thrust areas are the following:

Education & Training
Facility Management
Software Development
Total IT Solutions on turnkey basis.
NIELIT Lucknow is equipped with latest servers and machines and is spread across a centrally air-conditioned area of over 12,000 sq ft. The centre has seven fully furnished classrooms, each with a sitting capacity of 40 students. Six classrooms are equipped with multimedia projectors and there are four dedicated laboratories for the students to carry out their practical assignments. A library comprising of more than 2500 books with latest journals and magazines exists for the students to use. The centre also has 4 MBPS leased line.Activities Core activities of the Society – Education & Training in the area of Information, Electronics and Communications Technology (IECT) – are different from other educational programmes of similar nature, in scope and quality, in the following aspects:
Highly flexible programme with consistent and timely updation of Course Curricula to conform to industry needs, so that the students graduating from the Society should not only find employment but also be sought after by the Industry.
Industry participation in the formulation and running of programmes, particularly for imparting hands-on-experience.
Latest Technology is used in all operations of the Society.
Regular feedback from customer i.e students and Industry.
NIELIT Lucknow has signed an agreement with Financial Development Corporation, Govt of UP to provide training to candidates belonging to SC /ST free of cost.
NIELIT Lucknow has trained 5700 officers of sales tax department, UP in 2012-13 in association with our accredited centers in all over UP.
NIELIT Lucknow has trained 700 officers of O/o Director General of Resettlement, Ministry of Defence in the year 2011-12 and 2012-13.Achievements
• Trained over 12000 students since inception through various IT long terms and short term courses.
• Trained over 20000 participants from various government departments to develop basic and specialized IT skills.Summer Training
 NIELIT Lucknow conducts special batches during summer to impart training to students of B.Tech/BE/ MCA and other regular courses as part of their summer industrial training.Corporate Training
 NIELIT Lucknow has signed MOU with Cane Department, Uttar Pradesh to provide training at their premises in the area of IECT.
NIELIT Lucknow is providing training to the participants of Institute of Financial Management Training Research, UP.
Training under Government Sponsored Schemes
NIELIT Lucknow is imparting training to Quality Analyst deployed under NPR Project in UP.
NIELIT Lucknow is imparting training under GOI's scheme 'IT for masses' to the women and SC/ ST candidates of UP state free of cost. Three diploma courses are conducted: Java, .Net and Multimedia.
NIELIT is providing free training to candidates belonging to SC/ST under Government's Job Seeker scheme. e-Governace
NIELIT has been playing a key role in supporting state government in imelementing the e-governace solutions by way of extending the technical support.The key projects being undertaken are in Transport sector, Health Sector and Rural road sector etc.Facility Management
The various Departments of Government of Uttar Pradesh signed MoU with NIELIT Lucknow Centre as outsourcing agency to provide technical manpower in the area of IECT to Departments/Corporations of state of Uttar Pradesh. In this project, NIELIT has deployed more than 900 IT professionals of the level of Data Entry Operators, Software Engineers, Computer Operators, Computer Operators (Accounts), Computer Operator (Steno), Database Administrators etc. in all the districts of Uttar Pradesh.Presence of NIELIT's Accredited
Centers in UP NIELIT has approximately 200 accredited institutes in almost every district of state of Uttar Pradesh. These centres are working as torchbearers in their respective region to scatter the light of knowledge in the area of Information, Electronics and communication technology.