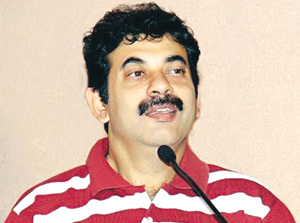 Jayesh Ranjan
Vice Chairman & Managing Director,Andhra Pradesh Industrial Infrastructure Corporation Ltd (APIIC)
"I have come across a number of instances in which private industries have made a huge difference to the quality of life in communities. Whenever there is industrialisation, it leads to all round development," says Jayesh Ranjan.
Tell us about your experience of working in the civil services?
In the last 20 years or so, I have been very fortunate to hold a number of important assignments, where I have made contributions on the basis of my abilities. In the first 12-13 years of my career, I worked in different districts of the State and was involved in a number of very satisfying community oriented projects.  I have been in Hyderabad since 2005 and have held two very exciting positions – that of Vice Chairman, Hyderabad Urban Development Authority and that of Secretary, Tourism.  I was able to implement some very significant projects in these two tenures.    The present post of the Managing Director at Andhra Pradesh Industrial Infrastructure Corporation is no less challenging. My focus in the last six months has been to highlight the strengths and advantages of Andhra Pradesh for industrial development.
Across India, Special Economic Zones (SEZ) have not yielded the kind of results that they promised. Even in Andhra Pradesh, APIIC faces challenges and has had to rope in professionals to market them. In your opinion what steps can be taken to re-energise SEZ projects?
As compared to other States, SEZs have done relatively better in Andhra Pradesh.  SEZs in general have not been able to realise their potential mostly because of global recession.  Since the SEZ units are export oriented, any downfall in the global demand impacts their functioning. However, as we are coming out of the recession now, there is again good opportunity for the SEZs in Andhra Pradesh to work to their full potential.  One advantage that the state has is that we have a number of products specific and sector specific SEZs.  For instance, we have the largest number of IT SEZs in the entire country.  The SEZ players have also been representing to Government of India to review some of the recent changes in the policy wherein certain economic benefits of being in an SEZ have been withdrawn and it is learnt that certain announcements in this regard are likely to happen shortly.  We hope that in the improved economic environment with a supporting policy framework, the SEZs will continue to do well and give a boost to the economy of the State.
APIIC is now planning to develop industrial clusters and for that you will have to acquire land, which is not an easy task. How do you plan to overcome the challenges that are there in land acquisition?
APIIC is in the process of completely changing the paradigm of land acquisition for the creation of industrial land bank.  Of late, we have witnessed strong resistance from people to land acquisition in different parts of the country including in Andhra Pradesh.  I fully agree that unless a win-win situation is created, it is unfair to take lands from the people.  In the new process that we are following now in APIIC, any land acquisitions will be preceded by a strong outreach programme. NGOs and other community organisations will be trained to interact with the families whose lands are proposed to be acquired.  They will explain the potential benefits of the industrial projects and show to them how the returns from the land can be much more than what they are deriving right now.  The outreach team will also understand the concerns of the people regarding their livelihood and other issues and the compensation package will be arrived at in such a way that it will fully meet or even exceed the livelihood concerns.  Besides giving monetary compensation, land losers will also be offered other options like a developed plot, share in the industrial company, long term annuity, etc.  All these alternative compensation models have already been practiced successfully in other states.  We are trying out these alternatives to begin with in two cases of large land acquisitions in Chittoor and Medak Districts where National Investment & Manufacturing Zones are being set up.
You have rich experience of not only studying the issue of People's Plight, but also working with them for their alleviation, rehabilitation and upliftment. What is your sense of inclusion of marginalised people in mainstream – access to banking, education, health services and even inclusion in industry development?
Industrial development has tremendous potential for transforming the livelihoods of people.  I have come across a number of initiatives where private industries have made a huge difference to the communities.  For example, the company called Apache Ltd has recruited 7500 people in their industrial unit to manufacture footwear in Nellore District and the amazing thing is that all 7500 of them have been given permanent employment right from day one.  Similarly, Krishpantam Port has built over 5000 houses for the people who were displaced by the Port.  Their activity started only after all the houses were built and people were rehabilitated in the housing colony.  Further, they provided jobs to every youth from each of the families.  They have also started schools and they sponsor free education for all the children from the displaced families.  Such examples show that it is possible to provide enhanced livelihoods through industrial development, provided the industrial unit has that orientation to begin with.  APIIC is in the process of compiling all such good practices and guide all the large industries existing in the State to adopt similar practices.
Tell us about the ICT implementations that you are doing within APIIC for improving efficiency and transparency.
APIIC has introduced a number of very significant reforms in the last 2-3 years which are all based on IT platform.  As you are aware, there is a very urgent need in APIIC to improve its credibility and marketability.  This can happen if decisions are taken objectively and with transparency.  We have implemented ERP in the organisation in all our wings.  We have online plot application system now.  Our own website (www.apiic.in) has been strengthened and we have proactively furnished lots of information to bring in greater transparency.
Your tenure as Secretary, Tourism, was highly appreciated. One newspaper has lauded you as a civil servant with yen for fine arts. How do you look at Hyderabad in terms of art & culture?
Engaging with arts, culture and sports gives me an opportunity to balance demands of work with my own personal interests.  Hyderabad has become a very important venue for the promotion of arts, culture and sports related events.  I consider it important that every person should cultivate some interest or the other that can bring more balance in his life.
You have had a very productive career? Tell us about some of the new things that you would like to do for personal and professional reasons.
I have been fortunate to study in some of the leading Universities in the world like Harvard, LSE, NUS and Birmingham, besides leading Indian institutions like IIM, Calcutta and Delhi University.  I find that all these institutions apart from imparting knowledge also serve a great purpose of inspiring the students.  One of my long term wish is to become a part of some such institution in which my work experiences and my academic background can be of use to others.