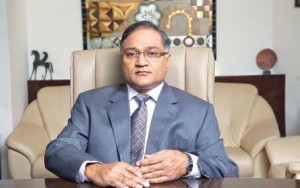 Hemal Patel
Founder & MD, Cyberoam Technologies Private Limited
"In recent times the network security market has experienced a lot of evolution," says Hemal Patel, Founder & MD, Cyberoam Technologies Private Limited. In conversation with Kartik Sharma
Please give the overview of Cyberoam and its operations
Cyberoam Technologies Private Limited (earlier a division of Elitecore Technologies), is now a separate company, led by a strong management team with in-depth experience in the security domain. Cyberoam Technologies Private Limited has 450+ employees with offices in USA, Middle East & India and its R&D and Global Support Management Centre in India. With thousands of deployments across more than 125 countries, Cyberoam secures global corporations in the manufacturing, healthcare, finance, retail, IT sectors, and more, in addition to educational institutions, public sector and large government organisations.
As a Global player in UTM space,How do you see Indian Securitymarket in coming years?
The Indian security market has evolved better than our expectations. Due to the various security breaches / threats faced by countries as well as individual organisations, the IT fraternity is taking all measures to ensure that their business remains protected. New trends like cloud, virtualisation, BYOD and BYOA are emerging and are readily being accepted by organisations. With this the need for having apt security measures increases tremendously. Slowly but steadily the market for network security solutions is consistently growing at a double digit pace. In the next two years, Cyberoam predicts that network security solutions will occupy a default place in the company's business / expansion plans. We expect a growth of more than 50 percent in the next two years. Sectors like government, banking, IT will see more consumption of security solutions.
How Cyberoam is evolving as amajor IT player in India?
We started with Cyberoam Learning initiative and began providing professional training to create industry-ready network security professionals through the network of authorised training partners. This was aimed at spreading awareness and imparting skills using 'Cyberoam' as a platform. People who got trained under this initiative will not end up as qualified network security professionals alone.We are collaborating with educators, universities and academic institutions to help them meet industry expectations in bridging skills gap in network security manpower. With this Cyberoam is now reaching young career aspirants and college graduates, who will emerge as another group of brand-ambassadors for Cyberoam by fulfilling industry and government needs for protecting information assets.Recently launched Cyberoam NG series comes to answer the challenges of SME / SMBs and Enterprise Businesses who want to thrive with confidence on super-fast "giga-bit networks"and provide them with gigabit security through puts and ports.
What are the company's achievements and plans for the Government sector?
Cyberoam is reaching out to all government entities with more focus than ever before. Astrategic alliance recently entered into with National Informatics Centre Services Inc(NICSI), is aimed at building a stronger presence among government agencies and establishments. Cyberoam is already having a significant presence among PSUs, defense and research institutions, banks and other government owned and controlled establishments. NICSI is the centralised procurement arm of Government of India, Ministry of Communications and IT.The organisation facilitates recommended and trusted IT Products and Services for various government ICT projects. With this pact, Cyberoam shall get to address more number of state and central government requirements pertaining to network and cyber security, thereby increasing its stake and presence within government eco-system as a trusted network security provider.We are also tying up with partners who have strong roots in the government to enable more penetration amongst this key industry vertical.With a separate team in place to cater to the government entities, this year we see this segment contributing more than 10 percent of the total revenue. With clients like Central Railways, BSNL, Gujarat State Petronet Limited, and many more, Cyberoam is confident that the government sector will acknowledge the kind of value our product brings with it being an Indian Brand and welcome us with open arms.
Follow and connect with us on Facebook, Twitter, LinkedIn, Elets video