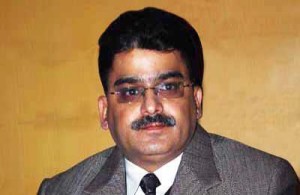 Atal Dalloo, Commissioner/Secretary to Government, Tourism Department, Government of Jammu & Kashmir.
As a tourist destination, Jammu & Kashmir is firmly established on the tourism map of the country. The diverse potential of the state in areas of leisure, adventure, heritage, culture and eco-tourism make it a 360 degree destination for tourists from everywhere in the world. The three regions of Jammu, Kashmir and Ladakh offer landscape and experiences of continental proportions.
The tourism department undertakes promotional activities by way of participation in international and national travel marts, organizing of festivals and sporting events, release of advertisements and printing of publicity material. Tourism related infrastructure is also put in place at established as well as new resorts and tourist arrivals in all three regions of the state have shown an upward trend during the last few years, but a policy has to be in place that factors the impact of tourism on environment as well.
---
A policy taking into account the interests of both, environment and tourism, is particularly relevant to a state like ours
---
Myriad tourist attractions
A policy taking into account the interests of both, environment and tourism, is particularly relevant to a state like ours. In J&K tourist attractions are primarily natural – alpine pastures, lakes, gushing streams, meadows and valleys; even our much revered pilgrim sites are nestled in fragile environments. Tourism Development is double edged sword; on one hand there is this demand for bringing more exotic places onto the tourism map, but this also leads to construction of roads, making available power and water and creation of infrastructure like hotels.
You can't have development without tampering with the environment in one way or other.
The tourism department is sensitised to this issue and tourism projects are being implemented only after the required Environment Impact Assessment Studies. Master Plans are also being formulated for tourist resorts. The department is also awake of the issue of waste management, particularly in tourist resorts and at hallowed pilgrim sites, as it affects the entire eco-system, including water quality, Health and Sanitation.
Safeguarding the Environment
The movement of "Sustainable Tourism" in our part of the world will come to a zero if we don't invoke stake holder participation. The private sector has to pitch in the movement in a proactive manner. The J&K Tourism Department has also been involved in various Capacity Building Programmes to sensitize the service – providers about the environmental needs and also educate them about the benefits of preservation of natural resources.
The Department was one of the pioneers in the state in incorporating Information Technology with the launch of its official website (www. jktourism.org) in the year 2003. The mobile application of the website is being launched soon as the department feels that more and more people are using smart phones and tablets to access the internet. The website is also being made more interactive by way of adding features for online application for registration of tourist trade units with a payment gateway as well. Various forms as well as incentive schemes will be available for download soon on the website.
Even in its publicity endeavours, the tourism department has  rapped the potential of the web and launched social media campaigns through Facebook and twitter which have evoked good response. The Department is willing to incorporate e-governance tools to improve its own efficiency and also to reach out to people in a better manner.
Follow and connect with us on Facebook, Twitter, LinkedIn, Elets video