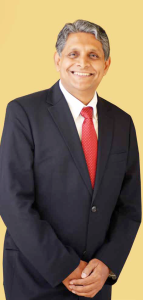 The author is one of the leading inventors of Cisco Systems with 57 patents. He received Karnataka's highest civilian decoration, the Karnataka Rajotsava Award, for social work in 2012.
Aravind Sitaraman, President, Inclusive Growth, Cisco Systems
In the last 2000 years of history,India, as a cultural nation, was the leading economy owning a very large portion of the world's wealth for 1500 years. For the next 300 years, India was the second largest economy. Just as everyone goes to the United States these days for technology and education, scholars, students, businessmen, and traders flocked to India. After 150 years of colonization, at independence in 1947, India had less than 1% of the world economy.
From that point, India has slowly clawed itself out of this desperate situation and is poised to realize its old glory of being a developed and leading economy. From an aid-dependent economy, India is now a food exporting country. From a social and economic basket case, it is now the largest democracy in the world with vibrant independent institutions. According to several analysts, India will be the youngest nation in the world, with the largest working population, for the foreseeable future.
Such a demographic dividend is once in a millennium opportunity. If the country were to exploit this resource, the nation will easily be the most prosperous one for a long period of time. By the same measure, failing to address the aspirations of the youth will lead to largescale social, political, and economic instability .
For India to realize its dream of becoming a developed nation by 2050, it has to vastly enhance livelihood generation, education, and healthcare.While majority of the people live in rural areas,the majority of the precious resources are in the urban areas. Master trainers, educators, and doctors prefer to live in urban areas where they can access livelihood, education, and healthcare for themselves and their families.
On an average, the country has 1 teacher for 40 students and 1 doctor for 1700 citizens. Averaging numbers and including quasispecialists does make the number respectable; but even then, these numbers are way below internationally accepted norms for developed nations. In many areas, there is 1 teacher for 500 students and 1 doctor for 25,000 citizens. Only 15% of our youth get college degrees and only 2% get technical certification. About 75% of engineering graduates and 85% of liberal arts graduates are unemployable; not because our youth are stupid but because we do not equip them with livelihood skills. Alarmingly, if we do nothing, the country will have close to 500 million unemployed youth by 2030.
How can we address such challenges? Some suggest that we need to increase the number of teachers, master trainers, and doctors. Surely, this must be done but would that automatically translate to them moving to rural areas where the majority of the population lives? Obviously, the answer is no. Some want to force these specialists to go live in rural areas. This will only create a flight of the  qualified to other parts of the world where they can have freedom of choice. Therefore, it is imperative  that we look at this problem from a completely different perspective.
It is no longer sufficient for India to play catch up to developed nations. We need to look for ways by which we can leapfrog into a new world of prosperity. For this to happen, India has to embrace technology. In 2000, the country had 5 million cell phones and one of the worst tele-density in the world. Today, we turn on 13-16 million cell phones per month and have one of the highest tele-density in the world. This transformation has brought in large-scale prosperity.
Similarly, India has the opportunity to adopt technology to deliver teachers, master trainers,and doctors to remote areas of the nation. I believe that networking is the technology that can help us leapfrog into the future. The country has already invested in 1.5 million route kilometers of fiber and is now looking to invest about Rs. 40,000 crores to bring at least 1000 Mbps bandwidth to each gram panchayat. Using high-definition video as the medium of communication delivered from a secure cloud, we now have the opportunity to have rural populations collaborate with urban specialists on skills development, education, and healthcare. Can this work?
In the last two years, we launched several pilots with several state governments in some of the most remote places in the country. In Karnataka,we launched education and skills pilot. In Karnataka and Madhya Pradesh, we launched a healthcare pilot. Kerala, always the leading indicator for the country, implemented a specialized network for skills development in its ITIs. Bihar is choosing to use networking technology to train Auxiliary Nurses and Midwives. A premier private educational institution like Oakridge Schools has chosen to connect various schools in Andhra Pradesh, Karnataka and Haryana to virtualize its teachers. A premier private skills development like NTTF has chosen to connect its training centers in Karnataka, Kerala, and Tamil Nadu to virtualize its master trainers.
With over 600,000 student hours of education, we see large reduction of absenteeism and drop-out rates in schools. Children now score more marks in their exams and the failure rates have declined seriously. Parents are ecstatic that their children learning through vernacular language can also speak in English. Working with Teachers Foundation, a specialist NGO to train teachers, we have used the same network to train about 300 rural teachers in English.
In the last 6 months, we also launched remote skills development through our partners Global Talent Track and SGCA along with Government ITI trainers. After over 30,000 student hours of training, many of the youth in ITIs, retiring Army soldiers, and orphaned youth in Kerala, Karnataka, Madhya Pradesh, and Tamil Nadu have secured jobs much better than they originally anticipated.Trainees learnt vocations such as auto-mechanics, carpentry, and fashion design to sophisticated accounting software packages. They learnt to be entrepreneurs. They even learnt advanced networking technology through the same mechanism.
In the last 14 months, we facilitated over 47,000 specialty and super-specialty healthcare consultations in Karnataka and Madhya Pradesh. Villagers in very remote Primary Healthcare Centers are able to consult with specialist government hospital doctors in district hospitals as well as RxDx Super Specialty hospital in Bangalore. While several lives have been saved, we see that women and children take advantage of such a facility the most. We have also been able to use the same network to train Asha workers, educate pregnant women, and identify Severe Acute Malnourished children. Wouldn't this be apt vehicle to improve our abysmal infant and maternity mortality rates and lack of nutrition of our children?
Networking technology provides a spectacular opportunity for India to address the crucial deficits in civilian society that is impeding growth. Instead of following the west to use networking for social networking and instant messaging, India can use the technologies for social development and communication. It also presents the nation a great opportunity for its Information Technology companies to develop new applications that can be exported to the next 3 billion people who will join the networking world this decade.
Follow and connect with us on Facebook, Twitter, LinkedIn, Elets video