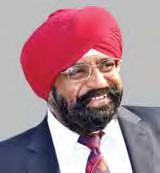 Aman is synonym for peace. Due to insurgency and militancy in J&K during that period peace was the most needed thing. The organisation was setup to provide "Solutions for Peace"
Inderpal Singh, CEO, Aman Technologies
Aman Technologies is one of the leading Solution providers of Information and Communications Technology products and services in Jammu & Kashmir. Wireless connectivity, Cyber Security, UNIX implementation, ERP implementation in Government, Education, Defense, Data Center, Software solutions, Networking, Services and other implementations of the sort are the areas of expertise of Aman Technologies. The organisation has Proclivity to make good and sturdy relations with clients. The owner's vision is to lead as "Technology Centric" and to provide customers a clear and concise perspective towards their requirement.
The portfolio encompasses end to end IT solutions right from the hardware to software to high end IT solutions. It mainly entails Desktops, Printers, Power Solutions, Storage devices, Servers, workstations, thin clients, IT Consulting, Networking Architecture, after sales service, Software supply, Development and customization, Digitization, GIS, Web Development, Video Conferencing, Wi-Fi solutions and other related ICT products and services.
The expertise in the ICT field which the organisation has gained over the years has always enabled the company to enhance the applications of ICT for delivering government services, exchange of information communication transactions, integration of various stand-alone systems and service between Government-to-Citizens, Government-to-Business, Government-to-Government as well as back office processes and interactions within the entire government frame work. All this has always helped the company make the government services available to the citizens in a convenient, efficient and transparent manner.
Aman Technologies is the authorised and associate partner of preeminent companies like Wipro, Wep, Motorola, Dell, ACER, HP, IBM, Intellisys, Sun Micro-systems, Cyberoam, Microsoft, Oracle, Symantec, APC, Uniline, E&C, Emerson, CISCO, Dlink, Digisol, AMP, Avaya, EMC, Redhat, SCO, Canon and others. The maturing partnership with these companies has helped to create talented manpower and a structured approach towards business and services. With the partners and technology the company is capable of providing solutions and services for all ICT needs of an organisation.
The Road to success has never been easy as apart from working hard and having a dedicated workforce, the people have worked during drastic weather conditions, during the peak of insurgency and civil disturbances. The company has always focused upon congruent and cogent commitment with customers and are dedicated to their customers which comes as a support to the philosophy Singh keeps in mind for his business – Customer is King.
The company has been highly recognised for its tremendous and consistent performance which has many a times come up in the form of awards. ISO 9001:2008 certification for sales, services and solutions (Software, Hardware Solutions & Network Integration), Certification of Excellence for the category "War Horse Award" in 2005, Best partner of Wipro across the country in 1999, 2001, 2002, 2003, 2005, 2007, Dataquest award for best IT organisation in J&K year 2002, 2003, 2008, CRN top three solution providers in Non – Metro (North) in year 2009, 2011 and 2012. Selected by DQ week as the country's top 100 System Integrator in 2005, 2006, 2007, 2008, 2009, 2010, Selected by CRN as country's top 100 Solution Providers in IT for 2006, 2007, 2008, 2009, and 2011, Appreciations of the projects and works undertaken for various organisations in J&K are some of the awards and recognitions received by the company.
"My wife Parveen Kaur is my constant source of inspiration" says Inderpal Singh. He enjoys his family man status as much as his career. He loves spending time with his kids – Amanpreet and Tavleen and his daughter – Dhihum Kaur. Singh says "I spend quality time with my kids and family. This is how I unwind." His children feel the luckiest to have him as their father. They come across their father's school and college friends who call him a genius and very talented, come across a large number of people regularly who respect him for what he has done in his career and for the transformation he initiated in the state by bringing IT into the state of J&K since 80's. The next generation of Inderpal Singh wants to join the organisation and bring in new level of expertise and technology to the organisation to enable them to serve the people of J&K better.
Follow and connect with us on Facebook, Twitter, LinkedIn, Elets video