The ultimate agenda of e-Governance is inclusive growth. This is the clear message that emerged from the recently held eGov Knowledge Exchange 2012, an event that offered a unique, leisurely environment to experts and key decision makers from across the nation to come together and ponder over the various issues of e-Governance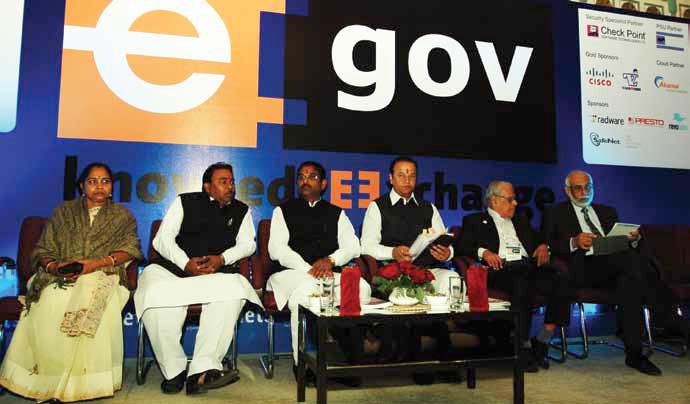 L to R: Basanti Devi Meena, MLA, Udaipur;
Mangilal Garasia, Ho'ble Minister for Sports, Government of Rajasthan;
Raghuvir Singh Meena, Member of Parliament, Udaipur; Chief Guest,
Virendra Beniwal, Hon'ble Minister for Home Affairs and Transport, Government of Rajasthan; Dr M P Narayanan, President, CSDMS; and
B K Gairola, Mission Director, eGovernance, Department of Electronics and Information Technology, Government of India
During his keynote address on e-Governance, at the eGov Knowledge Exchange 2012, B K Gairola, Mission Director, e-Governance, Department of Electronics and Information Technology (DeitY), Government of India, pointed out,"e-Governance can be  considered complete only when all the 1.2 billion people are able to interact with the government directly in a transparent, open and  easy manner."
B K Gairola was speaking at the inauguration of the three-day residential event held at The City Palace, Udaipur, between December 13 and 15, 2012. The event was jointly organised by the Department of Information Technology e-Governance is All about Inclusive Growth The ultimate agenda of e-Governance is inclusive growth. This is the clear message that emerged from the recently held eGov Knowledge Exchange 2012, an event that offered a unique, leisurely environment to experts and key decision makers from across the nation to come together and ponder over the various issues of e-Governance & Communication (DoIT&C), Government of Rajasthan, and Elets Technomedia Pvt Ltd, the publisher of eGov Magazine – Asia's premier magazine on e-Governance. eGov Knowledge Exchange 2012 was held with the sole objective of offering a networking platform for discussions by key government officials, industry experts, stakeholders, decision makers and private players on the essential issue of ICT implementation in governance.
The who's who
Present at the eGov Knowledge Exchange were an interesting mix of key officials from the Ministry of Communication and IT (Government of India); from various e-Governance agencies; heads of e-Governance, IT and other nodal agencies from different states; IT officials from various government establishments including, defence, railways, NIC, data centres, science & technology units, etc, as well as officials from Mission Mode Projects from across the country. The event discussions converged on the idea of better  governance through ICT implementation. More than 90 delegates from across the nation participated in the event. Many accompanied their spouses and family members, who took out time for exploring the rich cultural heritage of the City of Lakes.
Eminent personalities at national and state levels including J Satyanarayana, Secretary, DeitY, Government of India; N Ravi Shankar,  Administrator (USOF) and CMD, BBNL; Dr Omkar Rai, DG STPI; O P Meena, Additional Chief Secretary, Transport Department,  Government of Rajasthan; Ravi Saxena, Additional Chief Secretary, Department of Science & Technology, Government of Gujarat;  Bipul Pathak, Secretary, IT, Jammu & Kashmir; Rakesh Tandon, MD, IRCTC, etc, were among the delegates who participated in the three-day event.
Rajasthan wins accolades
eGov Knowledge Exchange 2012 coincided with the launch of Digitally Signed Jamabandi Programme in Udaipur district, which has already been launched in 23 districts of Rajasthan since its inception in 2012. The inauguration ceremony also witnessed the felicitation of government officials for their exemplary work in e-Governance in the state during 2011-12.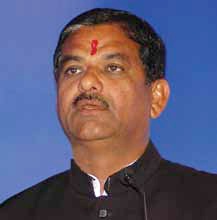 Raghuvir Singh Meena
Member of Parliament, Udaipur
"It's an opportune moment for Udaipur to host an event like this where experts from across the nation have assembled together. I hope the brainstorming shall help in more e-Gov initiatives"
Lauding the achievements of the state government in the field of e-Governance, the Chief Guest, Virendra Beniwal, Hon'ble Minister of State for Home Affairs and Transport, Government of Rajasthan, said: "Rajasthan is playing a leading role in the field of e-Governance, despite IT literacy levels being low and despite being a late starter compared to southern states."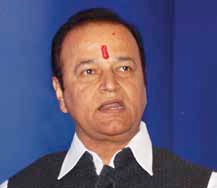 Virendra Beniwal
Hon'ble Minister of State for Home Affairs and Transport, Government of Rajasthan
"The state government has decided to allocate up to three percent of the annual plan budget for e-Governance related initiatives"
`Raghuvir Singh Meena, Member of Parliament, Udaipur; Mangilal Garasia, Minister of Sports, Government of Rajasthan; Basanti Devi  Meena, MLA, Udaipur; Dr M P Narayanan, President, Centre for Science Development and Media Studies; and Dr Ravi Gupta, CEO, Elets Technomedia and Convenor, eGov Knowledge Exchange 2012 were also present at the inaugural session held at the prestigious City Palace in Udaipur.
Brainstorming at its high
The three-day event witnessed sessions, thematic presentations and discussions on landmark technologies. Overall 11 sessions were held, which were clearly divided into technology-specific sessions, such as Cloud Computing & Data Centres, Technology in Security Optimisation, Telepresence & Video conferencing, etc; and governance-specific sessions, such as Mantras of e-Governance, ICT Innovations in Governance, Public Safety, ICT for Inclusive Growth, etc. Besides, the event also offered a platform to the National e-Governance Plan (NeGP) executors to talk about their projects in detail – mentioning the achievements made and obstacles faced.
One of the major challenges of e-Governance programmes that emerged was the issue of lack of cohesion. "Government departments  work in silos, which is a major challenge. The departments need to be much more cohesive to project themselves as one single unit of the government to the citizens. Proper IT implementation is one of the ways of achieving this," said Bipul Pathak. Talking about the importance of having a clear vision in e-Governance, J Satyanarayana pointed out, "We need to have clarity on what impact do we want to have on the society through our efforts and what difference can we make."
Sponsors and exhibitors
Along with the DoIT&C, Government of Rajasthan, RajCOMP Info Services Ltd and the National e-Governance Plan participated in the eGov Knowledge Exchange 2012 as Host Partners. The Government Partners were STPI and the Rajasthan Knowledge Corporation Ltd.
Cloud Partner was Akamai Technologies; Security Specialist Partner was Check Point Software Technologies; and Gold Sponsors were Cisco Systems and Vakrangee Softwares. Rajasthan Electronics & Instruments Ltd (REIL) participated as the PSU Partner while Radware, Presto Infosolutions and Revolabs participated as the Sponsors of the event.
eGov Knowledge Exchange 2012 served as a unique platform for exhibitors to showcase their IT tools and solutions through an expo that was running parallel with the sessions. Among the kiosks put up were of Vakrangee Softwares; DoIT&C, Government of Rajasthan; RajCOMP Info Services Ltd; and REIL.
Follow and connect with us on Facebook, Twitter, LinkedIn, Elets video