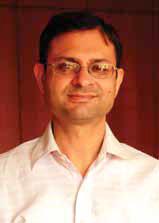 Sanjay Malhotra
Secretary,
Department of Information Technology & Communication,
Government of Rajasthan
Over the last few decades, citizens' expectations from governments have increased, thereby enhancing the pressure on the governments to improve public service. Fortunately, a wonderful combination of modern ICT technologies like cloud computing, 4G networks and smart phones provide a ray of hope. The power of ICT can be realised from the fact that when a 5.9-richter earthquake hit near Richmond, Virginia on August 23rd, 2011, residents in New York City read about the quake on Twitter 30 seconds before they experienced the quake themselves. Governments need to seize this opportunity, which provides the means to not only live up to but also to exceed the expectations of the citizens, who are demanding inclusive and participatory governance, as they are not content with merely passively receiving public services but want to actively participate in policy formulation and decision making.
Various governments around the world and many state governments in our country are expanding the scope and use of e-governance in efficient, hassle free and cost effective delivery of information and public services. The objective of governments, especially in our country, so far has been to provide electronic services to the citizens. We have followed a service-centric approach in our country. The Electronic Delivery of Services Bill, 2012 is further testimony to this approach. Similarly, in Rajasthan, the transparency in Public Procurement Act provides for electronic procurement as a means of public procurement. While this is desirable as this is an important function of governments, it is to be understood that all services need information or data –census, election, ration related, land records or even documents or information presented through websites – and so an information-centric approach is also necessary.
The information-centric approach focuses on data creation and its regular updation in electronic form, without worrying about the final form of presentation – web pages or through the mobile or in printed format. The spotlight is on making available reliable, accurate and up to date data, which is device-agnostic. This will require, where data is unstructured, converting it into structured data with the help of meta data. While preparing, storing, organising and managing data, one must focus on customers' requirements. I use the word customers because they include not only citizens but also government users – both internal to the department as well as external for inter-department sharing, thereby avoiding duplication of data. This information can then be made available using open and interoperable standards through web APIs for use by various agencies. This approach is useful because it separates the data layer from the final presentation layer. The same data can be used to present it on a desktop, laptop or smart phone. Moreover, the data can made available to a citizen in the form of information or to the software developer for use in application software to deliver citizen-centric services or to another department for inter-departmental use. Such an approach helps us in providing services—"anywhere, anytime, on any device".
There have been varying degrees of success in the area of e-governance in our country. Governments which have demonstrated leadership through the will of political leaders, senior officers, CIOs and line staff to support e-governance have succeeded more than others in providing information services electronically to the citizens. Besides political will, it requires an army of committed IT and e-governance champions, managers and technologists from the public and private sector. Governments need to seriously work on creating this workforce. The Government of Rajasthan has taken a number of steps in this direction. It is the first state to have a created a separate cadre of IT professionals in the Department of Computers in 1989 (later rechristened Department of Information Technology and Communication). We are pioneers, along with Maharashtra, in setting up a company (by the name of Rajasthan Knowledge Corporation Ltd.) dedicated to imparting IT literacy and skills to government staff and the citizens. We have also established RajCOMP Info Services Ltd., a company to implement e-governance projects in partnership with government officials and private professionals.
The current issue of the magazine is devoted to shedding light on some of the creations of this dedicated workforce of the Government of Rajasthan in collaboration with DeitY and its constituents including NIC and C-DAC and in partnership with the private sector. Hope you enjoy reading it.