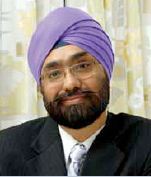 Surendra Singh
Regional Director , SAARC

Company Name
Websense India
Office Address
The Executive Centre, Level 2, Kalpatru Synergy Opp Grand Hyatt, Santacruz- East Mumbai
Tel: +91-22-39537100
Email: mbansal@websense.com
Website: www.websense.in
About Us
Websense, Inc. (NASDAQ: WBSN), a global leader in unified web security, email security, mobile security, and data loss prevention (DLP), delivers the best content security for modern threats at the lowest total cost of ownership to tens of thousands of enterprise, mid-market, and small organisations around the world. Distributed through a global network of channel partners and delivered as appliance-based software or SaaS-based cloud services, Websense content security solutions help organisations leverage social media
and cloud-based communication, while protecting them from advanced attacks and modern malware; preventing the loss of confidential information; and while enforcing internet use and security policies. Websense is headquartered in San Diego, California with offices around the world.
Corporate Vision
In 2006, the company outlined its vision for unified content security with advanced analytics and realtime protection. That vision is delivered today through the flagship Websense® TRITON™ solution, which unifies all of the key components of threat defence and data theft prevention into a cohesive content security system. The TRITON solution brings together web security, email security, mobile security, and DLP (data loss prevention) defences with unified security intelligence and a unified management console. The TRITON solution is available in enterprise-grade appliances, as cloud-based services, and as powerful and efficient hybrids of on-premise and cloud elements working together. No other vendor offers a similar level of security effectiveness and ease of deployment and use.
Security on the web
The proven security effectiveness of the Websense TRITON architecture is based on ACE (the Advanced Classification Engine). Real-time inline contextual defences within ACE use security, data, and content classifiers that adjust dynamically, based on composite risk scoring, for the most effective security available. Security intelligence and analytics in ACE come from the Websense ThreatSeeker Network, which unites more than 850 million end points and analyses 3-5 billion requests per day from social networks, websites, and email. The Websense ThreatSeeker Network adaptive security cloud technology uses more than 50 million real-time data collecting systems that continuously monitor internet content—including new and dynamic content—for emerging threats. As a result, Websense can adapt to the rapidly changing internet at speeds not possible by traditional security and basic filtering solutions.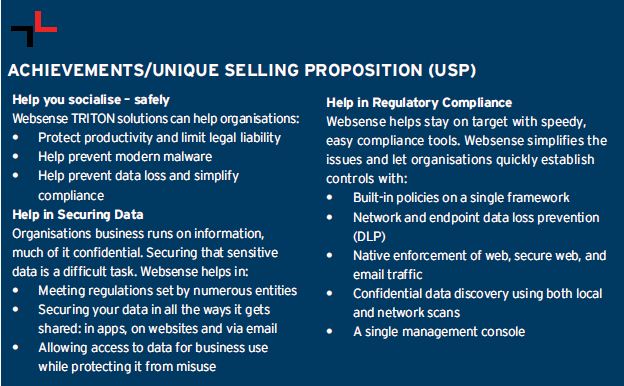 Follow and connect with us on Facebook, Twitter, LinkedIn, Elets video