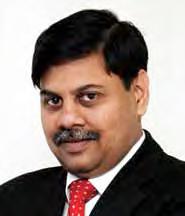 Puneet Gupta
Senior Vice President, Public Sector
Business , Cisco India and SAARC
CONTACT
Company Name
Cisco India Pvt Ltd
Management Team
Naresh Wadhwa, President & Country Manager – Cisco, India & SAARC
Pramodh Menon, Senior Vice President, Cisco India &  SAARC
Janesh Moorjani, President – Enterprise and Public Sector, Cisco India & SAARC
Sanjay Rohatgi, Sr. Vice President, Service Provider Sales, Cisco India & SAARC
Head Office
1st Floor, BPTP I Park, #15 Udyog Vihar Phase-IV, Gurgaon, Haryana 122015, India
Tel: +91-124-440-2000
Fax: +91-124-440-2006
Regional Offices
Bangalore, Mumbai
Contact person for Clarification
Shiva Subramaniam, Public Relations Manager, Cisco India & SAARC
Website: www.cisco.com/in
Channel Partners or Solution Provider
Accenture Services Pvt Ltd, British Telecom India Pvt Ltd,
Bharti Airtel Services Ltd, Dimension Data India Ltd,
HCL Comnet
Customer Support/Helpline Number: 011-41750158



About Us
Cisco, the worldwide leader in networking, transforms how people connect, communicate and collaborate. At Cisco  NASDAQ: CSCO) customers come first. An integral part of our DNA is creating long-lasting customer partnerships and working with them to identify their needs and provide solutions that support their success.
Cisco engineers have been leaders in the development of Internet Protocol (IP)-based networking technologies since the company's inception in 1984. This tradition of innovation continues with industry-leading products in the core areas of routing and switching, as well as advanced technologies in areas such as Unified Communications, Network Security, Video, Virtualisation and Cloud Computing.
John T. Chambers is the Chairman and Chief Executive Officer of the $46.06 billion company which has 66,639  mployees as per Q4, FY'12 data. Cisco India commenced operations in 1995. Cisco India has sales and marketing operations spread across key cities in the country. The Cisco Global Development Centre in Bangalore is the largest outside of the US.
Products & Services
Governing in the 21st century presents new challenges for public officials. Technology is changing the ways we interact as global citizens and how we govern. With billions now online, citizens expect to connect with governments and public sector agencies in a secure, seamless, and reliable environment. Public service employees need to collaborate across multiple agencies and geographies in real time.
Government officials around the world are exploring new ways of doing things in order to cope with the challenges of globalisation, economic uncertainty, emerging technologies, and a more connected citizen base. The solutions to these challenges have two factors in common, connecting people and maximizing resources in radically new ways. Cisco's products and solutions can largely be clubbed under these three technology architectures.
Borderless Networks– Connect anyone, anywhere, using any device — seamlessly, reliably and securely
Collaboration– Help people work together to solve problems, make decisions, and present ideas faster regardless of distance
Data Centre Virtualisation– Improve the way everyone in your business works, using services from our infrastructure
Target Verticals
Cisco caters to almost all the industry verticals which include Healthcare, Defence, Public Sector, ITS, SP, SMB etc. The key industry verticals where Cisco has seen maximum traction of technology in India are BFSI, PSUs and Government.
Achievements /Unique Selling Proposition (USP)
• Cisco ASR 901 won the Economic Times Telecom Award 2012 and NASSCOM Innovation Award 2012 for the Most Innovative Product
• Cisco and Government of Karnataka are in PPP to Pilot Remote Healthcare
• Essar Group has deployed SAP HANA on the Cisco Unified Computing System Platform
Follow and connect with us on Facebook, Twitter, LinkedIn, Elets video