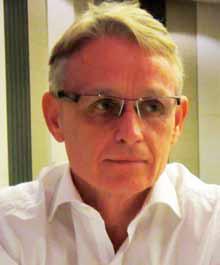 John E Matheson
Director of Policy, Asia Pacific, Intel
John E Matheson, Director of Policy, Asia Pacific, Intel, speaks about the importance of legal compliance for Indian companies and the initiatives taken by Intel and IICA
Brief us about your partnership with the Indian Institute of Corporate Affairs (IICA)?
The term 'Legal Compliance' has undergone a transformation. The series of corporate failures in the United States – left exposed the real state of internal regulation and the checks and balances everyone thought were in place to avoid the unthinkable lapses of judgment and fraud that were subsequently exposed. These failures have helped in reforming the legal compliance, which is essential for companies if they are to be run competently with transparency and  accountability. There is lack of awareness among many of the major companies in India on the legal compliance.
In your opinion, which are the major compliance related challenges faced by SMEs?
From our understanding, there are five major challenges faced by SMEs. Those are high costs of compliance, lack of knowledge of the laws, lack of systems within the organisation, lack of uniform enforcement across the country and most importantly on the perception of compliance with laws as unnecessary burden.
Tell us more about the LCM?
We see this as an important first step in what we hope will be an expanding effort to provide updated laws and  compliance tools for SMEsin particular. We know from experience that adopting a Legal Compliance Manual on its own will not transform a company into a role model of corporate governance, it takes a strong commitment to developing the resources and doing the necessary training to bring your employees with you and to encourage them to recognise the value of their role in helping the company to be legally compliant. In short, it requires every business entity to develop a culture of compliance.
The government can play a significant role in bringing a holistic rethinking in the legal compliance. The number of compliance laws may be reduced and made comprehensive. The government should focus on giving approval for the business rather than obtaining just information. The need of the hour is a condensed serious regulation

Ashutosh Chadha, Director Corporate Affairs South Asia, Intel Technology India Pvt Ltd
Intel India plans and developments
Intel India organised a one-day workshop on 22nd August, 2012. The event saw participation from various stakeholders and debated on the role of technology in bringing economic growth. It was realised that technology without effective output to economic growth would be wastage of investment.  So, the group decided on promoting digital literacy for people's personal growth and country's economic growth. It was also suggested to the government to make digital literacy as a mission mode project and bridge the digital divide. We have also launched a pledge campaign and make first week of December as Digital Literacy week.
Follow and connect with us on Facebook, Twitter, LinkedIn, Elets video