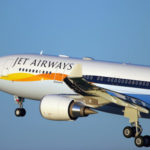 Jet Airways is now capable of accurately calculating and keeping track of aircraft emissions.
IBM has more than 50 years experience in aviation. The company uses its software, hardware and services expertise to help top airlines and airports across the globe deliver more highly differentiated customer experiences and improve their operational efficiency.
A part of IBMs Integrated Emission Management System, it provides Jet Airways a process to analyse and calculate individual aircraft emissions, which is a complex process involving comparison of flight records and fuel usage data contained in multiple systems ranging from internal aircraft systems to regional navigation data and flight records.
The solution from IBM ensures that all flight emissions are properly calculated, and reporting is accurate and timely.
Follow and connect with us on Facebook, Twitter, LinkedIn, Elets video