"Future belongs to power equipments that are green and intelligent," Says Pratik Chube, General Manager-Product Development & Marketing, Emerson Network Power
---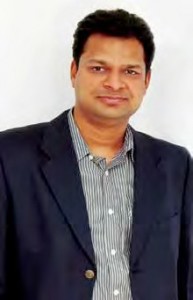 What is your view of the reforms that are being done in the power sector in India?
India continues to suffer from huge power crunch. The mismatch between demand and supply is in the range of 10-11 percent. The  reforms in the early 1990s saw lot of changes coming into the power sector; however, these reforms were primarily centred on the central and state government players, it was around 1995 that the power sector saw arrival of private players. There are a lot of initiatives that the Indian power industry can undertake for attaining efficiency and productivity in the way it functions. Recently we had the power failure in all parts of the country due to Grid collapse. There is too much of pilferage or theft of power, which makes it impossible for electricity companies to balance their books. The government is taking giant strides in the renewable energy sector to promote adoption and use across the country. Also, the upcoming smart grid will open new window of opportunity for the power sector.

Tell us your views on the potential of India to tap green power for consumption?
There are lot of issues with coal. There are the issues of availability, deteriorating quality and the low calorific value of coal that is currently being used. There are also many pollution related aspects related to coal. It is a good thing that now the country has began looking at renewable sources of energy in a big way. The next big trend in the energy sector will be solar energy. The country is looking at more than 20,000 MW to be generated using solar energy by 2020. $20 billion has been earmarked for the same. However, significant investment is required for acquisition of land. The initial capex for infrastructure and equipments is also very high. The need of the hour is to have intelligent and smart devices built into the power distribution system so that the losses associated with it are monitored and rectified on a continuous basis. This will bring-in efficiency, productivity and cost savings, while also leading to more revenues for the power utilities.
What are the most important features of Emerson solar products?

In solar, we are offering on-grid or feed-in products and off-grid connect options. The entire range of products includes up to 100 KW in off-grid and grid connect products of up to 250 KW. Currently we are working with many APDRP projects in Tamil Nadu, Andhra Pradesh, and West Bengal with our channel products of UPS and also our solar products are in the pipeline. We have also partnered with major system integrators and many PV manufacturers.
The industry is waiting for an inflection point where solar power will start getting into a larger area of applications and adoption. Bottlenecks are still there. Currently there are 340 companies active in the solar space and many of their power purchase agreements (PPAs) are still under process.
Tell us more on how innovations on energy products happen at Emerson?

Emerson has always believed in smart and intelligent products. We follow the concept of 3Is, which stands for Integrated Intelligent Infrastructures. The smart solutions that we are creating follow this eternal theme across all the products that we design. In power products, intelligence is usually introduced through a control module along with capabilities of multimodal features. For power product lines, communication features are important as in our single UPS product one can have 390 data points – hence the product can actually share data on all these 390 data sets that can be integrated into software system that monitor and modulate the usage of the equipment and power. So surely the future in the power industry belongs to smart products that are green and intelligent.
Follow and connect with us on Facebook, Twitter, LinkedIn, Elets video