"With proper technology, our rivers can become a source of abundant, cheap and environment friendly power," BCK Mishra, Director (Operations), Uttarakhand Jal Vidyut Nigam Ltd (UJVNL) & In Charge, Energy Cell, Government of Uttrakhand, in conversation with Sunil Kumar
---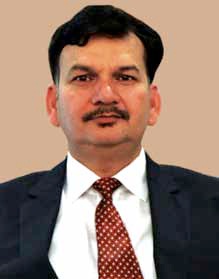 The demand for electricity is rising in the state of Uttarakhand and in rest of the country. Tell us about the power generation capacity of Uttarakhand Jal Vidyut Nigam Ltd (UJVNL).

At present UJVN Ltd is generating power through its hydro power stations on various streams/ rivers in Uttarakhand. Total installed capacity of UJVN Ltd. is 1310.25 MW. UJVN owns 10 large Hydro Power Stations (above 25 MW) and 24 small HEPs (up to 25 MW).
Give us an overview of the small hydro plants that Uttarakhand Jal Vidyut Nigam Limited is operating?
UJVN Ltd has following 24 small hydro power stations (up to 25 MW capacity) in operating condition. Most of these  HPs are situated in the remote hilly areas. These SHPs cater to the power requirements of the state through grid and they also supply off-grid power to the remote villages.
What initiatives are being taken to improve the power generation capacity of UJVN Limited?

Besides 10 large and the 24 small operating power stations with total capacity of 1310.25 MW, UJVNL is taking up construction of Vyasi HEP (120 MW capacity) and also constructing 9 other SHPs totaling 54 MW capacity. Further twelve large /medium HEPs having 3156 MW capacity are under various stages of survey/ investigation/ clearances. UJVNL has taken up renovation, modernisation and up-gradation works of twelve other HEPs to improve the efficiency of these power stations. Once the RMU process is completed, it will give about 28 percent extra energy (about 974 MU) to the State annually. Also UJVNL has initiated proposals for power generation non-hydro sources like – solar, gas and thermal.
 Give us more details of your plans to generate power through non-hydro means.
UJVNL has planned two 700 MW capacity gas based power projects in joint venture with GAIL. These projects will be installed at Haridwar and Kashipur. However, the work on these two projects has not been commenced so far due to scarcity of gas in the country. To augment power requirement of the state, efforts are being made with Government of India for the allocation of coal block to Uttarakhand so that a pit head based thermal power station of 2000 MW capacity can be installed. Persistent persuasions with Government of India are being made for obtaining the Coal Block and Gas for augmenting power generation in the State. UJVNL has also started preparation of DPRs for installation of solar power plants on the spare land available at its Hydro Power Stations. About 20-25 MW capacity Solar Power Projects are being planned by UJVNL.
Power distribution is a crucial area of concern. Tell us about the initiatives that are being taken for implementing latest technologies, like smart grid, and other ICT solutions for ensuring efficient power distribution in state of Uttarakhand?

Power distribution in the state is the responsibility of UPCL, a state owned power distribution utility. To ensure efficient power distribution in the state of Uttarakhand, UPCL is currently implementing Restructured-Accelerated Power Development and Reforms Programme (RAPDRP) of Ministry  of Power, Government of India. This programme includes establishment of baseline data and IT applications for Energy accounting/auditing & IT enabled consumer service centres. UPCL has made significant progress under the programme. UPCL has created its own IT-backbone with its own Data Centre along with the network connectivity. UPCL is enhancing convenience of consumers by registering their complaints & answering their queries through Customer Care Centre. Core applications for metering, billing, and collections have been developed.
Follow and connect with us on Facebook, Twitter, LinkedIn, Elets video