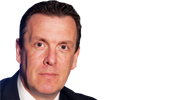 The Indian government should concentrate on framing policies that will make the market truly competitive," says Gary Roberts, Executive Vice President, EMEA, Pitney Bowes  Software
Pitney Bowes is the world's leading provider of integrated mail and document management systems, services and solutions. The company has an annual turnover of above US $5.6 billion, and it has 36,000 employees who deliver services and solutions to over 2 million customers worldwide. The company is world leader in the supply of postage meters (or franking machines), electronic postage scales, folding and inserting systems, mail openers, high-end computer output mailing systems, package tracking systems and customer communication management software.
Why India?
The Indian market has reached a stage where competition poses a better way, as compared to regulation, for fostering growth in the economy. The Indian government should concentrate on framing policies that will make the market truly competitive. The regulations should be focused on defining the general rules for maintaining order in the market economy and ensuring a healthy respect for the social factors and for the environment. The Indian market represents a huge opportunity for global companies like Pitney Bowes.
Our Product and Services
Pitney Bowes Software Solutions bring accuracy, personalisation and integrity to each mail piece and ensure that the right information or material is delivered to the right person at the right time. Location intelligence software from Pitney Bowes layers demographic and economic information over addresses to help organisations make better decisions while reaching out to customers. MapInfo Professional is a powerful Microsoft Windows based mapping and geographic analysis application. Geocoding accurately determines location by linking longitude and latitude coordinates with street address data. Designed to easily visualise the relationships between data and geography, MapInfo Professional helps business analysts, planners, GIS professionals and even non-GIS users to gain new insights into their markets, through the sharing of information- rich maps and graphs. Investment growth in India is related to the growth of the economy. India has one of the fastest growing retail markets in the world. The use of Geographic Information Systems (GIS) is a powerful tool and is gathering momentum in the mining industry. Of particular interest is the GIS capability to integrate communications across departments and mining sites. GIS technology must constantly evolve to meet the changing needs of the mining industry. Our GIS solutions are also effective in thwarting the spread of Malaria. The distribution of Mosquitoes is largely dependent upon the spatial distribution of their larval breeding sites, their flight range and the spatial distribution of their preferred hosts. These are all heterogeneous in space and time. GIS may be used to map and analyses the spatial distribution of mosquitoes and to assess the ecological factors that contribute to observed distributions.
Pitney Bowes in Education
Pitney Bowes is committed to investing in the communities in which the company operates. We believe such investment is most effective when it is aligned with the organisation's corporate mission of helping customers grow through access to better solutions for communication. We have a rather philanthropic focus on literacy and education. Through the Pitney Bowes Foundation and corporate contributions, we provide grants and matching gifts to worthy causes. At least 70 percent of the funding supports local literacy and education programmes, with the remainder becoming available to support other priority community needs. Local Community Leadership Teams driven by Pitney Bowes employee volunteers do the philanthropic work. Each team receives a budget, which they allocate in support of local community organisations. Our Instructor-led online courses provide all the benefits of face-to-face classroom training combined with the convenience of learning from your desktop. Instructor-led online courses emphasise practical applications of the products through the use of hands-on experience. Our classes are held in an interactive environment. It facilitates learning at your location so that there is zero cost of travel.


the author
is Executive Vice President, EMEA,
Pitney Bowes Software