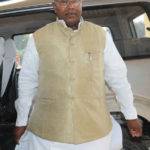 The Bihar government moved closer to nearly four million residents of Gaya district spread over 24 blocks and 332 panchayats, as Gaya formally became an e-district thereby making the people just a mouse click away from the government. Gaya administration entered the cyber world on Sunday afternoon at a function organized at Hasrat Mohani auditorium to mark the occasion.
State assembly Speaker Udai Narain Chaudhary inaugurated the formal ushering of Gaya into e-district. IT minister Shahid Ali Khan was the chief guest on the occasion. Former IT minister and Tekari MLA Anil Kumar presided over the occasion.
As per the details officially made available, Gaya's entry into the e-club (Gaya is the fourth district of the state after Nalanda, Madhubani and Aurangabad to join the e-governance scheme), over one dozen services will be provided to the people at their doorstep and they no longer need to make rounds of the block offices, SDO office and Collectorate, the poorer among them earlier losing several days' wages to get even small things done. These services will now be provided to them at the panchayat level community service centre (CSC) established under the PPP mode and managed by village level entrepreneurs (VLEs).
The services provided through the CSCs include caste certificate, residential certificate, income certificate, character certificate, handicap pension, widow pension, old age pension, BPL certificate, BPL information, land mutation and land settlement and possession of land. The charge for all these services will vary between Rs 10 and Rs 35.
People can visit any of the 332 CSCs and submit their applications along with the fee and affidavit. The applicants will be updated about their work through SMS and once the work is done, they will be accordingly informed through SMS to collect the documents from the community service centre. In order to ensure transparency, the community service providers will display the necessary information on a notice board. Separate receipt and issue register will be maintained by the service providers chosen under the PPP mode.
The certificates issued under the system will carry the digital signatures of the issuing official. The applications received at the panchayat level will necessarily have to be forwarded in original to the block/circle office concerned, say the guidelines issued for e-governance scheme.
IT minister Khan said that Bihar was the first state in the country to impart computer education in madrassas and Rs 28 crore had been earmarked for the computerization of madrassas. Assemby speaker Chaudhary narrated the woes of the poor making the rounds of government offices for weeks and months to get even small things done. Chaudhary hoped that the e-governance scheme will provide the much-needed relief to the people particularly the underprivileged section.
Follow and connect with us on Facebook, Twitter, LinkedIn, Elets video