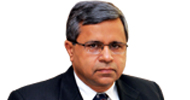 Rajeev Mehrotra, Managing Director and Director Finance, RITES Ltd, in conversation with Nayana Singh, provides a comprehensive overview of the engineering, consultancy and project management services in the transport infrastructure sector that RITES Ltd is providing
---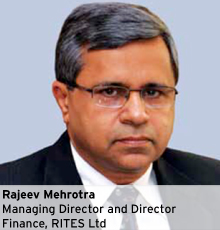 Tell us about the work that RITES has been doing.

RITES has 600 on-going projects in India besides having more than 30 projects overseas. The organisation was set up in 1974 as a parastatal organisation under the Ministry of Railways. RITES has It established itself as one of the leading Tinternational consultants in rail sector. Since the early eighties, RITES has been expanding its activities and gradually entered other sub sectors of planning and development namely urban transport, urban development, structural engineering, architecture, highways, airports, ports and harbours, inland water transport, ropeways, pipelines and project management. RITES is a leading consultant with operational experience in over 60 countries in Africa, Middle East, South East Asia and Latin America. The services offered by RITES include: total traffic system studies for integrated planning in transport sector (for Rail, Road, Air and Water), feasibility studies, pre-construction surveys and geo-tech investigations for new rail links.
Major Airport Projects completed by RITES in the recent years
• Techno-Economic Feasibility study for revival of Airports Authority of India owned 32 nonoperational airports for operation of ATR class of aircraft
• Relocation of Tsabong and Hukuntsi Airports, Botswana
• Consultancy Services for Construction of 2nd Runway (code F) for operations of Airbus 380 Aircraft at Sir Seewoosagur Ramgoolam (SSR) International Airport, Mauritius
• Up-gradation of existing airport at Francistown, Botswana for operations of Boeing-737 class of aircraft
• Project Management Consultancy for construction of Aircraft Hangar at IGI Airport, New Delhi
• Expansion and strengthening of Runway and Up-gradation of Associated Operational Infrastructure and Terminal Facilities at Naini-Saini Airport, Pithoragarh
What are the initiatives that RITES is taking tobring improvement in the nation's transportation infrastructure?

RITES has played a significant role in improving in the nation's infrastructure.
RITES has worked on several infrastructure related initiatives under the Five Year Plan. RITES has played a pivotal role in conducting the Total  Transportation System study for horizon 2025. This is a landmark national study in transport sector comprising all four major modes of mechanized transport – Railways, Highways, Airways and Costal shipping. RITES has been providing Project Management Consultancy services in the Metro Rail Projects like the Delhi Metro and the Bangalore Metro. Technical Consultancy Services for preparation of DPR for three Metro corridors in Kolkata: (i) Baranagar-Barackpore corridor (ii) Joka – BBD Bagh corridor (iii) New Garia – Airport corridor.

Tell us about the consultancy role that RITES is playing for Airport infrastructure space.

RITES, Airport Division, undertakes consultancy services for development of Airports from Concept to Commissioning, including air traffic surveys, site selection, air side / city side planning, techno-economic feasibility studies, detailed engineering designs for airfield pavements / access systems / terminal buildings / ATC towers / technical blocks / drainage / security / allied facilities, design of airfield lighting systems / navigation / communication aids, bid process management, Project Management, Construction Supervision and Quality Control. The areas of services also include Environmental impact assessment studies, topographical surveys and geo-technical investigations. RITES, Airports Division also is equipped with highly qualified engineers, and it has state of the art capabilities for Non-destructive pavement evaluation using Heavy Weight Deflectometer.
What kind of impact have theinitiatives from RITES had on the development of better highways in the country?

RITES provides comprehensive road transport consultancy services covering all aspects of conceptual and detailed design, construction, supervision, operation and maintenance of highways, expressways, feeder/rural roads, bridges/viaducts and tunnels, maintenance planning / management of road network, strategic planning for improvement / upgrading of road systems. Significant investment towards National highways, State highways and rural roads is being considered. RITES is planning to engage with developers to obtain consultancy business and explore options for long term arrangements with some large developers. RITES is also interested in taking up the contract management work in the upcoming PPP projects leveraging its vast experience in field of Highways. RITES has been playing a major role in attainment of plan goals and targets for modernising highways, expressways through Public Private Participation.
Can you name some of the prestigious highway projects that RITES is associated with?

RITES has provided Project Advisory Consul tant Services to Yamuna Expressway: it is the longest Access-Controlled six lane (extendable to eight lanes) Concrete Pavement Expressway in India. This 165 km Expressway project, connecting Greater Noida with Agra has been developed on Public-Private-Partnership model. RITES is also providing consultancy services for 6-lane bypass on NH-8 from Gurgaon to Jaipur. Tell us about the role that RITES is playing in Bridge and Tunnel engineering. Comprehensive wide ranging services from concept to commissioning are being provided in the field of new as well as rehabilitation of existing rail, road and rail cum road bridges across major rivers and gorges, rail over bridges, rail under bridges including viaduct and rail and road tunnels. The major activities undertaken include: assessment of project need, sitting of location, including remote sensing study and land use, topography survey, hydraulic Consuldesign parameters, hydraulic model studies for design of protection and river training works, geological / geotechnical investigations, preliminary / detailed structural design and proof checking including project scheduling, construction planning, tendering along with designers/ construction supervision.
Throw some light on the tunnel projects that RITES is associated with.

RITES has conducted the feasibility study and detailed project report for Rohtang Highway Tunnel (8.9 km long). It has also conducted detailed engineering studies for Jawahar highway tunnel, which comprises of tw tubes, 2.5 km long. There has been detailed design consultancy and construction supervision in Pir Panjal tunnel, which is 10.96 km long). There are many other projects that RITES has handled.
What are the main challenges that are being faced in creation of  better transportation infrastructure in the country? What are the solutions to these challenges?

Acquisition of land for development of infrastructure is a major challenge. It is quite difficult to come up with mutually acceptable answers for addressing concerns of all the stakeholders. There is also resource crunch, which is mainly caused by lack of adequate resources for funds. There are also the issues related to sustainable development and environment protection. Law and order is also an issue. The working condition in the North-Eastern and the naxalite affected states is a problem.
Services offered by RITES in Highway sector are:

• Detailed Engineering Design and project preparation
• Proof Checking of Design & review of design and tender documentation
• Techno-economic Feasibility Study
• Traffic Safety Measures
• Environmental Impact Assessment (EIA)
• PMC / Construction Supervision
• Quality Assurance
• Advisory/Technical Assistance
• Network improvement studies
• Procurement of works, pre-qualification and selection of contractors
• Construction supervision and Project management
• Pavement evaluation & design
• Maintenance Planning & Management