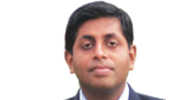 Dr Ashish Verma, Assistant Professor (Dept. of Civil Engg.) and Associate Faculty [Centre for infrastructure, Sustainable Transportation, and Urban Planning (CiSTUP)] Bangalore, spoke to Dhirendra Pratap Singh on various issues that lie at the core of public transportation in India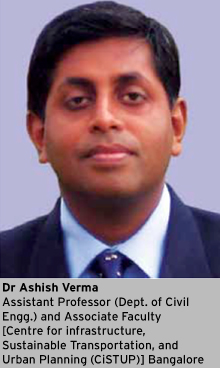 Please share with us your thoughts on the state of public  transportation in India.

Currently people in the country, especially the poor sections in urban areas, are forced to travel in very bad conditions. An affordable public transport with a desired minimum level of service would always attract ridership in Indian cities; however, majority of public transport riders in Indian cities are captive riders. As soon as the captive rider turns into a choice rider, public transport becomes the less-preferred mode. One of the important requirements is a well-networked public transportation system with time-bound schedules, reliable services, comfort, competitive travel times and affordable prices. These features will reduce the cost of travel by public transport (PT) modes and will make them attractive and will thus bring about a shift from individual modes to public transport. Many Indian cities are now introducing multi-modal mass transit systems (metro rail, BRTS, mono-rail etc.) which need good integration to be able to effectively serve the overall mobility needs of the city.

Tell us about the technological solutions that the government is using to ensure smooth operations of the transport.

Technologies under Intelligent Transportation System (ITS) provide promising opportunities for smooth operations of traffic. However, presently the level of introduction of ITS and its use is still in nascent stage in India. Also, many of these technologies have been developed for Western countries, where the conditions are completely different from what we have in Indian conditions. So lot of customisation for Indian conditions is required for making ITS technologies effective in domestic conditions. There exist many anomalies and complexities of Indian traffic system. Heterogeneous mix, no lane discipline, exponential growth of vehicles, bad roads, poor geometrics, conflicting movements of pedestrians and vehicles on the road, problems with the driver licensing system, poor traffic law enforcement etc., are few factors that add to this complexity. While some of these could be improved by policy interventions and other measures from government and local bodies, the traffic conditions in India today is as such beyond the level of control by simple traffic management measures or human abilities and the use of technology is all the more important to manage traffic in India today.
In your opinion what are the main hurdles in deployment of ITS systems n India?

One of the important input requirements for any ITS related traffic management is the dynamic and continuous assessment of real traffic situation in different parts of the city network, which is still the biggest hurdle in the success of ITS in India. Considering the complexities of Indian traffic described in the above paragraph, it is still very difficult to capture the state of traffic using any sensor based or other mechanism, and it is still a large area of research. Without an accurate assessment of traffic, which is the basic input to any ITS solution on traffic management, the effectiveness of these ITS technologies is doubtful. The second big hurdle is the lack of effective and reliable communication network for citywide traffic management using ITS. The ITS technologies on traffic management have to rely heavily on communication channels on the flow of real time data to the control centres, but the reliability and un-interrupted availability of communication networks is still a challenge in India. To give an example, at Traffic Management Centre (TMC) in Bangalore almost half of the junctions where PTZ cameras are installed for traffic management purpose remains un-connected at any given time.
What kind of systems should public transport systems incorporate to gain popularity with the masses?
Seamless travel across multi-modal public transport system is an essential requirement to make public transport attractive for people to use it. One of the important ways to make travel seamless is integrated ticketing where once the person buys a ticket, he or she should be able to travel seamlessly across all modes of public transport without having to buy ticket again while transferring in between. Smart Card system is a technology based solution to do this and is certainly going to be popular because of its utility.