"HID Global is keen to extend its reach to second-tier and third-tier cities," says Ranjit Nambiar, Director of Sales, South Asia, HID India Pvt Ltd


---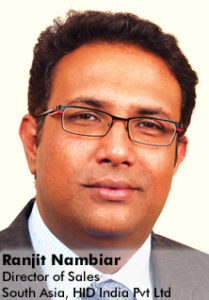 Give us an overview of your top selling printers in the Indian consumer market.
One of our top selling printers is the advanced generation of FARGO® Direct-to-Card DTC1000 printers that address the need of instant, ondemand printing and offers added benefits of addressing end user concerns. The new DTC printers include the embedded Swift ID™ application, enabling users to print cards right of the box. Also, the DTC1000 printers are  capable of being accommodated in any space. Recently, we have introduced HID Global's  FARGO® HDP8500 Industrial Card Printer/Encoder, the industry's highest capacity and most  rugged and secure printing/encoding solution that is designed for the extended-run, high-throughput and high-dutycycle requirements of government ID card programmes, laborious service bureaus conditions, universities and large enterprises.

What kind of features do customers look for when they buy your printers?
Customers look for quality, usability, including integration with existing databases, plus  ease of use and speed through dual-sided printing capabilities. They also need modular  flexibility, including the ability to print both RFID and proximity cards. Then there is issue  of sustainability and security, including incorporation of higher-security printed visual  elements and migration of 13.56 MHz contactless technologies. Visual elements include registered embedded holograms, holographiclaminates, smart card contacts and  personalised record data and variable graphics, and the use of various printing techniques  including both standard and sub-surface lithographic and digital printing, embedded  anti-counterfeiting, and over-the-edge high-definition printing (HDP). Sustainability is  optimised through the use of the latest card materials that degrade up to five times faster  than standard plastic cards, and print solutions that are ENERGY STAR-rated, providing organisations high-performance, energy-efficient solutions for producing professional  quality colour ID cards with security encoding.
What is the next innovation that we can expect in the printer cartridge technology?
Enterprises require maximum credential efficacy which means credentials should be durable and provide clear visual evidence of attempted tampering. Retransfer print  technology provides distinct advantages here, and can deliver additional security and  durability through the use of specialty films that incorporate visual, anti-counterfeiting security elements, including custom holograms,  fluorescing images or micro-text. Retransfer technology also improves card abrasion resistance, additional in-line card  lamination may be applied over the retransfer film to further extend card life while enabling varying levels of overt or covert visual security elements. Other desirable features include enhanced material handling systems can prevent ribbon breaks and film errors, and finelytuned consumables cartridges with precision rollers and aluminium spindle shafts that can ensure consistent print image production.
What is the next milestone for your company as far as the Indian operations are concerned?
There are two key focus areas for HID Global in India – the first is to penetrate into  emerging vertical markets and the second is to extend our reach into second and third tier  cities in India. In terms of vertical markets, HID's strategy is to focus on those verticals  where we believe have strong growth potential, such as the enterprise, utility, telecom,  transportation, building infrastructure, finance and government markets. HID Global is keen to extend its reach to second-tier and thirdtier cities such as Ahemdabad, Kochi,  Coimbatore, Vizag, Jaipur and Lucknow, as we see a growing need for security solutions in  these areas. However, technicians in these cities often have little knowledge on high  security access control system. Therefore, HID Global is building a local distributor and  system integrator network and provide them technical trainings for customer support.
Tell us about your expectations from the government.
Government should come up with more market friendly and constructive policies. Nowadays, most organisations see access control systems as a 'good to have' component. It's  necessary for the government to take the lead and formulate guidelines to bring about  improvements in the security standards across the country.
Follow and connect with us on Facebook, Twitter, LinkedIn, Elets video