Microfinance has now become a movement that envisions an inclusive world in which low-income households have permanent access to a range of high quality and affordable financial services offered by a range of retail providers of financial services
---
In May 2012, the Union Cabinet approved the bill to regulate micro finance industry and bring micro lenders under the purview of the Reserve Bank of India. The bill has now been sent to the parliament for its  consideration. The draft Bill, which was circulated for public comments in July last year, had proposed making RBI the regulator for the sector. As per the draft, it will be mandatory for micro finance institutions (MFI) to be registered with the RBI and have minimum net-owned funds of Rs 5 lakh. In addition, a Micro-Finance Development Council will be set up to advice the government on formulation of policies, schemes and other measures required in the interest of orderly growth and development of the sector with a view of promoting financial inclusion. The council will comprise of members not below the rank of executive director of NABARD, National Housing Bank, the RBI and SIDBI. The microfinance initiative in India has been described by NABARD as relationship banking rather than parallel banking elsewhere in the world.
In this experiment, there exists a link between Self Help Groups (SHGs), NGOs and Banks. The public banks network has been roped in to provide microfinance in rural and semi-urban areas. The commercial banking network, which has  rown with phenomenal speed in terms of geographical spread and functional reach, has also been roped in for microfinance. The microfinance entities can also serve as Banking Correspondents for different banks. "It must be understood that microfinance is much more than micro-credit. We have done over Rs 4500 crore of that. We begin with financial education and then through our own local area bank, as also as BCs of other banks, we offer savings services.
We are also a player in microinsurance jointly with insurance companies Aviva and Royal Sundaram – over 4 million covered – for life, health, crop, livestock and productive assets like pumps. Third, we offer micro-pensions jointly with IIMPS and the UTI Pension Fund. Fourth, we offer inter-location money transfer services through our Sub-K network. Fifth, through our affiliate CTRAN, we offer aggregation of micro carbon credits," says

Vijay Mahajan,  BASIX Group CEO and Chairman.
 The Indian regulators view microfinance as  an initiative that not only enables financial inclusion, but also works towards reducing dependence of poor borrowers on various informal sources of credit that are often notorious for the onerous terms at which they offer credit. An effective financial inclusion is possible only with the accomplishment of the second. "MicroGraam helps connect people in villages to those in urban centres through the use  of mobile and internet technologies, to enable easier exchange of funds and interactions. Specifically, MicroGraam enables urban professionals to find, select and provide microcredit to underprivileged borrowers in rural India at terms that reflect the purpose of a loan – resulting in a larger impact on the borrower's life," says Ragan Varadan, CEO & Founder, Micrograam.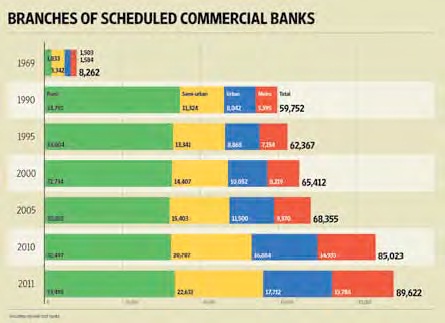 According to RBI, provision of credit to the Microfinance sector is ba sed on the following postulates:

• It addresses the concerns of poverty alleviation by enabling the poor to work their way out of poverty.
• It provides credit to that section of society that is unable to obtain credit at reasonable rates from traditional sources.
• It enables women's empowerment by routing credit directly to women, thereby enhancing their status within their families, the community and society at large.
• Easy access to credit is more important for the poor than cheaper credit which might involve lengthy bureaucratic procedures and delays.
• The poor are often not in a position to offer collateral to secure the credit.
• Given the imperfect market in which the sector operates and the small size of individual loans, high transaction costs are unavoidable. However, when communities set up their own institutions, such as SHG federations and cooperatives the transaction costs are lower.
• Transaction costs, can be reduced through  economies of scale.  However, increases in scale cannot be achieved, both for individual operations and for the sector as a whole in the absence of cost recovery and profit incentive
Follow and connect with us on Facebook, Twitter, LinkedIn, Elets video