"India has one of the most ambitious National e-Governance Plan (NeGP) to create a citizen-centric and business-centric environment for governance," says  Sachin Pilot, Union Minister of State, Communications  and Information Technology..
---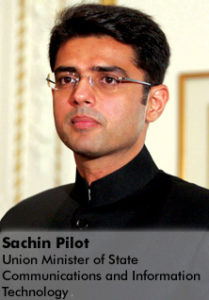 Please tell us about the initiatives that Ministry of Communications and Information Technology is taking to bring growth in ICT sector.
There are essentially two main components when it comes to ICT in India. Firstly we have to further consolidate our position on the software side and secondly we need to expand our capacity in hardware. The Draft Information Technology and Telecom policy are thus aimed at achieving the following objectives – diversifying our product/service offerings; enhancing domestic manufacturing in ICT and making India a hub for manufacturing; ensuring a profitable and competitive industry whilst ensuring that consumers are able to access telecom services and broadband at cheap rates; eliminating inequality in access to ICT.
Various initiatives, in consultation with the industry, are being executed to achieve this goal. At the same time, we must also leverage ICT for economic growth and development by making ICT integral to service delivery in health/education/agriculture, etc. We have to enabling businesses (especially small and medium scale businesses) to expand, developing applications for use by critical groups like youth, farmers, and women. This can lead to elimination of corruption, delays, and leakages in government schemes. ICT is a great enabler and we must develop a conducive ecosystem for it to sustain India's forward march.
Do you think that social networking sites can be a medium of social reform? What must the government do to optimise the capabilities of social networks?
Social networks are an important means of communication in today's world, especially for the youth. These networks have become central for political activism, civil society, and other institutions, like universities, governments, public figures, etc. The government welcomes the growth of such networks in that it encourages peers to connect with each other. However, the government's role vis-a-vis such sites is minimal given that these platforms exist primarily in the private sector domain and involve voluntary  embership. If there are specific issues those networkings sites bring to our notice, we will definitely look into them. To the extent that there are laws governing the internet, we will work in coordination with social networking sites to ensure that the rights of users are protected, and the laws of the land are followed.

These days there is a lot of discussion happening on the subject of malicious content that is being placed on different outlets on the internet? In your view what are the best ways by which we can regulate the internet?
You are right in saying that there is a lot of undesirable content being placed on the internet. There are several issues that we must understand when we deal with such issues. The internet does not know any boundaries and as such it is not always possible to control or monitor the content that is being placed online. Yet there is a broad agreement that we must debate rules of behaviour on the internet, much like we do for print media, television media, etc. While the right of users to pose content of their choice is in line with the right to freedom of speech, we also have to respect the right of users who are consuming that content, especially when those users are not always in control. Here, we can think about internet education for the masses so  that people are aware of the dangers of malicious content available online.
What we are talking about here is not censorship, but a discussion with all stakeholders as to democratically deal with the problem of undesirable content online. Therefore it is critical that the call for a discussion on this is not seen as an attempt to control. It is merely an effort to bring about consensus on the issues surrounding internet content. Malicious content has implications for security and privacy of internet users. The internet is integrated into our lives like never before, and we share a lot of private and sensitive information with various parties online. This can be misused, and we all must guard against it. Government agencies routinely issue security advisories and users are encouraged to pay heed to these warnings.
What is your dream e-Governance project? Please tell us about the e-Governance projects that you think will be the most beneficial for the common citizens of the country?
India has an ambitious National e-Governance Plan (NeGP) to create a citizen-centric and business- centric environment for governance. The NeGP was approved by the Government in 2006 with the objective of creating the right governance and institutional mechanisms, capacity building initiatives, core infrastructure, policies and standards and also the necessary legal framework for adoption of e-Governance in the country. The plan is comprehensive and is being implemented at all levels of the Government, be it central, state or local government levels. There are several initiatives being implemented currently, and these include – The National Optical Fibre Network (NoFN), Common Service Centres (CSCs), State Wide Area Networks Scheme (SWANs), State Data Centres (SDC), State Portal (SP) and State Service Delivery Gateways (SSDGs), and the National Knowledge Network (NKN). Altogether, these will lead to a significant expansion in the capacity at all levels of governance for delivery of essential services. It will also enable more citizens to access essential services.
What are the ways by which modern IT can be used to awaken a sense of national pride amongst India's youth and acquaint them with the nation's history?
The online world is a rich source of information, and can be used to gather data and information on a variety of topics. By enriching the internet with content relating to Indian history, we can provide students, academics, and history enthusiasts with a rich data bank. Government websites already host a lot of interesting data that can give Indian youth an insight into India's rich history, and this can be supplemented with other sources.
The world economy is suffering from an economic downturn. What steps is the government taking to revive the Indian economy, and especially the IT sector?
The world economy, especially the Euro zone, is going through some tough times. It may take a few years for it to get back on a higher growth trajectory. In the meanwhile, India must gear up for the challenges that come along with a weaker world economy. One thing in our favour is that the fundamentals of our economy are still strong, and the factors that have made India an attractive market still stand true (strong domestic market, good institutions, young workforce). Despite recent perceptions of policy paralysis, the government has been steadfast in its efforts to build broad consensus on reforms. It is with this idea that the Finance Minister has urged all political parties to cooperate in areas such as fiscal legislations and tax reforms. It is important that we are able to arrive at a decision quickly to send out a strong signal that the Indian economy is moving along just fine.
In the IT sector, we are trying to strengthen our traditional domain areas whilst building capacities in new areas. I think one of the key messages here is that Indian IT companies are evolving and are targeting new markets with more sophisticated products and services. This will insulate us from slowdown in select markets. The Draft Information Technology Policy includes measures that will expand the pool of skilled IT labour, provide various kinds of fiscal incentives for the industry to grow, establish India as a manufacturing hub in ICT, set up centres of excellence, and allocate funds for R&D and commercialization of products and services. These initiatives will stimulate the IT industry and bring about a second wave of IT revolution in India.
In your opinion what kind of experiences and sensibilities as an administrator, must a Minister in a country as diverse as India should bring to his job?
In a country like India, a Minister has to wear many hats to do his job effectively. First, one has to be conscious of the fact that there will be many different stakeholders that try to influence you during the course of your duties. These stakeholders often have different and competing motivations behind their efforts, and a Minister must consider all aspects carefully before making a decision. Second, a Minister has to often balance short-term political considerations, sometimes arising out of the compulsions of coalition politics, with long-term policy considerations. Third, there may be thousands of priorities in a Ministry. A Minister must have the vision and desire to identify those that have the biggest positive impact on the maximum number of people for every rupee spent. India is a complex country, and this is never an easy exercise. Fourth, Ministers are increasingly required to master soft skills to effectively carry out their functions which include an ability to handle interactions with the Media, Industry associations etc. Finally, a Minister must be able to guide and direct the team of civil servants at his/her disposal to ensure that targets are achieved.  
Follow and connect with us on Facebook, Twitter, LinkedIn, Elets video