"As of now we have managed to help about 40,000 job card holders to secure payments of approximately Rs. 30 crores," says Kavindra Kiyawat, Collector & District Magistrate, East Nimar, Khandwa, in conversation Nayana Singh

---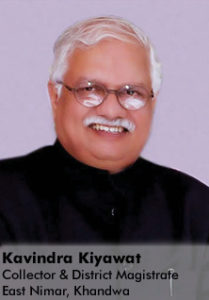 Tell us about the financial solutions that are being used for bringing efficiency to NREGA payments.
People who seek jobs in NREGA scheme are those who fall in the BPL bracket; they belong to the backward classes in rural areas. It is a rule to pay these labourers through bank  accounts. But as the number of banks is quite less in the villages, due to less number of  banks in the villages, these labourers are often forced to travel for long distances of almost 25-30 kms to secure their  wages. In order mitigate the problems that these poor people face, we have developed a new  method for paying NREGA wages. We are paying via mobile banks available at the Zilla Parishads. This facility has started from July 17, 2011 in Khalwa district. The same facility  came up at Anuppur district, in Madhya Pradesh, in January 26, 2010.
According to you what other initiatives can be taken to promote financial inclusion in rural areas?
Under special schemes, we have introduced pensions in Kharwa district. We have linked pensions to mobile banking, as a result of which widowed ladies, physically disabled people  have been immensely benefitted. Earlier they had to avail these facilities from post offices  and banks, now the same services have become available to them at their doorsteps. People  in rural areas have the option of getting their wages, pension in the village itself. This  initiative is also allowing us to attract more and more villagers to banking and we can  achieve our target of achieving 100 percent financial inclusion. The social security scheme  is having good feedback from local residents.
You have also opened accounts of all the villagers at district branches.
We have opened bank accounts of all the villagers at district branches of the state banks.We have also opened accounts of all job card holders at the same banks. So now most of the operations can be made from the same banks. Issues related to collection of cheques also get resolved. Earlier when the job cards holders used to go to the banks to collect their wages, they would be told that their cheques were yet to reach the branch. At times, lot of workers would get gathered at the bank to withdraw their wages. Also, in each district we have  created a separate ledger for financial inclusion, so that the normal transactions of the bank  are not hampered. To make it even more convenient for labourers to withdraw their  wages, we have created a system of mobile van, which is affiliated to the bank and arrives  at the Panchayat Bhavan to disburse payments.
Can you elaborate on the ways by which these solutions are helping the people in rural areas?
I would like to highlight that as of now we have managed to help about 40,000 NREGA job  card holders to secure payments of approximately Rs. 30 crores. Previously they used to  withdraw all the money that was deposited in their account, as they wished to avoid the  trouble of going to the banks repeatedly. Thus the entire savings in their accounts would be  depleted and at times spent on unnecessary things. The new facilities in place have enabled  them to take out as much money as they need and leave the rest for future usage. Thus they  have some savings at hand. As they are having banking services in their doorstep  they don't have to waste time and money travelling to larger towns for accessing the bank  branch. Earlier the labourers had to take a day off from work and travel to obtain their  wages. Now, they are gaining at both ends. The system introduced is convenient for them and it encourages people to save also.
Follow and connect with us on Facebook, Twitter, LinkedIn, Elets video