"The business environment has completely changed. In the 1980s we used to take years to import a single computer, today we can do it instantly," says K K Singh, Founder Chairman & CEO, Rolta, in an interaction with Dr Ravi Gupta
---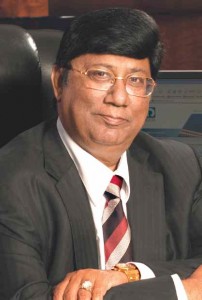 How has ICT industry evolved in India from the time when you started Rolta in the early 1980s?
At the time when we started Rolta, the IT industry was not quite developed. The scope of IT was also not fully understood then. IT was being deemed as a technology that had the potential of replacing labour and thus leading to rise in unemployment. In our country, labour replacing technologies are not favoured. But now the realisation has dawned on us that IT never replaces labour, rather it poses as an excellent way of generating employment opportunities for large numbers of people. Today it is possible for people who are doing low paying traditional jobs, to get some training and move on to a better paying IT jobs. IT isa job creator. Over the last 30 years, millions of new jobs have been created due to IT and the country has earned handsome returns in form of taxes, etc.
When you started Rolta, what was the vision? How has that vision evolved over the years?
We started Rolta in 1982. At that time, no one had the idea about the golden future that IT was going to have in the world. But I had great amount of fascination with computers and IT. That is why I started an IT company. At the time of its founding, Rolta was fully focussed on IT. We intended to create an IT company that could grow rapidly. Those were the days when it was very  difficult to import a computer system; it took three or four years to just get the licence for importing. But we somehow managed to survive under those tough  conditions and eventually we started providing services to many major companies. This happened in the first two-three years of our existence. We also  started an office in California. We are one of the pioneers in IT.
Today Rolta has diversified into many different areas. Please tell us about the inspiration behind your diversification strategy.
At an early stage, we realised that there was very little difference between Rolta and every other IT company. At that point of time also TCS was one of  the largest IT companies. Frankly speaking, we felt threatened by TCS. If a  company like TCS were to review its pricing and operational strategy, it could  lead to our customers moving on to TCS. That is why we started concentrating on vending solutions that were not being sold by any other company. We  started creating GIS software in India and soon we managed to capture around  60 to 70 percent of the market. We also entered the field of engineering  solutions and we managed to capture about 80 to 85 percent of the market. In  1990, we received an award from Government of India for achieving highest export in the GIS category. From 1995 onwards we started focussing on  defence in a big way.
You have acquired many companies in last five years.
In last five years we have become a most solutions oriented company. We have also acquired many companies in order to enhance our portfolio of technologies and systems. Instead of saying that we will develop every  solution ourselves, we were getting hold of solutions from the companies that we have acquired. As a result of this strategy we are now quite rich in  technologies. Our customers are appreciating the fact that we bring a large  number of technologies to the table. We are also providing solutions for e-Governance.
How have the times changed from when you started in the 1980s and today?
The business environment has completely changed. In the 1980s, we had to  run around for permits and permissions, but now we can take decisions freely  in most cases. The liberalised business environment is at par with what we have in developed countries. There are large numbers of studies that show that  India and China will be the top economies of the world by 2025. So there is lot  of improvement that is happening in India and rest of Asia, and the companies  that are focused on these parts of the world are sure to benefit from the growth.  Earlier they used to say that this is the technology that is available in other parts of the world, but we will release it in India after few years. Now we  have the situation where every new technology gets released in India at almost the same time as in other parts of the world. In fact, there are large numbers of instances where technologies get developed in India to be released in other  parts of the world. The country has now become home to hundreds of new  entrepreneurs who are doing a great job  and are fuelling growth.

Tell us about your solutions in the e-Governance vertical.
We are providing a range of software solutions for e-Governance in India and  abroad. In Middle East we have done e-Governance projects of almost $100  million. In India also we are involved in many e-Governance projects. We are expecting a big growth in e-Governance vertical. Just to give you one specific  example – the UIDAI programme, started by the government of India, has in  my opinion the potential of becoming a base for thousands of services from the government and even from the private industry.
What kind of growth are you expecting in the Indian IT market and especially in the government spending on the IT?
In the 1990s, when Nasscom was formed, the IT market size was around 1  billion dollars only. Today the revenues of Indian IT firms is close to $100  billion. Recently Nasscom has released a report stating that from 2012 to  2020, the total size of the IT market would become $200 billion. In this, the  domestic market is expected to contribute around $40 billion, which is equivalent to approximately 2 lakh crores. IT industry is showing very healthy  growth in India. We have always been deeply focused on Indian  market and we are expecting significant amount of growth in the domestic  segment.
Where do you see Rolta in the year 2020? What is your vision for the company?
We are very clearly seeing ourselves as a major player in the defence vertical  and in many other sectors. Our aim is to be a fully diversified company. Defence is such a large sector that even if you can grab a small share of it, you  increase your revenues many times. We see tremendous potential for  ourselves in defence. We have a big focus on homeland security. We are  providing homeland security solutions to many states. Engineering will  continue to be growth area for us. Geo Spatial systems will also be on our radar, we will continue to grow in this sector. Today IT contributes about 25  percent of our revenues. This again is a very large market and it has  tremendous potential to grow. We will continue to focus on improving our IT  revenues.
Rolta enjoys a large presence in Middle East. Tell us about some e-Governance project that you are involved with in Middle East.
We have a very prestigious contract to create a 3D modelling of Abu Dhabi. The  entire city, from building to building, road to road will be modelled in 3D.  The model will be so complex that anyone can virtually enter any building and  explore it. At the time of natural disasters, the 3D model will enable rescue  teams to find out the best ways of entering or exiting from any building. There  is simply no end to the ways by which the 3D system can be used for enhancing  security of the city.
Follow and connect with us on Facebook, Twitter, LinkedIn, Elets video