"The principal mandate is to facilitate housing & infrastructure development with a special thrust on meeting the housing needs of the Economically Weaker Sections (EWS) and Low-Income Groups (LIGs)", says Rajesh Goel, General Manager (IT), HUDCO, in an interaction with Sunil Kumar
---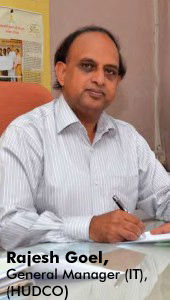 Tell us about the social initiatives that HUDCO has taken to serve the economically weaker sections of the population.
The principal mandate of HUDCO is to facilitate housing & infrastructure development in the country with a special thrust on meeting the housing needs  of the 'deprived' i.e. the Economically Weaker Sections (EWS) and Low-Income Groups (LIGs). exclusive focus on serving the 'unserved' and thus  bridging the 'housing divide' in the country. HUDCO is proud to have supported over 1.5 crore dwelling units since its inception. One in every sixteen houses in the country have availed HUDCO's financial assistance. HUDCO's operations are guided by its social responsibility. It has been assisting the Government in the implementation of major social programmes such as the Two – Million Housing Programme (2 MHP), Night Shelters,  Integrated Low cost Sanitation(ILCS), Swarna Jayanti Shahari Rozgar Yojana  (SJSRY), National Slum Development Programme (NSDP), Valmiki-Ambedkar Awas Yojana (VAMBAY), JnNURM (Jawahar Lal Nehru National Urban Renewal Mission), Interest Subsidy Scheme for Housing the Urban Poor(ISHUP) and is now expected to take a lead role in implementing Rajiv Awas Yojana (RAY).
What kind of financial assistance is HUDCO providing in urban and rural areas?
HUDCO extends techno-financial assistance to benefit the masses in urban and rural areas under a broad spectrum of programmes. HUDCO's coverage spans  across the total arena of housing, right from land acquisition to construction,  renewals, etc. In Urban Infrastructure, HUDCO also focuses on utility, social as  well as commercial infrastructure. HUDCO provides subsidised lending for  Economically Weaker Section, even lower than its borrowing cost to facilitate  the Government's mission of providing 'Affordable Housing for All'. The same  is partially cross-subsidised from its other commercial lendings.
Can you tell us about the ICT solutions that HUDCO is using to bring more efficiency into its operations?
HUDCO has always been a pioneer in adopting modern ICT solutions. It was one of the first PSUs to link its offices through WAN. HUDCO imparts utmost importance to IT as a tool to achieve its operational excellence in all its facets.  Hudco has a robust Intranet and website for effecting requisite communication  with its internal and external stakeholders. HUDCO has been  using major applications like Financial Accounting, Loan Accounting, Scheme  Information System, Payroll, CPF and HRMS. All the applications have been  build on Oracle Forms. The application is deployed on web with all Regional  offices having access to the applications hosted at central server through WAN.  These applications are routed through an excellent Intranet application  along with website which takes care of the requirement of our internal as well  as external stakeholders. All locations are connected to MPLS VPN cloud provided by Sify. As a part of e-governance, our borrowers have been  provided with a window on our website so that they can view the status of their Project, Loan and Ledger also. All possible measures towards paperless office  have been accomplished for its employees through its Intranet.
Tell us about the new ICT projects that you are planning.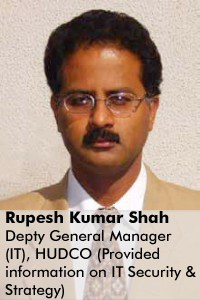 Over multiple years as per the needs of different department's business  processes, customised systems were developed at HUDCO. These systems evolved over the years, but still information is available in silos and not in a centralized place. This is leading to lot of duplication of efforts in operations of  various departments as well as making it difficult to give organisation-wide  picture from a single system. In order to have seamless flow of information between different departments and functions, for better control of the  processes and for leveraging advances in IT systems for business gains, HUDCO has decided to implement an integrated ERP system covering following departments:
• Operations: Project Loan and Retail Loan
• Finance and Accounts: Loans Accounts and Financial Accounts
• MIS : Scheme Information System/ EIS
• Resources: Term Loans and Bonds, Fixed Deposits, Asset Liability Management
• HR & Administration
• Consultancy and Design
Enterprise-wide IT application roll-out is a good occasion for looking at  current business practices adopted by HUDCO. HUDCO also wishes to  implement Corporate Performance Management (CPM), Risk Management and GRC using Business Intelligence (BI) and appropriate tools.
---
"One in every sixteen houses in the country have availed HUDCO 's financial assistance"
---

Tell us about the IT security solutions that are in place at HUDCO.
IT Security in HUDCO is an important aspect of our IT Strategy. We  periodically conduct Risk Assessment and review Security Architecture covering Network Security, Vulnerability Assessment of Operating Systems,  Database, Webserver & IT Applications, Network & Security Devices, Video  Conferencing System, Individual Applications, Backup & Recovery, Antivirus,  Disaster Recovery. Preliminary level disaster recovery measures are being  taken where database logs shipping process is in place along with tape archives  being placed at offsite locations periodically. All backup media is stored in fire  resistant cabinet at head office and also at one more location in Delhi along  with one copy in Hyderabad regional office as offsite backup location.  Frequency of replication of data backup is weekly in Delhi and monthly in  Hyderabad  regional office. Movement of backup media to the offsite backup    storage area is controlled and logged. All logical backups of the database is on daily basis on all working days and physical backup is taken fortnightly by the    Database Administrator. Backup of parameters and configuration of the network devices is taken by the Network Administrator as and when the  configurations are altered. Root backup of Application Server and Database Server is taken monthly by the Network Administrator and back up of web server is taken monthly by the Web administrator. Physical cutting of media is done before disposing. Access to backup media is restricted on a 'need to know, need to do' basis. Record is kept for documenting the retrieval of archive data on Servers with name, date and signatures of concerned application   owner, database/network/web administrator and signatures of custodian of backup along with the details of data recovered and reasons thereof.

Tell us about the challenges that HUDCO faces in fulfilling its social obligations. What are the solutions for these challenges?
The quantum of housing and infrastructure shortage in the country is such that  there remains a huge gap to be filled in this sector. The urban housing  shortage in the country is currently estimated at a whopping 26.53 million  units, which will require an investment of over Rs. 3,61,300 crore as per the  11th plan estimates, which has now been updated to Rs 6 lakhs crores. As per the preliminary assessment by the Planning Commission, the infrastructure  sector needs nearly Rs 40 lakhs crores by 2030, as per HPEC headed by Dr I J  Ahluwalia. The development of housing and infrastructure sectors is crucial for  sustainable growth of the economy. In view of growing urbanisation, there  is also a need for development of harmonious and inclusive cities. HUDCO's  corporate vision 2020 envisages a quantum jump in the scale of its operation.  We aim to achieve a turnover of Rs one lac crores by 2020, while aiming to  support nearly one million dwelling units per year on an average.
Follow and connect with us on Facebook, Twitter, LinkedIn, Elets video