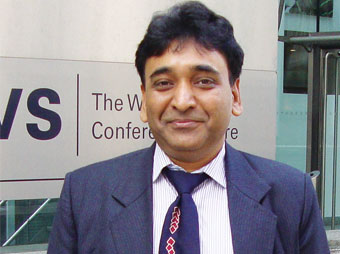 e-Governance is only possible when there is good governance. Decentralisation, Transparency, simplified systems are hallmark of good governance. Do these things first, and then use IT for better efficiencies and better interfaces. Get Political Support from the beginning, and create a strong leadership team for the project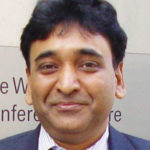 Rajesh Aggarwal,  Secretary, Department of Information Technology, Government of Maharashtra
Citizen Interface
Citizen interface, which is defined as the front end of the government, is extremely important. Ideal situation is to eliminate all physical interaction of the citizen with the government, replacing it with online systems for payments, SMS/e-mail/IVR systems for complaints and Application Status etc., an outsourced computerised Front Desk for submitting or receiving physical papers, and a courier system for delivering papers from Government to citizen. Many RTO offices (for driving licenses), Passport offices, Hospitals have a privatised front desk. Akshay/Friend centres in Kerala and Bangalore One centres in Karnataka have token system and air-conditioned seating space for citizens, and run 24/7, compared to earlier system of citizens standing in long lines or falling over one another in heat or rain. The scheme of CSC (citizen service centres) run by private companies and VLEs (Village Level Entrepreneurs) has been very successful in some states. Many certificates or copies of extracts from databases (like property card, affidavits, exam results etc.) can be given on the spot, or citizen is given a computerised receipt indicating when he can come back and collect his document.
Most popular services are Birth and Death certificates, Age and Income certificates, Property cards etc. It is essential to standardise these basic services across the State (Fees, Application Form, annexures or accompanying documents, Approval process, Output Form). In Maharashtra, almost every Tahsildar has different forms and process for these, and Revenue Department is expected to issue orders for Standardisation soon. A study by IIM Ahmedabad, conduced across a number of states, has indicated that CSCs have helped in reducing average number of trips made by the citizen to get a service, reduced time taken, and reduced bribes. CSCs have also done a great job in online recruitments (stories of kids appearing for police constable exams and dying in stampede, replaced by huge response by filling in forms and getting admission cards from CSCs). In a country where literacy is low, CSCs also act as assisted access centres and double up as cyber cafes, many of them also imparting computer education.
Many departments feel that they have done "full computerisation" when they have set up a Website. A website is just the beginning of eGov. In departments' websites, FOUR stages can be identified: One, just Web Presence (basic website); Two, Interactive website (email, feedback, and downloadable forms); Three, Transaction based (complete and secure transactions); Four, Transformation. Obviously, aim for reaching this stage fast. There have also been efforts to use of Social Media (Facebook, blogs etc.) to get citizens feedback, on issue like traffic violations, potholes etc. This is being called eGov 2.0. Online portals act as alternative to CSCs. (eGov cliché: Why stand INLINE when you can be ONLINE). Lakhs of kids can fill forms online sitting at home, citizens file Income Tax returns sitting at home rather than go stand in long queues, people can take online appointments for passport, property registration etc. and then turn up at the given time, and so on.
Many Municipalities have started system of computerised slips at parking lots, saving hundreds of crores of money being extracted by parking lot mafia. Such small steps get huge thumbs up from citizens, as service becomes not only cheaper but also courteous. Bangalore Traffic Police use of BlackBerry phones and portable thermal printers for giving challan receipts not only boosts government revenues, but gives a very transparent and polite service to citizens. Now they have gone one step further and the citizen can pay the money at a citizen service centre rather than at police station. All these are examples of better citizen interface. At toll nakas, truck drivers appreciate the computerised system (electronic weight bridges, computerised receipts, smart cards etc.) not only because it reduces bribes or time taken, but because it gives them a more dignified treatment than sometimes even verbal or physical abuse they are normally subjected to in the manual system.
Projects like eDistrict are focussing on totally Digital workflow. Citizen comes to CSC or sitting at home, scans his papers which are uploaded to a server, whole workflow happens digitally at backend (Clerks, Awal karkoons, Naib Tahsildar Tahsildar etc. use Digital Signatures to recommend/approve/reject), and a digitally signed certificate is issued. It may have Barcode, QR code etc. along with a Mobile number to send SMS and verify, or a website URL to verify this document. This is effectively DEMAT system, where paper document is being replaced by something stored in server. If a student applies to a college, then rather than submitting his degree in original or a photocopy (both of which can easily be faked), he could just submit his degree unique number, and the college could verify this form the central server. Our share market has gone totally Demat. Air Tickets are now booked electronically rather than jackets purchased, and train tickets are going the same way. Currency (too many fake notes) could also slowly give way to electronic money- now even plastic (credit cards) may give way to newer technologies like NFC (Near Field Communications). Central Government has recently introduced a bill on Mandatory Electronic Delivery of Services, which may result in more and more departments offering many Digital Services (in addition to, or in lieu of Manual Services).
Hence the citizen interface with business and government is undergoing a transformation, and eGov project managers have to be well informed on all the emerging technologies. Please, please do NOT insist on your department opening its own set of CSCs – this will make even the existing ones unviable.
ICT infrastructure for e-Governance
Government of India has focussed on three critical Infrastructure projects – SDC (State Data Centre), CSC (Citizen Service Centres) and SWAN (State Wide Area Network). More than a dozen states now have functioning State Data Centres. Other departments can just tell IT department to make servers, storage, bandwidth and software licences available in the SDC, and save on lot of time and money. Many SDCs now deploy virtualisation or Cloud technologies to reduce the number of Servers required, and also to provide flexibility. During Exam Results, education department will get more hits; during Elections, election servers will get more hits, and so on. Cloud environment provides flexibility to provision extra servers, and bandwidth quickly.
CSCs (Citizen Service Centres) have been covered in detail earlier. Almost any department can think of good use of CSCs to receive papers or payments and to provide decentralised services. Real Democracy will come only when Local Bodies are so much empowered that people do not have to come to State headquarters, or District, or even Tahsil offices, and can get the work done at CSCs and local levels. Please think of how you can decentralise to an extent that most of the services are given on-the-spot at CSCs.
SWAN basically connects Tahsil offices to Districts which are in turn connected to State Headquarters through dedicated leased lines. Now, most of the SWAN networks are connected to State data Centres, so that employees at field offices can get connectivity to District and State servers. Due to unreliable Power and Bandwidth, many departments have not relied on totally centralised Web Servers which is being done worldwide. Instead, we are still forced to keep district level servers also in many applications, which in turn synchronise with central servers mostly at night time. SWAN has also been used in many states for Video Conferencing, saving time of district level officials to travel to State Capital. The SWAN POPs (Points of presence- where routers etc. lie) are at Tahsildar offices and District collectorates, and other department offices can connect horizontally to them, thus becoming part of bigger network. Hence, each department should initiate a dialogue with their IT or eGov department, to leverage the use of SWAN.
Most of the IT departments offer Emailing solution, SMS gateway, payment gateway, eTendering solution, and GIS solutions to other departments free of cost. As indicated earlier, many IT departments provide Rate Contracts for Hardware/Software/ Bandwidth/ Manpower etc. which can be used by other departments to have quick roll out of their projects. SeMT (State eGovernance Mission Team) team in IT department is supposed to help other departments in framing RFPs and designing SLAs (Service Level Agreement) etc. Make use of this SeMT team. Be aware of IPR (Intellectual Property Rights) issues. For any software code written for you, your department must have IPR and not the vendor. In implementation also, keep strategic control with you. At least develop Monitoring capacity within the department.
Some departments may be suffering from First Mover Disadvantage. They may have beautiful, running IT systems, but if the software code is 10 years old, probably it is time to start again with a clean slate and write the code afresh. Ask your IT department for help.State IT department may have associated Corporations, or Societies, or Joint Ventures which can help other departments. In Maharashtra, we have State and District level SETU societies and a joint venture company MahaOnline. Common Applications like HR (Salary Payments, Seniority Lists, Transfer, GPF etc.), Inventory/Asset management solution, File Tracking Systems, RTI, Grievance System etc. need not be developed by each department separately. Insist on IT department giving it to your department. NIC has most of these modules ready and can customise it for the state. UID project is resulting in IT departments creating State Residents Data Hub (SRDH) which can be used by all departments. Projects like SSDG (State Service Delivery Gateway) will also make various databases talk to one another.
Finally, IT departments may have funds and programmes for Capacity Building. In Maharashtra, IT department has signed a MoU with State Training Academy, Yashada for offering many types of courses (classroom, virtual classroom, field visits, courses abroad, GoI STEP training program, evaluation studies, and so on). Fun Ideas like "First Saturday, Tech Saturday" every month across the state, identification of "Technology Champions" in each department, "Tell us good IT ideas and win cash prizes" etc. are also yielding very good response. Private companies are also being roped in to train government employees, and expose them to new gadgets, ideas and technologies. Resistance to new Technologies is at top management levels, while young recruits take to technology like fish to water, hence Capacity Building courses have to target this group on priority.
Read the full paper at
http://emaharashtra.eletsonline.com