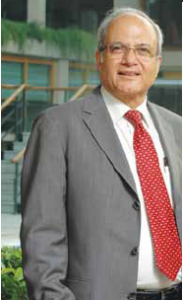 One of the six founder members of the HCL group, Ajai Chowdhry     took over the reins of HCL Infosystems, the flagship company of the   group, as President and CEO in 1994 and has been its Chairman   since November 1999. A great believer in the manufacturing  potential of India, Ajai has relentlessly advocated the cause of manufacturing in India to industry bodies and the government.
In recognition of his visionary ability, Chowdhry was invited to be part of the IT Hardware Task Force set up by the PrimeMinister of  India, to give shape to the country's IT strategy. In a chat with Shubhendu Parth, Managing Editor, eGov, Chowdhry explained why  HCL Infosystems' product-oriented approach to services would be a winning formula.
Services have become the larger component in your business, at 26 percent. What has been driving this transformation from a product company to a  services company?
When we move from the hardware business, one major area we want to focus upon is system integration. Currently we are sitting at an order backlog of $1 billion and that's a good position to be in. What we set out to do in system  integration we have gone and done but there is still more needs to be done.
Today we are focusing on 12 areas of system integration. We have added literally one area every two years.
We have decided we will add certain new areas like Oil and Gas, and travel and  transportation.We have been a product company since the day we started in  the year 1976. A decade ago I got to know that we are probably the first  company to produce a computer. I met somebody in Apple and then I realised  that the date when they launched their first computer was two months after the  date we launched ours. That first computer was all designed and manufactured  in India—the hardware, the components, the operating system; everything.
Now while doing a system integration project, if we find that 10 other similar projects are going to happen then why not take a product-oriented approach.  The boulevard of our strategy is to provide customized solutions. For example,  we created a solution for the municipal corporations. We will come, install,  modify but you can get started very fast. You don't have to start from scratch.
So you are taking a product-oriented approach to system integration…
In e-Governance, we have an Nrega product, we have an e-Municipality product file management system and all these are functional. These have been  installed at a number of places. There is another product in the power segment.  We have the CRM billing system. Then in banking and financial sector, we have  the largest number of products. We have a number of products for education  segment like digi-school product. The main idea has been to provide complete  solutions through our products.
As we go to Middle East or an African country, we can say we provide different solutions for e-Governance. We can directly demonstrate the product out there and take their consent to move forward. Earlier, we had a lot of our own  components but the service component was being outsourced a lot of time, but  now we have added services capability and so do it on our own. The product- oriented thing is about thinking ahead. A lot of applications we have developed  will tomorrow go into the cloud. If a customer is not ready to buy hardware or  software they can buy the services. We have a BOOT model and a cloud model.  Boot model mostly works in a government or a semi-government set up. We  have four cooperative banks running on our cloud model.
What has been the trigger for taking this route? Why are other   Indian IT services companies not taking the same approach?
They are mainly going in the IT services direction and we are going in the system integration product direction. We wanted to differentiate; we wanted to  do something that is close to us. So we for new software and then wait for it to
get developed. That's why we prepare readymade solutions and make  customised changes here and there as per the requirements of the organisation.
And will it be across all verticals?
Going ahead security, health, education, rural development and power are big focus areas for us. We have designed a handheld device for registration. It can read your thumbprint, smart cards and it has a monitor and a printer. It has GPRS connectivity and now you can connect it through 3G.
How would you describe the Unique Identity or UID project in India?

UID is the centrepiece of all the e-Governance projects. It will impact  everything that is happening in this country. One important thing to  understand here is that UID is identity and not the identification. Identification  means weather you are an Indian or a Pakistani, whereas identity means your  identity as part of a society, a group or in this context as a citizen of the country.
you happy with what has happened to that report?
The good news is that the report we submitted last year is being adopted. So  they are coming up with the recommendations. It is in the last stage. An  important part is the creation of an electronic development fund of Rs 5,000  crore for designing products that are required in India.
Do you think government should adopt the cloud model?
Government must adopt it. The cost will be reduced and the work that has to be done will be reduced.
What are the technology trends in the next one or two years?
A lot of people are still scared or apprehensive using a computer. We should  develop a human interface. All interactions with the computer are language  based so far. There should be an icon-based solution. You may come up with a  voice-based solution. However, the combination with gesture is very much  possible and we are working to develop that technology. It will be ready soon.
Follow and connect with us on Facebook, Twitter, LinkedIn, Elets video