emmS: electronic Muster and Measurement System for MGNREGA
Implementing Agency: Department of Rural Development, Government of AP
www.rd.ap.gov.in
The Electronic Muster & Measurement System (eMMS) is a technology solution   for achieving complete transparency in MGNREGS by obtaining live 

     data from the worksite to website on day to day basis. The mobile technology is   customised and deployed for the MGNREGS field functionaries through different mobile application like e-Muster, e-Measurement, e-Muster verification and e-Check Measurement.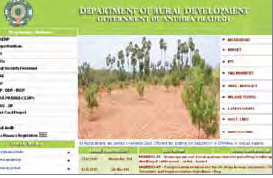 The project was started to arrest distortions in the implementation of MGNREGS programme such as muster   fudging, delays in payments, benami wageseekers, fake measurements and work duplication. The project has enabled the display of Information upto the level   of Name and JobCard ID of each wage seeker present for work on website. It has increased accountability of the 20,000 field functionaries who are uploading data every day into the system.
The system deploys a mobile software based application to monitor all the processes from labour attendance to wage pay order generation. Real time data from the field is captured and displayed in public domain. Images of works are captured and displayed in website. GPS coordinates of work locations are captured and put in public domain. Details of each and every wage-seeker reported for work each day is captured and displayed in website. The application is menu driven with graphic user interface  provided in local languages. "Own your mobile scheme" providing mobiles at 50 per cent subsidy was launched to overcome the issue of mobile  availability with the functionaries. Flexibility was given to procure sim cards of service providers having network coverage in local area to overcome the      challenge of network availability.
em-power Kerala
Implementing Agency: Kerala State IT Mission
www.itmission.kerala.gov.in
The Project Mobile Governance "Em-power Kerala" was initiated by Kerala  State Government in order to utilize the strengths of high levels of Mobile

  penetration in the State and to provide the citizens with a "always-on"  connection for the delivery of citizen services offered by government  departments through mobile phones accessible to them in the field, in the  street, at home or other convenient locations on a 24 X 7 basis, rather than the  users having to visit government offices or log on to the internet portals to  access services.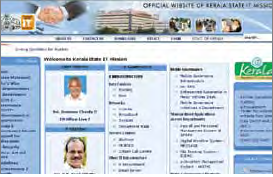 An integrated Service Delivery Platform (SDP) has been created and integrated with the e-Governance infrastructure, for enabling m-Services of  various Departments in a "Plug and Play" fashion. As many as 90     Departments are using the m-SDP to provide their services and the portfolio of    services is expanding.
The three channels of mobile communication (Voice,    Signalling and Data) and a wide range of technologies (Voice Applications,    Applications using signalling channel and data service based Applications) are   being used for this purpose. The focus is to build a centralised platform into which the services/solutions for each and every Department can be integrated.
The services currently being provided can be broadly classified into: 1) Information Services: Services such as Doctor- Search, Price Alerts, Results on   Mobile etc; 2) Interactive Services: such as mobile- polls, surveys.
The project  has led to the dissemination of information to a larger number of people having  mobile access in a short period of time. It has reduction the average time for   processing various services and thereby the costs.

Follow and connect with us on Facebook, Twitter, LinkedIn, Elets video