www.mahashramm.gov.in
The Department of Labour has embarked upon a gigantic initiative to provide electronic services to 45 million workers
Dr Kavita Gupta, Principal Secretary, Industry, Energy and Labour, Government of Maharashtra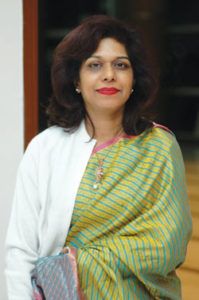 Maharashtra has created a portal called Mahashramm, wherein all services of the  Department of Labour will be available online. This is an important step towards fulfilment of  the guidelines of the proposed Maharashtra Electronic Service Delivery Act. The project has  four major components: labour registration and financial inclusion; Departmental  automation and computerization; e-services to businesses; and creation of a network of  Business Correspondents (BCs).
Through Mahashramm, the 45 million strong labour force  will be registered and given bank accounts, which will thus enable financial inclusion.
The project aims to have 24,000 BCs across the state so that the workers can easily withdraw their money from the accounts created for them.
In Maharashtra, 5 Bills and Acts have been amended and it has been mandated that all  labourers other than those employed in agriculture and domestic labourers will be paid their 
wages, bonus, gratuity, HRA, etc., only through cheque or through banking Electronic Fund  Transfer (EFT). In order to ensure that this provision is implemented, a chain of BCs has to be cultivated across the state so that these transactions can take place.
Under the project, a biometric-enabled wage card will be issued to the worker. The card holder  can approach any BC who will allow access to the individual's account after verifying  his or her identity through biometric impressions.
Highlights of the G2B component
• All interactions with the industries, trade unions and establishments to be made online
• Provision of online registrations, returns, applications, NOCs, complaints etc.
• Back-end Departmental computerization and workflow automation to align with external e-Services
• Computerization of the Department's administrative, accounts and human resource functions

Present status
As of now, the project is in the finishing stages and a Pilot has been conducted in the Thane  district. 2 lakh workers have already been registered under the project. For every application  or return which is filed using the Mahashramm portal, there is a user fee. This fee is deposited  into the project fund which supports the project. Accenture has been appointed as the project  consultant and the project is being executed in the PPP mode.

Future plans
In the coming days, we plan to extend Mahashram to cover health services, integration with Provident Fund (PF), Employees' State Insurance Corporation (ESIC) scheme and offer a number of other value added services.
Follow and connect with us on Facebook, Twitter, LinkedIn, Elets video