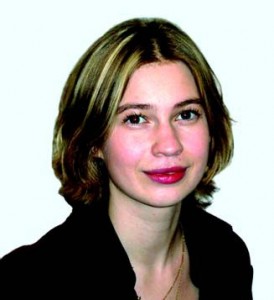 Monika Jõela, Programme Manager at the e-Governance Academy in Tallinn, Estonia talks about the academy, Estonia and e-Governance in Europe.

There is more to Estonia than the famous Kuressaare Castle, Tallinn's Old Town, or even the   Vana Tallinn (Estonian aperitif). Estonia has been making leaps in its own way as an information society. The e-Governance Academy (eGA) is a young and active institution that has been involved in various training/ capacity building initiatives, and consulting/research activities in order to facilitate successful deployment of e-Government initiatives. It was   honoured with the 'Best Foundation of the Year 2004' award as a public recognition of its efforts in e-Governance by the Estonian government. egov brings you this exclusive interview with Monika Jõela, the Programme Manager at eGA.
Q: The tagline of the institute 'Good governance is good, e-Governance is better!' is smart. What has been the motivation for setting up an academy such as yours in Estonia?
A: Estonia became an EU member state in 2004. It is regarded as one of the best manifestations of the leapfrogging developmental potential of ICTs. With a GDP per capita of  one-third of the EU average, Estonia has a wealth of knowledge and experience in a wide range  of IT policies, programmes and projects. The main motivation to establish the academy  was to share Estonian experience and ICT knowledge with other countries. Our mission is to  train and advise leaders and stakeholders in using ICT to increase government efficiency and  improve democratic processes with the aim of building open information societies.

Q: Please tell us about the birth of the institute, the people behind it, and the challenges encountered from then till now?
A: The eGA is a non-profit organisation initiated in 2002 by the United Nations Development  Programme (UNDP), Open Society Institute (OSI), and the Estonian Government. The core  people who established the Academy have been playing an important role in the shaping of an  Estonian information society. For example, Ivar Tallo, the Director of the Academy, was  previously a foreign policy advisor to the President of Estonia, and author of Public  Information Law. In the beginning there were few people who worked for the Academy full  time. With increasing demand for activities, eGA has been steadily growing. Activities are  carried out in cooperation with professionals who have planned, implemented and managed  various e-Government initiatives. Today eGA actively involves more than 30 top-level ICT experts from Estonia

Q: What are the programmes/courses/trainings on offer?
A: eGA has extensive experience in research, training and consulting top civil servants.
Training and Consultancy – Sharing ICT Knowledge
• The Academy offers a regular policy course to stress the importance of having in place the  'right' national policies and strategies in the field of information society in order to achieve  meaningful impacts in real life and to fully realise the leapfrogging potential of ICTs in the  country's overall development and competitiveness – regionally and globally. The training  programme specifically addresses various forms of public-private partnerships among key  stakeholders, shows how the general public should be involved, and emphasises the  importance of the political will required to ensure much-needed continuity and consistency  during the implementation of adopted policies and passed laws. The Academy also provides trainings on demand. The regular training course is just one of the available options.
• Together with Harvard Law School, eGA organises the iLaw Eurasia Programme – a five-day,  intensive course designed for advanced policy experts from countries in Eurasia.  The goal of the Programme is to bring representatives from government, the private sector,  and civil society together for focused, expert discussions covering global best practices and  policy dilemmas.
• In many instances the Academy is faced with concrete demands for know-how to build  particular programmes, projects, or requests for evaluation of strategic papers. The Academy  tries to satisfy the requests providing adequate advice and best experts in the field. At present  eGA is implementing the Tiger Leap project in Georgia that helps to develop the IT infrastructure of schools, including support for establishment of Internet connections. Also  in-depth cooperation is going on with the Macedonian Republic where eGA has provided  valuable advise on the establishment of the National ICT Strategy, and has helped to develop  an e-Model concept for local governments.
• During the execution of the aforementioned consultancy and training projects, the Academy  discovered a strong demand for united training-consultancy services. In the  beginning of 2004 the e-Governance Academy started to develop the project 'e-Ambassadors'  that would include training in the destination country combined with consultations on specific issues of particular systems.
Areas of Research
Research activities are becoming more and more important in the light of growing demand for contemporary knowledge in the changing field of ICT. To be able to provide high-quality training and consultancy services, eGA has initiated and offered its partnership to several research initiatives.

ICT and Corruption
The primary objective of the project is to contribute to the efforts in reduction of corruption all  over the world. The Project stresses on stimulation of networking, and sharing and exchange of knowledge and experience in the fields of corruption research between developed and undeveloped countries. The e-Governance Academy aims to harvest the solutions that are  already working and bring those to the attention of decision makers in countries with  high corruption and low ICT penetration. The outcome of the project is an ICT toolkit for  reducing corruption and a training course based on the toolkit.
Free/Open Source Software
The primary objective of the project is to stimulate use of information technology and e-Government development in Eastern Europe, Central and Western Asia through wider and more knowledgeable application of Free/Open Source Software (FOSS). Public sector,  municipalities, and other organisations are constantly looking for possibilities to improve the  quality of the services they offer. These circumstances have forced organisations to spend a  great deal of money purchasing commercial software. By using Open Source solutions, they  would be rewarded with a significant reduction in their expenses for buying and maintaining software.

BEGIX-Balanced e-Governance Index
Within the framework of a 'Balanced e-Government' project, the Bertelsmann Foundation has  developed a web-based instrument, BEGIX, for the self-evaluation of administrative and  government units. The balanced e-Government scorecard (BEGIX) serves in recording and  evaluating various dimensions of e-Democracy and e-Government. The aim of the project is to  extend the use of BEGIX as a benchmarking tool to the European and broader international  level. In addition the tool is planned for use for benchmarking in Independent States (CIS) and southeastern Europe.

e-Democracy
e-Democracy is a wider research direction for the e-Governance Academy. A two to three day  introductory course on different aspects of e-Democracy is being developed with our partners.  The project involves research into e- Democracy around the world aiming at producing a handbook of simple e-Democracy practices.
Q: What sort of participants has the institute attracted? There seems to be an
East European focus. Do participants from around the world also attend?
A: In the beginning eGA's primary geographical focus was the Commonwealth of Independent  States (CIS), and the Balkan region mainly because of the similarities the countries have had  in the past. We have discovered that Estonian experience is also relevant and beneficial to  other countries with different historical backgrounds and systems. One of the goals is to  broaden the academy's activities to Africa and Southeast Asia. Successful projects have  already taken place in Namibia.
During the two years eGA has conducted e-Governance trainings for more than 300 senior  civil servants from 26 different countries (Albania, Andorra, Armenia, Azerbaijan, Belarus,  Bosnia and Herzegovina, Bulgaria, Canada, Croatia, Georgia, Great Britain, Hungary,  Kazakhstan, Kyrgyzstan, Kosovo, Macedonia, Moldova, Mongolia, Russia, Senegal, Serbia and  Montenegro, Sri-Lanka, Tajikistan, Ukraine, USA and Uzbekistan).

Q: What are eGA's plans in partnering with reputed institutions for various events/training. Any long-term collaboration efforts?
A: For the present UNDP, Open Society Institute and the Government of Estonia have signed a  Memorandum of Understanding and are providing financial resources for the Academy's  operations. This kind of collaboration has enabled eGA to conduct the regular policy course  free of charge for the participants. These three parties have committed to support the  academy up to 2005. eGA has also developed successful on-going partnerships on a  project-basis with Harvard Law School, Knowledge Society Management Institute of Law  University, Hansard Society of Great Britain, NISPAcee (Network of Institutes and Schools of  Public Administration in Central Eastern Europe), among others.

Q:Clearly, the Open Society Institute, UNDP and the Government of Estonia have
partnered in a valuable manner. Tell us about the vision or plan they have for the
academy?
A: eGA has been very successful in coordinating with different donor initiatives. The multilateral cooperation has been successful because of the coincident mission of each partner:
• Estonia sees its role in international cooperation as an active partner in building effective civil societies in transition countries by disseminating Estonia's positive experience, harnessing its experts and development tools.
• UNDP sees its role in supporting democratic governance practices through e-Governance tools and instruments.
• The Open Society Institute aims to shape public policy for promoting democratic governance and open information societies.
Together with donors and recipient countries eGA identifies issues to be addressed, determines  opportunities and develops foreign-aid programmes and project plans. Open Society Institute  and UNDP are giving their inputs to the project priorities with a good overview about the local  capacities and needed developments. After 2005, there is a need to extend the eGAs  scope and mission. UNDP will continue with the financial support for the academy, and the Open Society Institute will start cooperation on a project basis. Other partners are welcome to  join and support the Academy's work with promoting the values of good governance, to  diminish the participation costs for low-income countries, and to expand professional and geographical coverage of its activities.
Q: To continue from my earlier question, how would you rate your Government's
support in this regard?
A: The Estonian Government has been one of the initiators of the Academy. We were  recognised as the Best Foundation of the year 2004, and previously we were nominated as the  best performer of the ICT field in Estonia. Such kinds of recognitions from the government,  private and NGO sector are very supportive and give us strong enthusiasm to continue with  our activities. More concretely, the Estonian Government has provided us financial resources  each year, and with good cooperation from the Ministry of Foreign Affairs we have been able  to implement some important projects with the help of Estonian Foreign Aid. eGA is one of the  main executors of the Estonian Government's International Foreign Aid and Cooperation Strategy.

Q: What has been your experience of the problems facing countries in East Europe that are dealing with e-Governance deployment? Would you be throwing a word of caution or guidelines for countries in the South that are ambitiously undertaking e-Governance projects?
A: Usually the direct problems are related with infrastructure – sophisticated online public  services count little if people cannot access them. Many problems are related to legal  frameworks – there are several examples where the regulatory framework, instead of  enabling, decelerates the innovation and the use of ICTs. What I personally have been  discovering is that in many countries there is still a lack of motivation or awareness about the  power of ICT. The only way to increase it is to start to take the first steps; motivation  would increase with every positive result. For instance, when a person can complete an online  service in five minutes instead of many days or weeks, he/she never wants to take the  paper route again. In Estonia one of the driving forces of information society development was e-Banking – later it was much easier for the public sector to provide online services for citizens  as they were familiar with procedures, and trusted the online environment.
Every  country should have a clear vision and strategy for e-Governance projects. Speedy  implementation can sometimes harm the cost-effectiveness of the projects. Wise coordination  is very important; certain questions are better decided and implemented centrally in order
to ensure data exchange and interoperability. Estonia has some invaluable negative experience in that regard where we did leave the development in the hands of local  government but have now realised that it would have been much cheaper for the society if  some IT related questions would have been decided centrally.

Q: Tell us something about Estonia and the progress it has made in this area?
A: Estonia was the first country with paperless government sessions. The Estonian public  sector and schools are connected to the Internet, and it is even possible to order beer by SMS!  Estonian success is based on balanced e-Governance development. Lot of efforts were made to  build the infrastructure and enable free access to citizens. Now every public library has a free  Internet access point. The high numbers for Internet use in Estonia are largely correlated to  the early adoption of the Internet in the higher education sector, research, and existence of a developed telecommunication network. The important factors that have assisted the  development of information society in Estonia (concluded by our ICT experts) have been:
1. Building up of modern infrastructure;
2. 'Tiger's Leap' project in computerising schools and universities;
3. Adopting regulations for information society;
4. Government IT-programmes;
5. Collaboration between the government, private and non-governmental initiatives;
6. And lastly, luck!

Facts and figures about ICT development in Estonia

• 52 percent Internet penetration
• 80 percent of all businesses connected
• 89 percent of population are mobile phone subscribers (Eesti Telekom AS,  September 2004).
• 67 percent income tax declarations filed online (2004)
• 68 percent of internet users conduct their everyday banking via Internet
• 50 percent of citizens have ID cards
• 100 percent of schools connected
• 100 percent of public sector connected
• 52 free Public Internet Access Points per 100 000 people
• Cabinet meetings have been changed to paperless sessions using a web-based document system.
• 1st in Central Europe e-Government rankings (Economist Intelligence Unit)
Q: You were here in India in March. How do find the initiatives in this area in India? Any particular project that has impressed you?
A: I am very grateful that I had an opportunity to participate in the World Bank's e-Transformation conference in New Delhi, March 2005. I discovered there are many  initiatives India should be proud of. The presentation about India's National Action Plan was  very inspiring – very concrete plans with defined priorities. I really do hope that the vision of  the action plan "All government services accessible to a common man!" will motivate all the  stakeholders who are responsible for the implementation. Thank you indeed for your time,  and best wishes for the future.
Follow and connect with us on Facebook, Twitter, LinkedIn, Elets video